Yoga Wear for Women
Sizes from XS to XXXL
Sizes from XS to XXXL
Sizes from XS to XXXL
Sizes from XS to XXXL
15 items
Regular price
Rs. 2,299
Sale price
Rs. 1,799
Regular price
Rs. 1,699
Sale price
Rs. 1,199
Regular price
Rs. 1,699
Sale price
Rs. 1,399
Regular price
Rs. 2,399
Sale price
Rs. 1,899
Regular price
Rs. 1,899
Sale price
Rs. 1,299
Regular price
Rs. 1,749
Sale price
Rs. 1,399
Regular price
Rs. 1,749
Sale price
Rs. 1,299
Regular price
Rs. 2,499
Sale price
Rs. 1,799
Regular price
Rs. 2,199
Sale price
Rs. 1,699
Regular price
Rs. 2,999
Sale price
Rs. 2,399
Regular price
Rs. 2,199
Sale price
Rs. 1,699
Regular price
Rs. 1,599
Sale price
Rs. 999
Regular price
Rs. 1,599
Sale price
Rs. 1,299
Regular price
Rs. 1,499
Sale price
Rs. 999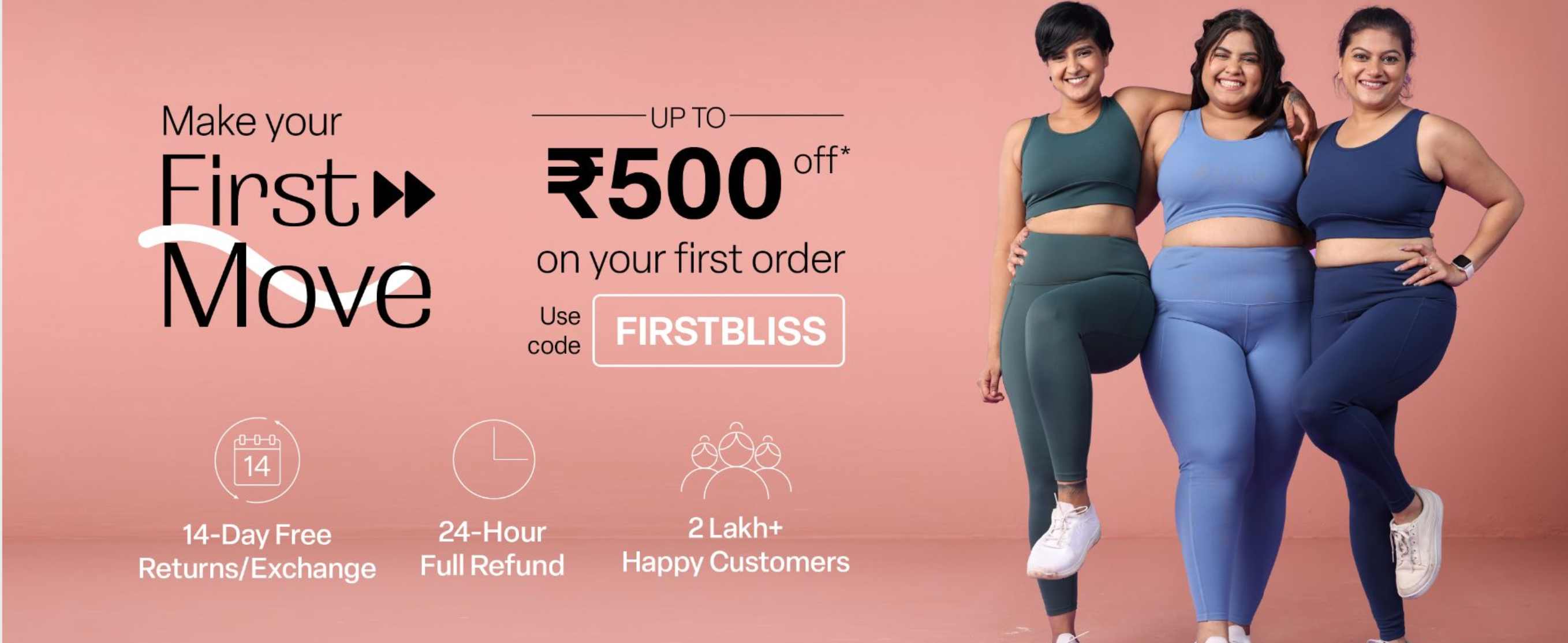 Yoga Clothes for Women by Blissclub
Blissclub brings you super breathable and comfortable yoga clothes for women designed to help you with your low-mid impact moves. We make all our women yoga clothes, topwear and bottonwear using super light and comfortable fabrics that are super breathable. Yoga dress up plans are all covered - let's move in comfort, style and move easy with our dedicated collections of yoga dress for women. Buy yoga clothes online at Blissclub to ensure that your moves are laden with comfort and you keep moving effortlessly. If you are looking to buy yoga clothes for women online, Blissclub has got you covered - shop yoga clothes now!
We engineer yoga clothes for women that are not decidedly for a single function. Yes, you can do yoga in them but that does not mean that you can only use your women yoga clothes made by us just for yoga moves. Blissclub is simply your go-to place for buying yoga clothes online at the best prices. From yoga pants, yoga tops of different styles and more, we have you covered for your yoga class plans, through and through. Get a great selection of yoga dresses for women of different kinds on our website.
Benefits of Women Yoga Clothes
Breathable: Yoga clothes for women are generally designed to be breathable because breathing easy is one of the most loved features of yoga. Yoga clothing being breathable is important because this enhances the effectiveness of the practice and lets you relax and get in the zone completely. The breathability of your yoga clothing depends on the fabric used and the construction of the yoga outfit.
Stretchable: When you buy yoga clothes online, make sure they are super stretchable. The stretch comes from the construction of your women yoga clothes as well as the spandex added to them. The best yoga clothes for women, whether they are yoga shorts, yoga leggings or yoga tops are very stretchable and comfortable.
Durable: Yoga clothes for women are generally durable and built to last you a long time. Yoga is not a very sweaty activity but that does not negate the fact that yoga clothes for women are likely to be subjected to a large number of washes. Your yoga shorts definitely require more washing than denim shorts.
Comfortable: Yoga wear by default are super comfortable. Most of them are designed to add to your comfort level and keep you feeling light and relaxed. Yoga clothing is generally not tight or restrictive so you can keep them on for a long time without feeling like taking them off. Your yoga dress for ladies is your best friend as you hit those yoga poses right.
Functional: Yoga clothes are surprisingly functional, depending on what brands you buy. When you buy yoga clothes online from Blissclub, you can rest assured that you are completely covered. All the yoga dress online you buy from us are designed to be as functional as possible. Our yoga wear for women have pockets - multiple ones so you can stash all your belongings in them and focus on your moves. Also, some of our yoga dress for female have adjustable drawstrings, moisture wicking fabric and more.
Different Types of Women Yoga Dresses Available on Blissclub
Leggings: Yoga leggings can almost be described as quintessential for your low-impact moves like yoga. Get yoga wear for women, including yoga leggings at great prices only on Blissclub. We make yoga leggings that have multiple pockets. Our Move-Free cotton leggings are everything you need when you want to complete your yoga costume for women. Yoga leggings/Yoga tights plus one of our loose tops or sports bras and you are great to go out with your yoga costume for ladies.
Flare Pants: When you think of yoga attire, you might not exactly have flare pants in mind but that is fine - we bring you a variety of activewear for women including stylish flare pants, even slit flares, to help you move comfortably and rock your practice sessions.
Track Pants: If breathable, comfort-inducing yoga activewear sounds good to you, you must check out our collection of yoga track pants. While high waisted leggings are typically what you have in mind when you think about yoga wear for women, try our track pants if you wanna go jogging right after.
Straight Pants: Whether you want to hit the gym or head to yoga right after, stretchable and moisture wicking straight pants make for excellent options of yoga clothes for women. Make sure the composition has breathable fabric and it offers you the style and support that you need. We bring you straight pants for all your plans that you can pair with sports bras or loose t-shirts for women to complete your yoga outfit.
Tops & Tees: We have a large selection of topwear that work perfectly as yoga clothes for women. They can also be used as gym wear as most of them are moisture wicking, very durable and enhanced properties of breathability and sweat resistance. They are great for all your yoga poses as most of them offer a relaxed fit.
Shorts: Our collection of shorts are super comfortable and durable and perfect for doubling as yoga activewear. We bring you a selection of yoga shorts that could give your yoga leggings a strong competition.
Sports Bras: Sports bras are perfect for your collection of yoga activewear. Plus size yoga clothes and yoga suit for ladies like sports bras with leggings make excellent components of yoga wear sets. Women yoga dresses like sports bras work very well as women yoga wear when combined with proper gym wear and bottomwear.
How to Choose the Right Yoga Clothes for Women
When you buy yoga dress types or shop yoga clothes for women, keep the following things in mind:
Comfort: Comfort is an important part of yoga clothes for women - every piece of yoga clothing has to be comfortable, breathable and very lightweight. Look for women yoga clothes that are comfortable in every aspect - including the fabric, how it fits and how it helps you function.
Fabric: The fabric of your yoga dress is quite important. It has to be durable and soft. Ideally, the fabric of yoga clothes for women also have to be breathable, moisture resistant and comfortable to wear for long periods of time.
Fit: The fit offered by yoga clothes for women is an important thing to keep in mind. The bottomwear could be snug or flared or relaxed - as could your yoga tops. The important thing is that the fit should offer you the ability to move and breathe freely so you remain comfortable throughout the day.
Function: Functionally, your yoga clothes for women need to be able to support your moves. Whether this is by having enough pockets to hold your things, or having a drawcord that keeps your bottomwear in place - or even just super breathable fabrics, functionality is quite important when it comes to finding the best yoga dresses for women.
Why Choose Blissclub for Yoga Wear
There are quite a few reasons why Blissclub would be the perfect choice for your collection of yoga wear for women:
Quality: We ensure that all our clothes are of the highest quality and do not compromise in the perfection of the materials chosen, the way the clothes are constructed and the overall durability of the product. Our collection of yoga clothes for women offer you extended comfort and support for all your moves. You can buy yoga clothes online from us and rest assured that there are no damaged or dysfunctional products being delivered to your doorstep.
Comfort: Comfort goes hand in hand with everything we stand for at Blissclub. We want you to feel so comfortable and happy in our yoga clothes for women as you move and explore. Explore and experience new comfort levels in yoga clothes for women that you simply will not want to take off. You can choose from our collection of yoga wear to see what you would be most comfortable in. This includes the right chemistry between the fit, fabric and function of each piece of clothing.
Functionality: All our yoga clothes for women are enhanced with one or multiple functional features which make them perfect for you to keep moving in. For example, we have pockets in all our yoga bottomwear so you can move completely handsfree and focus on moving right. Also, we use moisture wicking fabrics to keep you feeling light and fresh.
Durability: All Blissclub yoga wear are designed to sustain multiple washes and different impact levels of movement. You can be sure that if you take good care of your yoga clothes for women and follow our wash-care instructions carefully, your yoga cloth-buddy will be with you for the longest time.
Frequently Asked Questions
What are the best clothes for yoga?
Yoga clothes can be determined as the best depending on how you feel in them and how well they let you move. Yoga leggings, yoga flare pants, yoga tops - all of them are ideal because they are made with the right fabrics and having the fits in mind.
Should yoga pants be tight or loose?
Some women prefer yoga leggings for the snug fit whereas others prefer yoga flare pants or loose shorts - it depends on how comfortable you are and what your expectations are concerning the same.
What is the difference between yoga pants and leggings?
Yoga pants include different kinds of yoga specific bottomwear including yoga leggings and more. Yoga leggings for women are snug fitting yoga pants.
What is the difference between leggings and yoga leggings?
Typical leggings might or might not have features that are specific to yoga leggings - like a towel loop, multiple pockets, adjustable drawcord. They might also not be made using breathable fabrics that enhance comfort.
What is the best fabric for yoga clothes?
Cotton, polyester, spandex, etc are great fabrics for yoga clothes for women. Cotton is very lightweight and super breathable. It does not cling on to your body.
Can I wear yoga clothes for walking?
Yes, yoga clothes for women can be used for any low-impact activities including walking.
A 10% off coupon, front-row tickets to our latest launches, and no spam!
Subscribe to our Whatsapp updates now.
check your whatsapp now!