Yoga Sports Bra for Women
From Sizes XS to 3XL
From Sizes XS to 3XL
From Sizes XS to 3XL
From Sizes XS to 3XL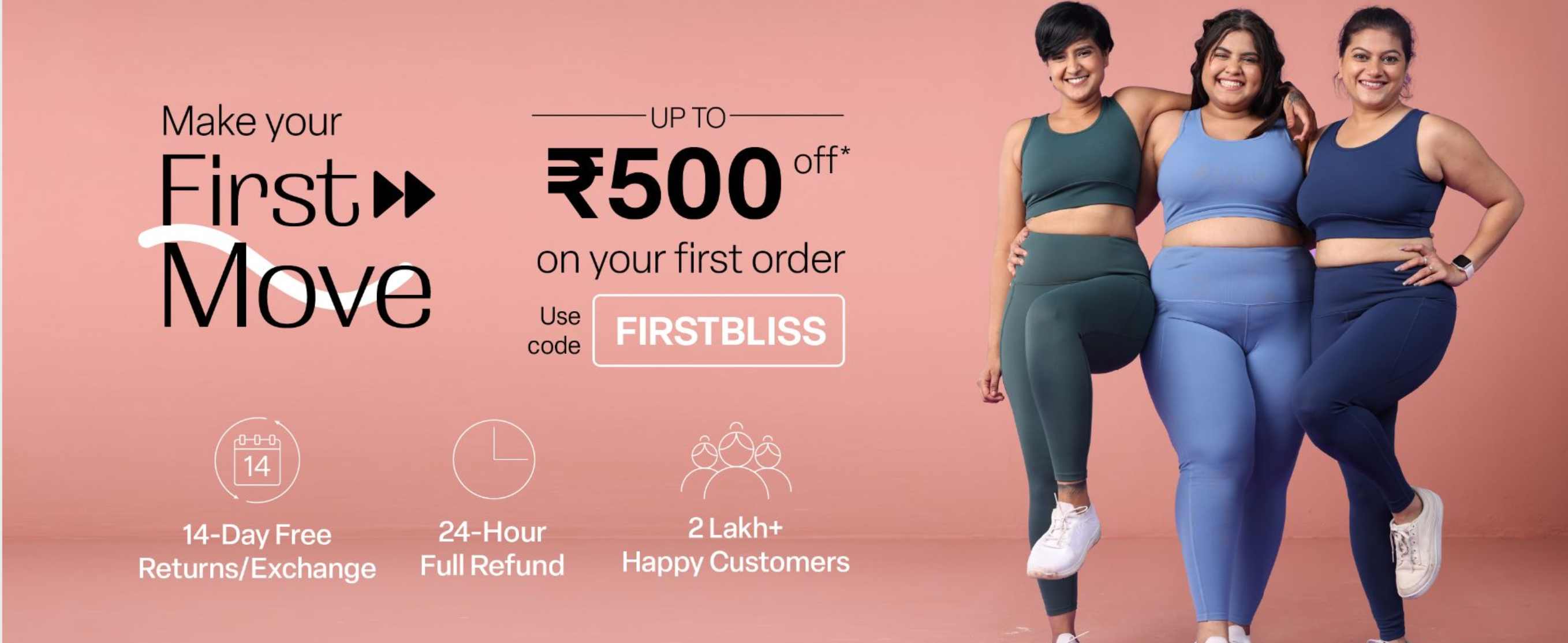 Shop Yoga Bras for Women Online
In the world of BlissClub, comfort, style, and performance come together and help you move. We present a remarkable yoga sports bra collection for women and sports bras for women that will change how you experience yoga. We have different sports bras for different styles and levels of impact. Our bras are expertly made from high-quality materials that feel soft on your skin. It's seamlessly engineered with lightweight fabric.
Our yoga bras are thoughtfully designed with movable straps, strong bands, and well-placed compression panels to offer the best support for all body types. As you flow through your asanas, wave goodbye to bounce and welcome confidence. Our sets of sports bras are the ideal yoga bra online.
Different Types of Yoga Bras
Sports Bra
A sports bra is the classic choice for yoga. It is designed to provide maximum support and minimise movement. They're ideal for running, pilates, high-impact workouts, and yoga. They offer a comfortable fit with wide bands, often with adjustable straps ensuring your bust stays in place during movement.
Racerback Yoga Bra
Racerback bras are a hit among women runners because they're stylish and functional. They have straps that converge between the shoulder blades. They provide excellent support and a full range of motion. They're ideal for yoga positions like inversions and backbends that require a lot of shoulder movement. This style is a common adaptation for high impact yoga bra styles.
Strappy Bra
A strappy yoga bra is a bra that has strap patterns on the back. This type of high-neck yoga bra gives a nicer, more fashionable look. While they add a touch of flair to your look, they are less supportive than the regular sports Bra and the racerback bra. They're ideal for low-impact yoga and workouts.
Seamless Bra
Because there are no seams in these bras, there is less chance of chafing or irritation. They provide a comfortable, second-skin feel that lets you concentrate entirely on your practice without interruptions. They're suitable for restorative stretching and gentle yoga.
Cross Back Bra
Cross-back bras fit the bill if you're after a balance between style and functionality. With their crisscrossing straps at the back, these bras provide a secure fit while adding a trendy twist to your yoga attire. Cross-back bras offer medium-impact support and are suitable for various yoga styles. They include options like your hot yoga sports bra.
Breathable Bra
Whichever type of bra is used, it should be breathable. Yoga can get sweaty and intense, and even your simple black yoga bra should keep you cool and dry. Breathable bras are made from materials that drain sweat away from your skin, such as nylon and polyester, so they can swiftly dissipate.
Benefits of a Yoga Sports Bra
This essential piece of activewear can transform your yoga experience. A ladies' yoga bra can give enhanced support to extreme comfort in your practice.
Optimal Support
Support in a yoga sports bra is crucial. A supportive bra keeps your breasts securely in place as you move through your poses or asanas. It prevents discomfort and minimises bounce, keeping you focused on your practice.
Enhanced Comfort
Yoga bras are specifically designed to be comfortable, even your low impact sports bra. They're made from soft, stretchy fabrics and provide a gentle yet secure hold. You may immerse yourself in your practice because there aren't any irritating cables or tags to get in the way.
Freedom of Movement
Yoga is all about freedom and fluidity, and the most comfortable yoga bra for women facilitates that. A flexible and seamless yoga bra will allow you unrestricted movement. It will be easy to transition from one asana to another.
Confidence Boosters
Looking good can significantly impact how we feel, and yoga and sports bras are no exception. With its fit and design, a women yoga bra can boost your confidence both on and off the mat. You push your boundaries more confidently when you're comfortable in your practice.
Padded Support
Almost all sports bras are padded sports bras or extra coverage and support. The padding provides a smoother and more flattering fit. This makes yoga sports bras for women great for most of your low to mid-impact moves.
Sweat Wicking
The best yoga bra includes sweat-wicking capabilities that keep moisture off of your skin. This ensures a fresh and enjoyable practice by regulating body temperature and preventing discomfort and skin irritation.
Why choose BlissClub Sports Bras for Yoga?
Regarding yoga, comfort and support are essential for achieving that bliss. Sports bras from BlissClub help improve your yoga. The best yoga sports bras were created with your active lifestyle in mind and provide unmatched comfort, flexibility, and style.
BlissClub is size neutral too, when it comes to yoga clothes for women. We sell 7 sizes from XS-elene to 3XL-una, selling a plus size yoga bro to size zero as well. Buy yoga sports bra from us, and be sure that you'll get the right fit. Buy a yoga bra online for women or from our physical stores in Bengaluru and Mumbai.
Unparalleled Support
BlissClub offers a range of sports bras designed to provide unparalleled support. Our Power Up Sports Bra is a game-changer, featuring durable fabric, a completely seamless design, and moulded cups that keep your breasts in shape throughout your practice. With removable cups and sizes available from XS to 3XL, it is a perfect fit for women of all sizes. This bra is ideal for heavy-busted women and excels in high-intensity workouts and running.
Extreme Comfort
Our sports bras are crafted from premium fabrics that offer a soft feel against your skin. The Flex-it Moulded Sports Bra, made with AeroFirm fabric (78% polyester & 22% spandex), perfectly balances stretch, durability, and support. Available in sizes from XS to 4XL, this bra is ideal for low to medium-impact workouts and movements and, thus, is perfect for yoga.
Fashionable Designs
Our sports bras come in various designs and colours that keep you looking chic and confident. Each is a padded yoga bra or a sports yoga bra. We even have a newly launched tie-dye sports bra. Whether you choose the Power Up Sports Bra with its sleek and supportive design or the Flex-it Moulded Sports Bra with its sleek cross-back design, you can express yourself as you get your workout in.
Moisture Management
Stay cool and dry with BlissClub's moisture-wicking sports bras throughout your yoga practice. Our bras quickly draw sweat away from your body, ensuring speedy evaporation and avoiding discomfort from too much moisture. Stay focused on your yoga, knowing you have breathability.
Durability
Our commitment to quality ensures that our products are built to last. Our sports bras feature durable fabric ensuring longevity despite frequent use. Our cups are removable, which allows you to wash and reuse them separately. Enjoy the reliability and longevity of BlissClubs sports bras as you do yoga.
How to maintain a Yoga bra
Gentle Washing
Opt for handwashing instead of machine washing to preserve your yoga bra's integrity if it is made of delicate fabric.
Machine Washing
If you prefer machine washing, choose the delicate or gentle cycle to protect your yoga bra from harsh beating. Use a mild detergent, and avoid using fabric softeners or bleach.
Air Drying
Air drying is the best method to maintain the shape and elasticity of your bra. Avoid direct sunlight or heat sources, which can degrade the fabric and elastic components.
Storage
Avoid hanging it by the straps, as this can cause the elastic to stretch over time. If you have limited space, consider dedicating a drawer or box specifically for your yoga bras to protect them from being squished or flattened by heavier items.
Avoid Harsh Chemicals and Rough Surfaces
Avoiding direct contact with strong chemicals such as pool chlorine or scented lotions, oils, or perfumes is crucial. Be careful when wearing your bra on rough surfaces because too much friction can result in pilling or snagging.
Frequently Asked Questions
Do I need to wear a sports bra for yoga?
Yoga creates less bounce than vigorous exercise and requires a low to medium-impact sports bra. Yoga bras for a large bust, however, would need to be better compressed to hold their shape. Hence, a high-impact bra makes sense.
Are sports bras for yoga comfortable?
Yes, with their compression and support, the freedom of movement they accord, and their breathability, they're comfortable yoga bras.
Which fabric is best for a yoga bra?
A nylon and spandex blend or a polyester and spandex best suits a yoga or a sports bra. Shop yoga bras that tend to your needs.
Which sort of bra is best for yoga?
As mentioned above, a low to medium-impact sports bra is ideal for yoga. Yoga bras for large breasts, however, would have to be high-impact sports bras.
How is a yoga bra different from a running bra?
Running is a high-impact sport. Thus, a high-impact sports bra is required. For yoga, a sports bra is ideal and not an everyday or leisure bra.
What to pair a sports bra/yoga sports bra with?
You can pair it with any bottom activewear, such as a pair of yoga leggings or yoga pants. You can even put on a baggy tank or yoga top.
A 10% off coupon, front-row tickets to our latest launches, and no spam!
Subscribe to our Whatsapp updates now.
check your whatsapp now!