Sportswear for Women
Sizes from XS to XXXXL
Sizes from XS to XXXXL
Sizes from XS to XXXXL
Sizes from XS to XXXXL
7 items
Regular price
Rs. 2,299
Sale price
Rs. 1,799
Regular price
Rs. 2,399
Sale price
Rs. 1,899
Regular price
Rs. 2,999
Sale price
Rs. 2,399
Regular price
Rs. 4,249
Sale price
Rs. 3,399
Regular price
Rs. 3,149
Sale price
Rs. 2,499
Regular price
Rs. 2,499
Sale price
Rs. 1,799
Regular price
Rs. 2,999
Sale price
Rs. 2,399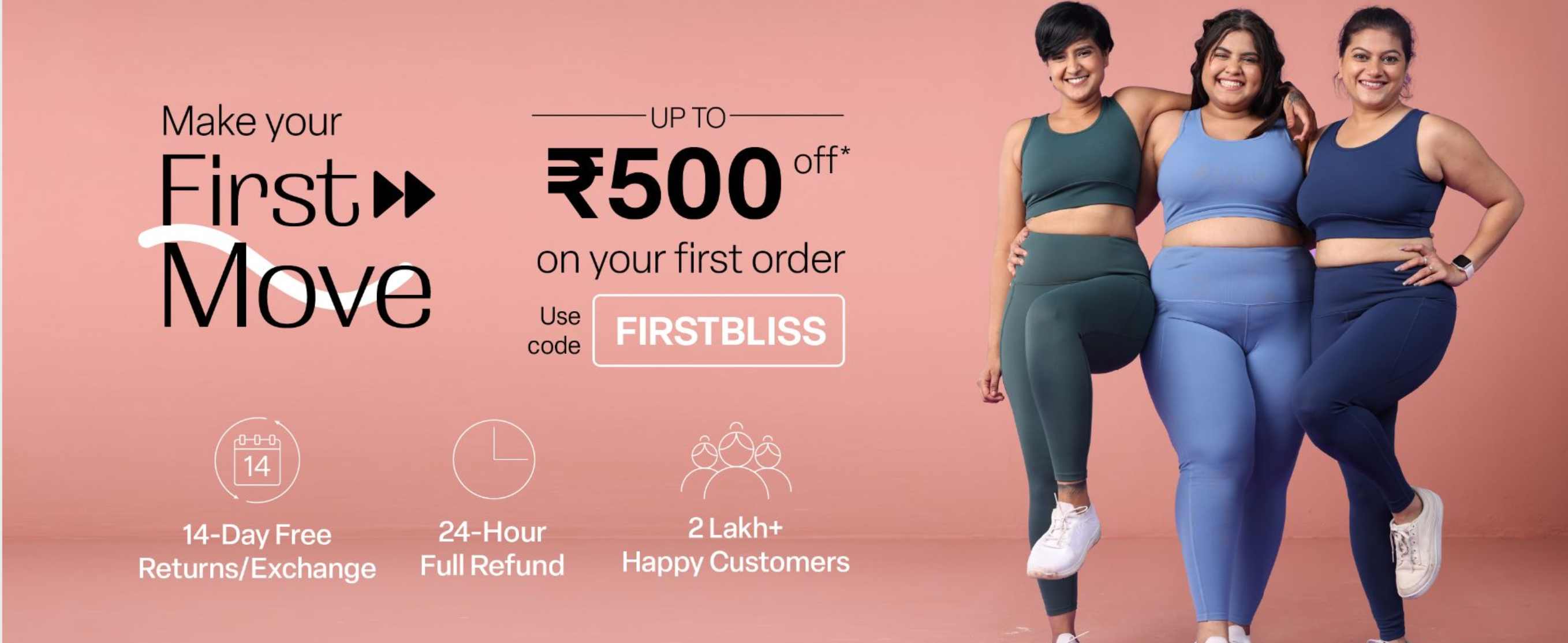 Shop Sportswear for Women Online
Blissclub brings you super comfortable and highly functional sportswear for women for all your everyday moves, the light ones and the ones that make you break a sweat. Turn up the heat, but don't feel it with Blissclub's lightweight, moisture wicking women sportswear, ranging all the way from comfortable yoga pants to serious activewear like gym leggings. Blissclub offers you a wide range of options of womens sportswear to choose from. We design for all Indian bodies, across a wide range of sizes and shapes, and for all your moves. Our clothes are stretchable, comfortable and not just sportswear outfits you cannot wear outside the gym.
Blissclub sportswear for women are super functional and designed to support you throughout your workout. You decide your move, whether it is a medium paced jogging session or something more high impact. We have all the gear you need in the form of the best sportswear you will ever need. Our collection of women sportswear stand out on account of their superior fabric and construction, given how they are especially designed for Indian women. Choose from our wide range of women's sportswear and get moving. You can buy women sportswear online right here on Blissclub.
Ladies sportswear in India lack basic features that enable them to provide the support and comfort you tend to expect from them. Upon understanding this, Blissclub was established as an effort to innovate and engineer simply the best sportswear for ladies on the market. To achieve this, we put together a team of skilled professionals who knew their craft all too well and designed super functional sportswear for ladies that included additional functional features that helped in achieving seamless and effortless movement.
Benefits of Women's Sportswear
Ladies sportswear is a must have for women who move and plan to move seriously. The right sportswear for girls is essential for women who want to improve their athletic performance while remaining comfortable and stylish at the same time. Girls sportswear offers a number of advantages that are beneficial to their overall health and performance.
Comfort: Girls sportswear offers a high level of comfort. Sportswear for women fits the body snugly, allowing unrestricted movement during physical activity. It also helps to wick away sweat from the skin, keeping you dry and comfortable during your workout.
Performance enhancement: Wearing the right girls sportswear can enhance athletic performance. Compression sportswear, for example, improves blood flow to the muscles, reducing muscle fatigue and soreness. Such sportswear for girls also speeds muscle recovery, allowing you to work out more frequently.
Protection from the sun and sweat: Plus size sportswear can also protect from the elements. UV-resistant sportswear protects your skin from harmful UV rays, reducing skin damage and skin cancer. Similarly, female sportswear made with moisture-wicking fabric keeps you dry during rainy or humid conditions.
Style: Sports activewear is no longer just functional; it is also fashionable. Many brands offer stylish and trendy gym sportswear that can be worn during workouts and everyday activities. This means you can feel comfortable and confident in your women sportswear, whether you're hitting the gym or running errands.
Confidence: Wearing the right women sportswear can also boost your confidence, giving you all the more reason to buy women sportswear. When you feel comfortable and stylish in your sportswear sets, you are more likely to feel confident in your abilities during your workout. This can lead to improved performance and satisfaction.
Different Types of Sportswear available on BlissClub
There are a variety of sports outfits for ladies out there on the market for you to choose from. Activewear for women includes a broad spectrum range of products and there are many different types of gym wear. Some of these include:
Yoga Clothes: Women yoga clothes include lightweight and comfortable activewear for women including yoga pants that feature snug or relaxed fits that keep you comfortable. These clothes are great for your low impact moves and generally comprise fabric that is super breathable and comfortable. The stretchable fabric used in yoga clothes help you get into all your poses in comfort, and the flexibility you need. Buy sportswear for yoga if you are looking for clothes that support your low-key moves.
Joggers: Buy sportswear like joggers if you are into cardio and aerobic workout routines, as well as outdoor workouts like jogging or walking. When you shop sportswear online, you need to consider the type of moves, and the impact levels of these. Joggers are great for all your low-mid impact activities and make for good sports clothes.
Track Pants: Track pants are excellent for high impact activities like running. In fact, this type of women activewear is designed to enable your moves on the track and enhance your athletic performance. Track pants are women sports clothes serving as a must-have in your wardrobe. Plus, they are super easy to style and offer good breathability.
Shorts: Shorts are wonderful sportswear for women, for the summer. This is an always trendy sportswear piece that helps you stay comfortable. There are different kind of shorts you can choose from including running shorts and cycling shorts. When you shop women sportswear, be aware of the difference between the different kinds of shorts to know you are buying the best one for your moves.
Leggings: Leggings are the ultimate workout pants. Gym leggings with pockets? Even better. Leggings are of different kinds, and sportswear leggings are built with functional features like pockets and drawcords and moisture wicking fabric that make them ideal in completing your women sportswear sets. Tights are great for all your activities including aerobic workouts like zumba, dance, etc.
Sports Bras: Sports bras are also great for all your workout plans and are a staple in your active wardrobe. Sportswear for women tend to have a bad name owing to the discomfort caused by tight fitting sports bras. However, even padded sports bras can be comfortable sportswear if designed right. Sports bras are essential in holding your breasts in place as you perform all your movements.
Tank Tops: Tank tops for women make great workout clothes, especially during the heated summers where you just want as much breeziness and breathability as possible. Tank tops are great given how non restrictive they are. They can be paired easily with all kinds of bottomwear.
Where all can I wear sportswear for women?
You can wear your sportswear pretty much anywhere depending on how comfortable you feel in them and whether they are built to be kept on for long enough. Here are some occasions where your women sportswear can be used:
• At the gym or for your fitness classes
• Outdoor activities like hiking, running, biking and more
• Yoga or pilates, for all your easy moves
• Travelling and exploring new places
• Casual outings and gatherings
• Running your day to day errands
Choosing the right women sportswear
Here are some things to keep in mind when you are selecting the right sportswear for yourself:
Comfort: It is important to choose the right sportswear by prioritizing comfort because this determines exactly what you will be experiencing throughout the day.
Breathability: It is necessary to ensure that your sportswear remains super breathable and comfortable so it doesn't suffocate you or restrict your moves.
Durability: Your sportswear needs to be durable and comfortable. You need to buy clothes you are sure will last you long and maintain their shape and structure.
Fabric: Choose fabrics that have features or finishes that make them breathable, lightweight, moisture wicking and comfortable. It is great if they have additional features like water repellency or sun protection.
Fit: Make sure that the fit is appropriate for the movement. Loose and comfortable fits work for low impact workouts like yoga whereas tighter fits are better for your mid to high impact moves.
Function: Ultimately, your sportswear needs to be functional and have features that let you move without restrictions. Look for functional features like pockets, drawcords and more that enable you to move free.
Frequently Asked Questions
What is women's sportswear?
This is a broad category of apparel that help women move better when they want to incorporate low or high impact moves in their workouts. They include topwear, bottomwear, outerwear, footwear as well as accessories.
Which is the best fabric for womens sportswear?
Nylon and polyester are great for sportswear as both are good at wicking away moisture and keeping things fresh and light.
What is the difference between sportswear and activewear?
Sportswear and activewear are not very different. Activewear can be used comfortably for your day to day moves while sportswear tend to be for more high impact activities.
Is sportswear supposed to be tight?
Sportswear is not supposed to be tight. The fit can be relaxed or just right, for your higher impact moves. Tight tends to make them restrictive.
What should you not wear when you are working out?
Clothes that restrict you, get heavy when you sweat, don't stay in place or don't support you must be avoided when you workout.
A 10% off coupon, front-row tickets to our latest launches, and no spam!
Subscribe to our Whatsapp updates now.
check your whatsapp now!