Leggings with Pockets
Sizes from XS to XXXL
Sizes from XS to XXXL
Sizes from XS to XXXL
Sizes from XS to XXXL
12 items
Regular price
Rs. 2,499
Sale price
Rs. 1,999
Regular price
Rs. 1,899
Sale price
Rs. 1,299
Regular price
Rs. 1,899
Sale price
Rs. 1,499
Regular price
Rs. 1,899
Sale price
Rs. 1,299
Regular price
Rs. 3,149
Sale price
Rs. 2,499
Regular price
Rs. 2,499
Sale price
Rs. 1,799
Regular price
Rs. 2,099
Sale price
Rs. 1,499
Regular price
Rs. 4,249
Sale price
Rs. 3,399
Regular price
Rs. 3,149
Sale price
Rs. 2,499
Regular price
Rs. 2,299
Sale price
Rs. 1,799
Regular price
Rs. 1,999
Sale price
Rs. 1,499
Regular price
Rs. 2,299
Sale price
Rs. 1,799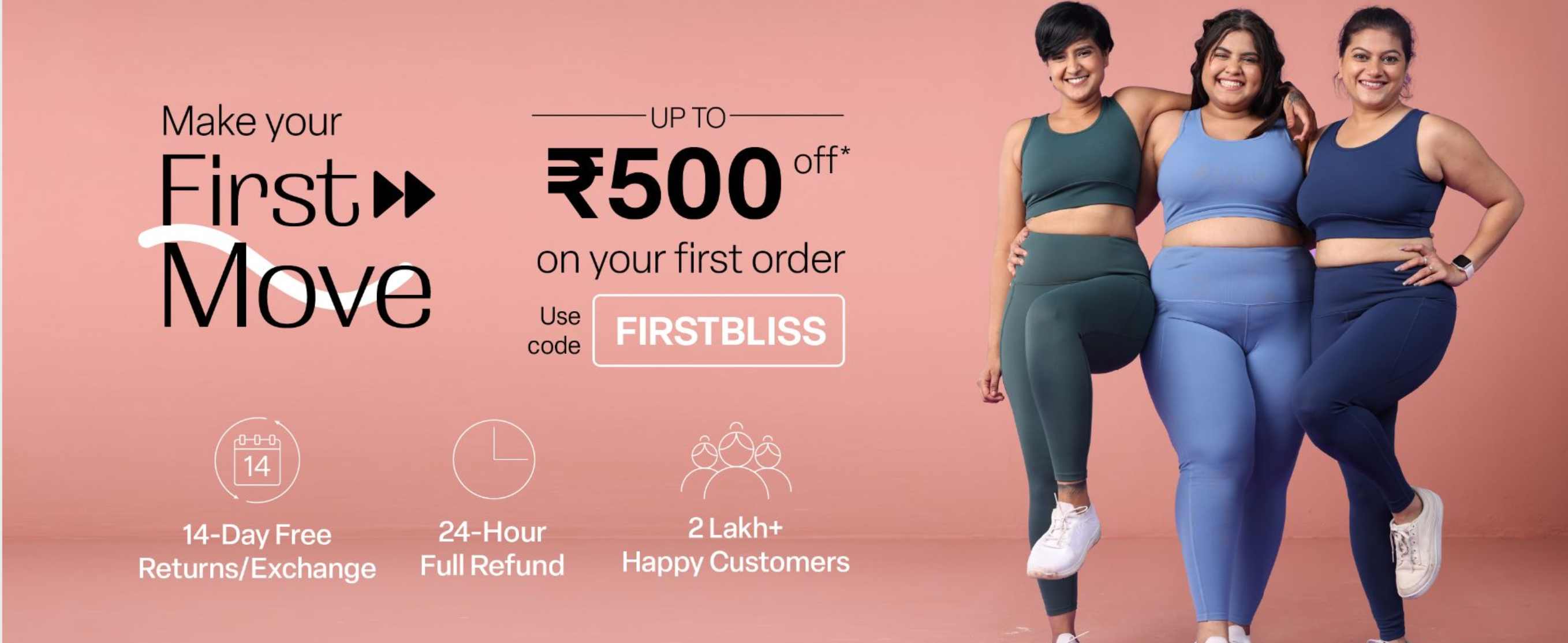 Shop Leggings with Pockets Online
Are you sick of juggling your phone, keys, and cards while working out? Say hello to BlissClub's leggings with pockets for women, the ultimate activewear game-changer. Our leggings combine functionality with fashion, providing the perfect solution to keep your essentials close at hand, no matter where your day takes you.
Staying focused on your workout and goals has never been easier with our leggings with pockets eliminating the hassle of bulking up your bag. Our leggings have strategically placed pockets that blend seamlessly with the outline of the garment and are large enough to fit mobile phones, cards, keys, and earbuds all together.
Our leggings are made with premium materials and offer a flattering fit that hugs your curves in all the right places. They are ideal for yoga, running, or errands because the stretchy fabric allows unfettered mobility. Additionally, our leggings are simple to maintain, allowing you to concentrate on your busy lifestyle without worrying about time-consuming upkeep.
Explore our collection today. Embrace a world where functionality meets fashion, and experience ultimate convenience.
Why have Leggings with Pockets?
These practical leggings are ideal for being organised and hands-free throughout workouts, travel, and everything in between.
Ideal for Workouts
For those who enjoy working out, having leggings with pockets is newfangled. You can concentrate on your exercise routine without worrying about lugging a backpack or rummaging through your stuff by keeping your phone, keys, or gym ticket safe and within reach. For a quick energy boost during workouts, you can tuck a protein bar inside and keep your earbuds case intact.
On-the-go Errands and Chores
It's never been simpler to run errands. To free up your hands and avoid carrying a large purse or bag, tuck your necessities into the pockets of your leggings. No more digging through your belongings or stressing out when you're out and about leaving something behind.
Travel Companion
Whether you're leaving on an extended vacation or a brief weekend getaway, pocket tights are a must-have travel accessory. Safely store your passport, boarding pass, travel cards, or even little goods like lip balm or earbuds, ensuring quick and easy access throughout your journey.
Outdoor Runs and Walks
While keeping your possessions safe, spend time with your pet or go on an outdoor adventure. With no extra luggage or accessories, leggings with pockets let you focus on your four-legged friend or fully enjoy nature. They also easily carry snacks, keys, phones, or even a tiny water bottle.
Parenting
Leggings with pockets are a lifeline for working parents. To simplify multitasking and keep your hands free from parental responsibilities, store tiny toys, pacifiers, food, or even your phone while you tend to your young children. Pockets make it easy to be organised and presentable while being ready for any circumstance.
Dance and Yoga Classes
Find your flow without distractions. To keep you focused on your movements and fully immersed in your practice, dancers and yogis can tuck away tiny props, personal items like keys or cards, or even a small towel in tights with pockets. There will be no more interruptions to look for lost objects or to leave the studio to get what you need.
Explore Trends and Innovations in Design
These leggings offer usefulness and a cutting-edge aesthetic thanks to fashionable design improvements, high-performance materials, and tailored solutions making for great sports leggings with pockets.
Blend with Style
Leggings' pockets have advanced significantly, and the newest fashions show off creative designs that slickly combine usefulness and style. To add a touch of flair to your sportswear, keep an eye out for unconventional pocket placements like mesh side pockets or hidden waistband pockets.
Durable Fabrics and Construction
These leggings strike the ideal balance between comfort and performance thanks to their moisture-wicking fabrics and breathable, stretchy blends. Look for textiles that have improved tensile strength and shape retention.
Versatile Pocket Styles
To suit your needs, there are many different leggings designs with pockets, including zippered leggings. You can select the pocket style that best fits your lifestyle, ranging from small, discreet pockets for carrying necessities like keys and cards to bigger, expanding pockets for storing your phone or other larger goods.
There are leggings with back pockets and leggings with zipper pockets that are good for storing smaller items. The pockets are also more discreet in nature.
Then there are leggings with phone pockets are leggings with side pockets. These are deeper pockets that are perfect for storing your phone and larger items like a wallet or a snack/protein bar.
Fashionable Colours
Not only are leggings with pockets for women practical, but they also have a fashionable appeal. Bold colours and stylish patterns can help you stay current. Leggings that capture your distinct sense of style allow you to express your uniqueness and up your athletic game.
Specialised Leggings
Womens tights with pockets are now available for various activities catering to specific needs. Whether you're into running, yoga, or hiking, you can find running leggings with pockets or gym leggings with pockets tailored to your preferred activity. Look for features like sweat-wicking properties, reflective details, or compression support, enhancing your performance while keeping your essentials close at hand.
Different Fabrics for Your Leggings with Pockets
Moisture-Wicking
Wearing leggings manufactured from moisture-wicking materials will keep you cool and comfortable during workouts. These fabrics wick moisture away from your skin to keep you dry and stop any discomfort from excessive moisture. This keeps your workout clean and dry.
Breathable and Stretchier Blends
Look for combinations of pocket leggings that are both stretchy and breathable. The flexibility and freedom of movement you need for any activity are provided by these fabrics, which give the best ventilation and allow air to circulate.
Compressing Fabrics
These unique materials provide light compression that can enhance blood flow, lessen muscular soreness, and offer support during strenuous exercises or extended durations of activity. Muscle stiffness is a thing of the past, and performance and recovery are now improved.
Shape Retention and Durability
Pick leggings that can sustain your busy lifestyle using strong, shape-retaining materials. These materials ensure that your leggings will continue to look fantastic and function well over time by maintaining their shape and structure even after numerous washings.
Organic/Eco-Friendly Fabrics
Choose girls' leggings with pockets made of eco-friendly materials if sustainability is essential to you. Look for eco-friendly fabrics, such as organic cotton or recycled polyester, that deliver the comfort and performance you want.
Thermal Fabrics
These are comfy leggings with pockets made of thermal materials, you can stay warm and comfortable while engaging in cold-weather activities. Insulation is provided by these materials, which maintain your body heat and keep you cosy without compromising breathability.
Why choose BlissClub for Ladies Leggings with Pockets?
All-in-One Convenience
By providing high waisted leggings with pockets that mix fashion, cosiness and usefulness, BlissClub stands out from the competition. What's best? All of BlissClub's leggings come with pockets, offering a practical way to carry your necessities with you. You won't find leggings with pockets online better than ours.
Plethora of Options
BlissClub offers a wide range of pocket leggings to accommodate a variety of preferences. Choose from high-impact leggings for vigorous exercise, cotton leggings with pockets for comfortable breathability, polyester-blend leggings for moisture-wicking effectiveness, nylon-blend leggings for toughness, modal leggings for a plush feel, and even maternity leggings with pockets for expectant mothers. BlissClub provides the ideal pair of ladies tights with pockets for you, no matter your preferences or activities.
Style and Versatility
BlissClub's leggings with pockets were created with fashion, too, in mind. Whether you choose timeless neutrals like black leggings with pockets or vibrant colours, you can find tights that complement your style and upgrade your athletic collection. Embrace your distinctive flair and stand out with assurance.
Uncompromising Quality
Our leggings are of the highest quality and are made to last. Our leggings are made to sustain your busy lifestyle because they are meticulously made using high-quality materials. Your leggings will continue to perform well and keep their shape, comfort, and brilliant colours even after numerous washings.
The Ultimate Pocket Goals Leggings
The "Ultimate Pocket Goals Leggings" from BlissClub will help you take your pocket game to the next level. Six pockets on these leggings hold all of your necessities. You'll have ample space and secure storage options with a zippered back pocket, a hidden inner pocket, and two overlapping pockets on each side. Stay organised and keep everything you require close to hand.
Convenient Shopping
It's never been easier to buy leggings with pockets online. We offer a seamless online shopping experience, so you can buy women's leggings and buy pocket tights online from the comfort of your home. Apart from buying pocket leggings online, you can buy pocket leggings in our store too.
Frequently Asked Questions
Are leggings with pockets suitable for high-intensity workouts and activities?
Yes, women's leggings with pockets are ideal for workouts and physical activities. They provide a secure and hands-free solution for storing essential items, such as keys, gym passes, wallets, etc, as you run or exercise. Gym leggings with pockets will make you feel secure and undeterred during your workout.
What should I consider when purchasing leggings with pockets?
Consider the fabric quality, size and shape, fit, breathability and stretching, and of course, the number and placement of pockets.
How do I care for and wash my Leggings with Pockets?
Read the product page or the garment tag for proper washing and drying instructions to prolong the life and quality of your pair of women's leggings with pockets. Wash them in cold water with mild detergent and a gentle cycle.
Are pocket gym leggings only suitable for certain body types?
No, workout leggings with pockets are suitable for all body types. You'll find a pair that looks good on you and feels great just by picking the correct size. We offer plus size leggings with pockets and size XS, too - remaining size neutral.
A 10% off coupon, front-row tickets to our latest launches, and no spam!
Subscribe to our Whatsapp updates now.
check your whatsapp now!