Shorts for women
Sizes from XS to XXXL
Sizes from XS to XXXL
Sizes from XS to XXXL
Sizes from XS to XXXL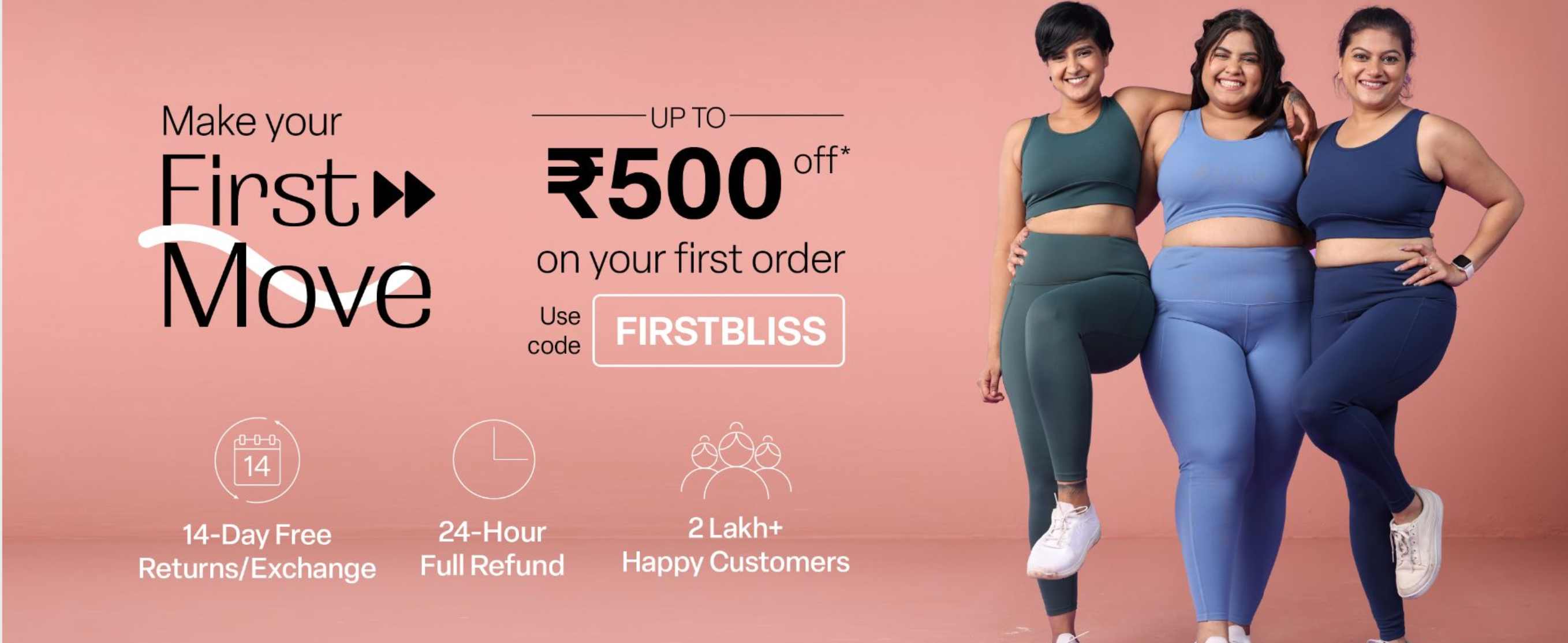 Shop Shorts for Women Online on BlissClub
At BlissClub, we aim to empower women by engineering super comfortable and functional clothing that keep you moving. Among our top products are women shorts of different kinds, for different levels of movement. Shop women shorts on BlissClub to get products that support you and offer you non-restrictive comfort as you move. We make womens shorts comprising different materials including cotton, our signature CloudSoft fabric, and more. You can buy super nice black shorts and also buy shorts for girls and women at the best prices on our website.
We bring you shorts for women that are extremely functional. To ensure that our ladies shorts have excellent functionality, we include deep and secure pockets in each of them. Some of our girls shorts even have three pockets for added convenience. When you usually buy shorts for ladies, pockets might not be the first thing in your mind. Well, while our women shorts have pockets, they do offer you so much more. We bring you the best women shorts ever that offer you great breathability or a super-comfortable compression- depending on what you are looking for! Your search for shorts online ends here- buy online shorts for women at very good prices and be assured that the quality you receive is unparalleled!
When you buy women shorts online at BlissClub, you get to choose depending on your activity- be it running, cycling or just lounging, we have great options of female shorts of all kinds for you. What are you waiting for? Buy shorts for women that your legs will fall in love with right away.
Different Types of Women Shorts available on BlissClub:
Cycling Shorts: Cycling shorts for women are designed to help you ride comfortably, efficiently and in style. They let you move freely with comfortable fabric that won't chafe or pinch, plus pockets for storing your phone and other essentials. They're made from breathable fabrics that could wick away your sweat and they come in a range of styles, colors and sizes to fit all body types. Ideally, cycling shorts are high-waist shorts that offer you the comfort you need for exercise.
Sports Shorts: Sports shorts are designed to help you move. They're made from lightweight and breathable fabrics and feature streamlined designs that won't get in your way when you're doing any type of physical activity. Sports shorts are a great way to stay cool when you're working up a sweat. Sports shorts also help keep your skin dry, which is especially important for athletes who perspire heavily during physical activity.
Running Shorts: Running shorts are stretchable shorts rather similar to cycling shorts and sports shorts. They are typically spandex shorts which are great for running and the stretchable fabric used in them help move without worrying about any restriction. The moisture wicking fabric used in running shorts are great to wick away sweat after a long run. Unlike daily wear shorts for ladies, stretching is an important part of these shorts designed for running. Buy running shorts for women or plus size shorts for women if you want clothing dedicated to working out.
Cotton Shorts: Cotton shorts for women are simply put- comfort shorts. Unlike your gym shorts or biker shorts meant to help you move with intent and support your mid-high impact movements, cotton shorts are crafted to keep you comfortable and feeling light. Imagine wearing a super comfortable pair of high waist shorts with pockets made from highly breathable cotton.
Best Fabrics for Women Shorts
Lycra/Spandex: Spandex is known and loved for its stretchability. Moreover, this stretchable fabric offers great recovery as well. Clothes containing spandex fabric (lycra fabric) tend (think stretchabe shorts) to be comfortable and lightweight- perfect for workouts. Spandex fabric aka lycra material is also durable and moisture wicking which makes it a very common addition to the fabric composition of most activewear products for yoga and other kinds of workout/exercise that need stretchable shorts.
Cotton: Who doesn't love a good pair of cotton shorts? Cotton fibre is an excellent option of a plant fibre and it offers excellent breathability and comfort- and oh goodness, the softness. Cotton fabric uses natural fibres and is loved because of its softness, durability and comfort. You could wear cotton shorts the whole day and move as you like as this is also one of the most breathable fabrics. You can also use these stylish shorts for your low impact exercises to improve performance.
Polyester: Shape retaining polyester is endurant, strong and when mixed with just the right amount of spandex fibre, does an amazing job of offering great stretchability for all your low impact workouts. Polyester fabric dries quickly (moisture wicking) and therefore polyester shorts are quite easy to maintain as it doesn't wrinkle much.
Nylon: Nylon is wonderfully versatile: it makes for great water resistant clothing that enhances your workout experience. Nylon offers durability and comfort: and has excellent wear-resistance. Take care of nylon well and you can wear nylon bottomwear pretty much anywhere- for your cardio and beyond.
Why Choose BlissClub's Womens Shorts?
Comfort:There is bliss in comfort and comfort in every product brought to you by BlissClub. BlissClub brings you unique women's shorts that offer you excellent comfort as your day seamlessly transitions from work to walks to workouts. Irrespective of whether you wish to get hold of a pair of serious sports shorts or maybe some cotton shorts for your yoga sessions, comfort is a given.
Pockets: We love pockets. Yes, we know you do too. This is why, regardless of what our product is, we incorporate pockets into every pair of shorts for women we bring to the market. Who doesnt love women shorts with pockets? We want you to move all day as comfortably as possible and we know that this can only be achieved if you can move hands-free!
Fit: We are all about flattering fits that make Indian women feel good when they move, something which most comfortable women shorts simply don't bother with. At BlissClub, we design our shorts for ladies keeping in mind the functionality of every product to ensure that maximum movement ability is achieved! Our ladies shorts flatter every body shape well.
Buy Best Activewear on BlissClub
Our wide collection of activewear clothing currently includes a wide range of sports bras, bottomwear, tops & tees. You, much like all our other customers, love rocking their gym and activelife-aesthetics by dressing it up in our super comfortable and fashionable leggings (The Ultimate Leggings) which pair well with any of our sports bras.
Looking for something even more comfortable than buttery-smooth leggings that have more pockets than you can imagine? Check out our collection of shorts - perfect for staying in and reading that book you've been meaning to or for taking your doggo on a long walk. A casual shorts day out with no workout? Done. You are going to look fab in our capris, regular and flare pants that will let you move all day.
We love cotton tops just as much as we love boyfriend tees. And that is how much we love comfortable and super breezy tanks you can also use as loungewear. Which, no surprise, is how much we seem to adore kurtis, crop tops and tank tops. That's why we have them all right here for you.
FAQs related to Women's Shorts
How comfortable are shorts?
Shorts are the most comfortable article of clothing you can own. They are lightweight, breathable, and allow for a full range of motion, making them the perfect choice for any activity. Whether you're running, biking, or just lounging around the house, shorts are the way to go.
Which fabrics are good for women's shorts?
Lightweight cotton and linen blends, as well as breathable technical fabrics like nylon and polyester, are all great options for women's shorts. Denim is also a popular choice, as it is comfortable and durable.
What is the difference between short pants and shorts?
Shorts are typically shorter than short pants and usually have a higher waistline. They typically reach no higher than the mid-thigh and do not have pockets or pleats. Short pants are usually longer than shorts, usually reaching just above the knee, and often have pockets and pleats.
How often should shorts be washed?
Shorts should be washed after each wear. If they are only worn once, they should be washed within a few days. It is best to follow the care instructions on the garment's label for the most accurate wash instructions.
What can we pair with women shorts?
Women's shorts can be paired with a variety of different tops such as tank tops, t-shirts, blouses, crop tops, and even sweater. For footwear, you can go with sandals, sneakers, boots, or flats. To complete the look, you can add a jacket, scarf, or hat.
How do I take care of my BlissClub shorts?
Detailed instructions for wash care are provided along with the product when you purchase the shorts in the innercard. You can also find the details on the specific product page.
A 10% off coupon, front-row tickets to our latest launches, and no spam!
Subscribe to our Whatsapp updates now.
check your whatsapp now!