Blue Pants for Women
Sizes from XS to XXXL
Sizes from XS to XXXL
Sizes from XS to XXXL
Sizes from XS to XXXL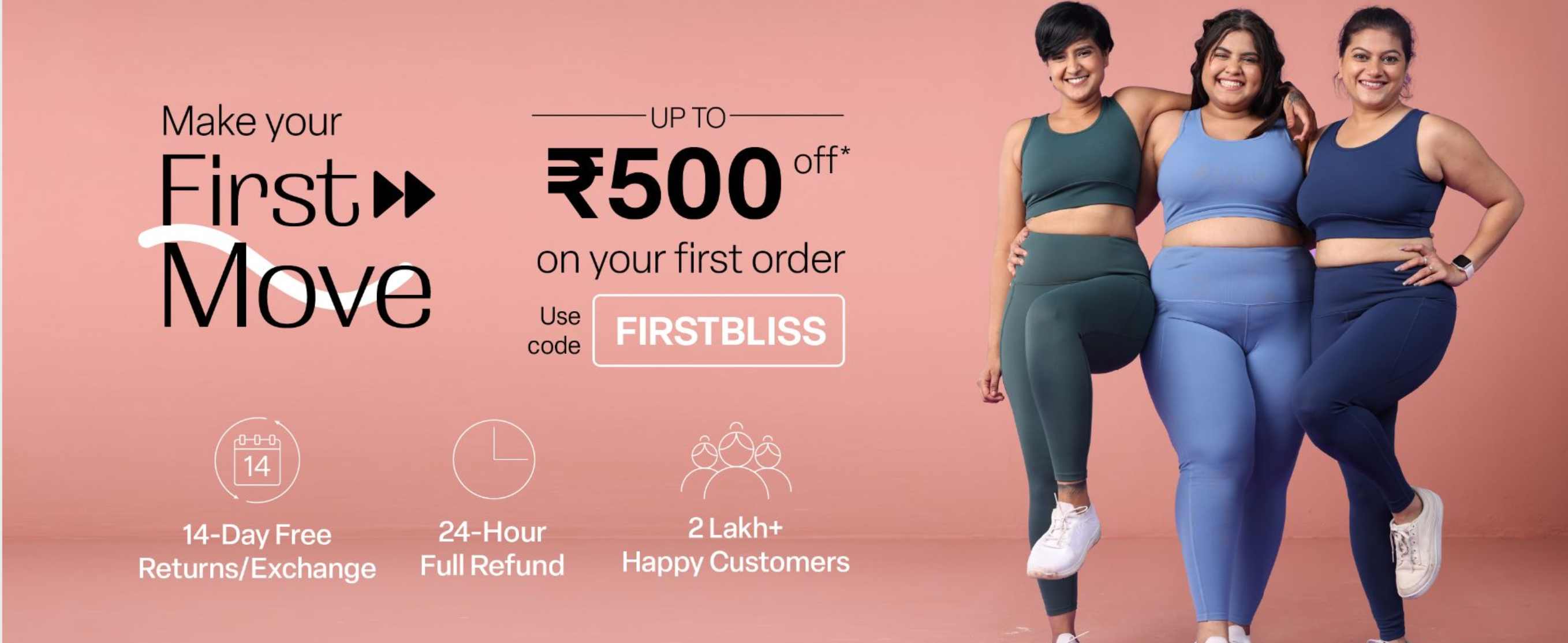 Shop Women's Blue Pants Online
Introducing our collection of women's blue pants: the perfect blend of style, comfort, and performance in activewear. Elevate your confidence all day long with our blue trousers, perfect for the gym, running, or everyday errands. With their trendy designs and vibrant colours, these activewear essentials seamlessly combine fashion and functionality.
Made from high-quality fabrics that prioritise breathability, flexibility, and durability, our blue pants will keep you cool, comfortable, and prepared for any activity. Experience the ideal balance of style and functionality with our range of women's blue pants. Let's dive in and discover the exciting possibilities ahead!
Blue Pantastic: Stylish Designs for Women's Pants
Looking for fashionable and functional activewear? With our assortment of women's blue trousers, you'll find the ideal balance of fashion and utility. These stunning fitness trousers will keep you looking and feeling great all day long, whether you're working out or doing errands. Buy blue pants from Blissclub online store today! Here are some intriguing styles and designs to consider:
Leggings:
Prepare to flaunt your curves with our sleek and flexible leggings. These form-fitting navy blue trousers are designed to hug your body and provide optimum flexibility and support during your workouts. You can mix and match them with your favourite tops for a stylish athleisure appearance thanks to the flattering high-waisted silhouette.
Joggers:
With our fashionable joggers or track pants, you can embrace the sporty-chic style. These girls blue pants are both comfortable and stylish, with a relaxed fit and tapered legs. These adaptable trousers can seamlessly boost your casual style, whether you're heading to the yoga studio or meeting friends for brunch. Experience a comfortable and secure fit with the elastic waistband, while the breathable fabric ensures all-day coolness.
Capri Pants:
Our capris are a must-have addition to your activewear wardrobe if you prefer a shorter length. These blue trousers for women provide flexibility of movement and allow your skin to breathe, making them ideal for warmer days or high-intensity workouts. The cropped style is stylish, and the stretchy fabric offers a comfortable fit that keeps in place no matter how active you are.
Wide-Leg Pants:
Try our blue wide leg pant for a fashionable take on sportswear. These flowing, loose-fit bottoms are a stylish alternative to typical trousers. The blue bell bottom pants style gives them a breezy air and a hint of elegance, making them suitable for workouts as well as casual outings. Combine them with a fitting top and trainers for a smart and laid-back style.
Patterns and Prints:
Our women's blue trousers with patterns and designs will add a splash of flair to your athletic wardrobe. These eye-catching patterns will make a statement wherever you go, from bold geometric designs to feminine florals. Our activewear trousers allow you to express your individual style while still providing comfort and usefulness.
Blue Pantastic: Styling Tips for Women
Looking for ways to look and feel good in your blue long pants? We've got your back! Shop women blue pants online from Blissclub. Here are some fashionable and practical style tips to help you up your activewear game:
Play with Layers:
When it comes to creating fashionable and adaptable looks with your blue straight leg pants or the blue formal pants, layering is essential. For a sporty-chic style, pair them with a loose-fitting tank or crop top and a lightweight hoodie or a smart bomber jacket. Experiment with different textures and lengths to create a stylish and well-balanced look.
Mix and Match Colors:
Don't be scared to try out new colour combinations. Blue pants for women are a versatile base that may be paired with a range of colours. Choose a bright-coloured top, such as neon yellow or coral, for a dynamic and energetic look. If you want a more understated look, mix your blue trousers with neutral tones such as white, grey or black for an effortlessly stylish look.
Accessorise with Confidence:
Accessorise your blue formal pants for women's attire to take it to the next level. Consider wearing a smart baseball cap, a statement belt or a trendy backpack to give a personal touch. Don't forget to complement your ensemble with some eye-catching trainers or ankle boots. Accessories not only add to your style but also give practicality and ease while working out or doing errands.
Embrace Patterns and Prints:
Experiment with patterns and prints to break the mould. To add visual appeal to your appearance, pair your navy blue lycra pant with a patterned sports bra or a vivid printed top. Allow your blue trousers to be the canvas for your individual style expression, whether it's vivid florals, geometric designs or animal prints.
Mix Silhouettes:
Mix diverse silhouettes to achieve a fashionable effect. If you're wearing form-fitting leggings, pair them with a flowy or large top. To achieve a flattering look, wear blue high waisted pants with a fitted crop top or a tucked-in tank. Mixing silhouettes gives your clothing character and provides a trendy, on-trend look.
Fab Fabrics: Blue Pants for Women
The fabric used in female blue pants can have a significant impact on both performance and comfort. Check out our blue pants online on the Blissclub online store. Here are some great fabrics to think about for your fashionable and functional blue pants:
Polyester:
Because of its great moisture-wicking characteristics, polyester is a popular choice for blue pants for girls. This fabric effectively draws sweat away from the body, keeping you dry and comfortable during strenuous exercise. Because it is lightweight and breathable, it is great for activities that need maximum movement.
Spandex:
Spandex, is a stretchy fabric that offers exceptional flexibility and range of movement. Spandex's excellent elasticity ensures a snug and supportive fit, allowing your dark blue lycra pants to move with you throughout any workout or exercise programme. Say goodbye to constraints and hello to unrestricted movement!
Cotton:
Cotton is a classic and flexible fabric that is popular in activewear. The ladies blue cotton pants have excellent breathability and suppleness, making it an ideal choice for casual workouts or leisurely pursuits. While cotton may not absorb sweat as well as polyester or spandex, it is more comfortable and natural on the skin, making it excellent for low-intensity workouts.
Nylon:
Nylon is a strong and lightweight fabric with good moisture control properties. It dries rapidly, making it an excellent choice for high-intensity exercises or sweat-inducing activities. Blue pants for ladies also have a smooth and sleek appearance, which adds to the overall look of your blue pants.
Blends:
To improve performance and comfort, many fitness blue pants for women blend various fabrics. A polyester-spandex blend, for example, provides a winning combination of moisture-wicking and stretchiness. Cotton-spandex blends provide a nice balance of softness and flexibility. Enjoy the perfect combination of comfort and functionality with these fabric combinations.
Blissclub: Your Perfect Destination for Blue Pants
Trendsetting Styles:
Blissclub takes pride in providing the most recent and fashionable kinds of women's blue pants. We provide a wide choice of alternatives to keep you looking beautiful and feeling confident during your workouts and beyond, from sleek leggings to comfortable joggers to plus size pants. Our designs are meticulously made to combine elegance and usefulness, ensuring you remain fashionable.
Premium Quality Fabrics:
For sportswear, we firmly believe that quality is of utmost importance. As a result, our blue trousers for women are manufactured of high-quality fabrics. To guarantee the greatest comfort and performance, we carefully pick fabrics such as moisture-wicking polyester, flexible spandex, breathable cotton, and sturdy nylon. Feel the difference of high-quality textiles that keep you cool, dry, and comfortable even during the most strenuous workouts.
Perfect Fit for Every Body:
Blissclub recognises that each individual is unique. As a result, our blue pants for women are made to fit women of various shapes and sizes. You may discover the appropriate fit that flatters your body and improves your natural contours with a variety of sizes and inclusive sizing options. Our women blue pants are meant to be stretchy and flexible, allowing for maximum comfort and freedom of movement.
Exceptional Durability:
We understand that your sportswear must withstand strenuous workouts and frequent washings. That's why Blissclub's girls blue pants are made to last. Our carefully selected fabrics and skilled craftsmanship ensure great durability, allowing you to be confident that your trousers will withstand your active lifestyle. Invest in activewear that will last you through numerous workouts without sacrificing quality.
Unmatched Comfort:
When it comes to sportswear, comfort is everything, and at Blissclub, we put your comfort first. Our women's blue pants have elastic waistbands, flatlock seams and soft, breathable fabrics to create a second-skin feel that moves with your body. Unrivalled comfort allows you to concentrate on your performance and enjoy every moment of your athletic pursuits.
Customer Satisfaction Guaranteed:
We cherish our clients at Blissclub, and their satisfaction is our first priority. We are committed to providing great customer service, assuring a stress-free purchase experience in which your pleasure is our first concern. We want to make your sportswear journey as joyful and stress-free as possible by offering hassle-free returns and exchanges. Our primary goal is your satisfaction, which encourages us to always supply the greatest quality products and services.
Frequently Asked Questions (FAQs)
What styles of blue pants are available for women?
Women's blue pants offer a diverse range of styles, such as leggings, joggers, wide-leg pants, bootcut trousers, cropped pants, and more, ensuring there's a perfect option for every preference and occasion. Each style offers a unique fit and aesthetic to suit different preferences and activities.
Which fabric is best for women's blue pants?
The best fabric for women blue pants depends on your needs and activities. Women's blue trousers come in a variety of fabrics, including polyester, spandex, cotton, nylon, and fabric mixes. Polyester and spandex offer stretch and moisture-wicking properties.
Can I wear blue pants for women as activewear only?
While blue pants for women are commonly associated with activewear, they are versatile enough to be worn for various occasions. You can quickly alter them to create different outfits for each event with the proper style and resources.
How do I care for women's blue pants?
Please follow the wash-care instructions mentioned on the product page or in the insert cards (packaging).
A 10% off coupon, front-row tickets to our latest launches, and no spam!
Subscribe to our Whatsapp updates now.
check your whatsapp now!