Women's Black Tank Tops
Sizes from XS to XXXL
Sizes from XS to XXXL
Sizes from XS to XXXL
Sizes from XS to XXXL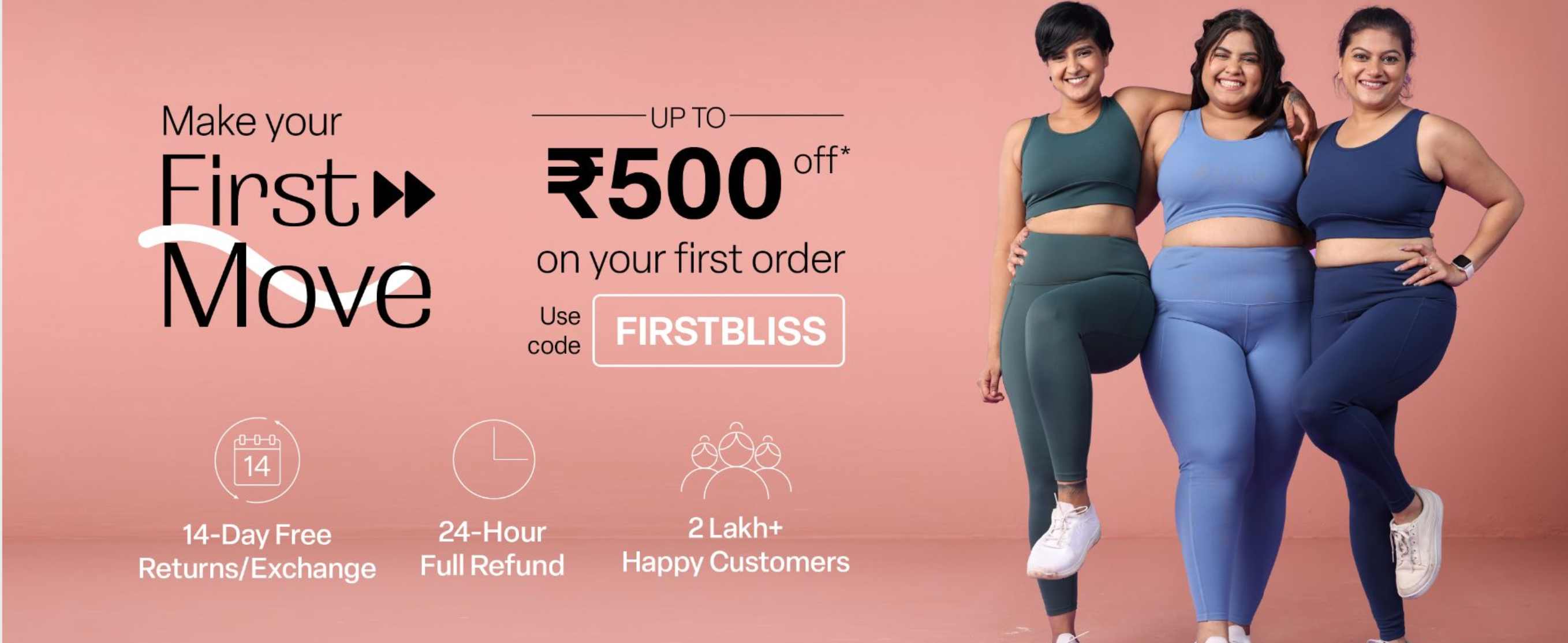 Buy Black Tank Tops Online
Introducing Black Tank Tops for Women by BlissClub! For your functional activewear needs. seeking. BlissClub offers a range of black tank tops. These are designed specifically for women, ensuring you feel both confident and supported during your workouts.
BlissClub's black tank tops for women come in various styles to suit activities ranging from low to high impact. One of the standout features of these tank tops is their moisture-wicking ability. The fabric is specifically designed to wick away sweat, keeping you dry and comfortable throughout your workout session. Additionally, the tank tops are made with cloud-soft fabric, that enhances the overall comfort and allows you to focus solely on your performance.
We take pride in offering the perfect fit for women of all sizes. The girls tank tops are designed with a round neck and high-rise armholes, providing ultimate coverage and support while you exercise. Whether you're engaged in low-impact activities or high-intensity training, these tank tops are crafted to meet your needs. Say goodbye to discomfort and distractions, and embrace the freedom and confidence that come with wearing BlissClub's black tank tops for women.
What's to love about women's black tank tops
Women's black tank tops are a fashion essential that offers endless possibilities for styling and functionality. Whether it's a plain black tank top for women or a stylishly designed piece, ladies black tank tops have become a wardrobe staple. The black color tank tops pair effortlessly with various outfits, making it a versatile choice for any occasion. Let's explore the numerous benefits and functionalities that women's black tank tops provide.
Focus on Form and Movement
The simplicity of a black color tank top eliminates distractions, allowing you to focus on your form and movement while exercising. Without excessive patterns or vibrant colours, your attention remains solely on your workout routine. This streamlined aesthetic promotes mindfulness and concentration, enhancing your overall workout experience and performance.
Easy Maintenance
Black tank tops are often made from durable and easy-to-care-for materials, such as moisture-wicking fabrics or blends that resist pilling and fading. This makes them perfect for regular use in the gym or during rigorous workouts. You can easily wash and maintain the black tank tops without worrying about color fading or extensive care instructions, ensuring they remain in great condition for a long time.
Endless Styling Options
The simplicity of a black tank top opens up a world of styling possibilities. Whether you want to create a casual, layered look with jeans and a cardigan or dress it up with a statement necklace and a skirt, a black tank top for women provides a versatile foundation. It serves as a blank canvas for you to showcase your personal style and experiment with different accessories and layers.
Versatile and Functional
Black tank tops are highly versatile and can be worn for a variety of occasions. They are suitable for everyday wear, as well as for active pursuits such as workouts, yoga sessions, or sports activities. The lightweight and breathable fabric of women's black tank tops ensure comfort while moisture-wicking properties keep you dry and cool during physical activities.
Effortless and Flattering
The clean lines and fitted silhouette of a female black tank top create a flattering look that accentuates your figure. The sleeveless black top design showcases your arms, while the tank top's length can be chosen to suit your preference, from cropped to long. Black tank tops for ladies offer a sleek and streamlined appearance that effortlessly enhances your overall style.
Wardrobe Essential
A black tank top for women is a must-have in any woman's wardrobe. Its timeless appeal means it can be relied upon for multiple occasions, from casual outings to formal events. Investing in a high-quality black tank top ensures a versatile piece that can be worn season after season, making it a valuable addition to your closet. This quality of womens black tank tops also makes them super functional in capsule wardrobes or when packing light for travel.
Women's Black Tank Tops: A Wardrobe Staple
Basic Black Tank Top
The basic black tank top is a must-have for every wardrobe. offering versatility and style that can be effortlessly incorporated into various outfits. From casual outings to intense workout sessions, black tank tops are a go-to choice for women seeking comfort, functionality, and a touch of elegance. Let's explore the different types of black tank tops available to cater to your specific needs.
Black Sleeveless Tank Top
A classic and essential piece, the black sleeveless tank top provides a clean and minimalistic look. With its sleek design and lightweight fabric, this tank top is perfect for layering or as a standalone piece during warmer weather.
Black Workout Tank Top
Designed with the active woman in mind, the black workout tank top combines functionality and style. Constructed with moisture-wicking fabrics, these tank tops keep you dry and comfortable during intense workout sessions. They offer a wide range of motion and are ideal for activities such as yoga, running, or weightlifting.
Black Racerback Tank Tops
The black racerback tank top is a popular choice among fitness enthusiasts. With its distinctive racerback design, it allows for maximum freedom of movement in the shoulders and arms. This style is commonly preferred for high-intensity workouts and sports activities.
Black Gym Tank Tops
Specifically tailored for gym sessions, black gym tank tops offer a blend of performance and style. They are often crafted from breathable materials that help regulate body temperature, ensuring comfort even during the most intense workouts. These tank tops often feature moisture-wicking properties to keep you dry and focused.
Long Black Tank Top
If you prefer extra coverage or a more relaxed fit, a long black tank top might be the perfect choice. These black tanks for women are slightly longer in length, providing a flattering silhouette and the option for versatile styling. They can be paired with leggings or jeans for a casual yet polished look.
Loose Black Tank Top
For those who prioritize comfort and a relaxed fit, a loose black tank top is an excellent option. These tops offer a more flowy and breathable design, allowing for unrestricted movement. They are perfect for casual outings or lounging around on laid-back days.
Plus Size Black Tank Top
Embracing inclusivity, plus size black tank tops cater to the needs of women with different body shapes and sizes. They offer a comfortable and flattering fit, ensuring that everyone can enjoy the timeless elegance and versatility of womens black tank tops.
Black Polyester Tank Top
Polyester tank tops are known for their durability, wrinkle resistance, and moisture-wicking properties. A black polyester tank top can withstand intense workouts and maintain its shape and colour over time.
Shopping for Black Tank Tops
Shopping for black tank tops, whether online or offline, can sometimes present certain challenges. It's essential to be aware of these potential issues and keep a few tips in mind to ensure a smooth and satisfying shopping experience. Here are some specific considerations when you buy women's black tank tops, and tips to help you make the right choice:
Sizing Options
When shopping for girls' black tank tops or women's black tank tops, one common challenge is finding the perfect fit. Some retailers may offer limited sizing options, especially if you have specific size requirements. To overcome this issue, look for online stores that provide detailed size charts and measurements. Take accurate measurements of your bust, waist, and hips and compare them to the provided size guide to select the most suitable size.
Fabric Quality and Comfort
The quality and comfort of a black spandex tank top or any other material can greatly impact your experience. It can be difficult to assess the fabric's quality when you shop black tank top online, as you can't physically touch or feel the product. To make an informed decision, carefully read the product description and look for information about the fabric composition. Opt for reputable brands to buy black tank tops from. Look for ones that prioritize high-quality materials and seek customer reviews to gain insight into the comfort level and durability of the tank top.
Return and Exchange Policies
Another challenge when you shop black tank top, is the possibility of receiving an item that doesn't meet your expectations. It's important to familiarize yourself with the return and exchange policies of the online store before making a purchase. Ensure that you have the option to return or exchange the tank top if it doesn't fit properly or if the quality is subpar. Look for stores that offer hassle-free returns and exchanges, allowing you to shop with confidence.
Style and Design Considerations
When you buy women's tank top, look for styles that suit your personal preferences. However, it can be overwhelming to navigate through countless options black tank tops online or to find the desired design in physical stores. To streamline your search, have a clear idea of the specific style or features you're looking for. Whether it's a black spandex tank top for a sleek and fitted look or a loose-fitting women's tank top for a relaxed feel, knowing your preferences in terms of design and silhouette will help you narrow down your options and find the perfect tank top more efficiently.
When shopping for black tank tops, keep these tips in mind to make your experience more enjoyable and successful. Take advantage of detailed size charts, pay attention to fabric quality, be aware of return policies, and have a clear idea of your preferred style. By doing so, you'll be able to shop confidently and find the ideal black tank tops to suit your needs and personal style.
Why Choose Blissclub's Black Tank Top
When it comes to choosing a women black tank top, Blissclub stands out as an excellent option. Here are several reasons why you should consider Blissclub's black tank tops:
High-quality Fabric
Blissclub's black tank tops for women are crafted using high-quality fabric that's both durable and wear resistant. The moisture-wicking properties of the fabric ensure that sweat is efficiently drawn away from your body, keeping you dry and comfortable during your workouts. Additionally, the cloud-soft fabric provides a soft feel against your skin, enhancing your overall comfort and enjoyment while wearing the tank top.
Activities Based Styles
Blissclub offers a diverse range of styles tailored for various activities, ensuring that you find the perfect black tank top for girls to suit your needs. For low-impact activities, options like the Breezy split back tank and the Breezy basic tank provide a relaxed and breathable fit, ideal for yoga walks, or casual workouts. For mid to high-impact activities, the Ultimate active tank and Flex Active tank allow you to move freely without compromising on comfort. They're both suitable for activities like running, intense yoga or gym workouts. These various styles cater to different activity levels, ensuring that you find the right tank top for your preferred exercises.
Secure and Comfotable Fit
Blissclub's black tank tops are designed with a focus on providing the perfect fit and ultimate support during your workouts. The round neck design ensures a flattering and versatile neckline that suits various body shapes. Moreover, the high-rise armholes offer excellent coverage and support, allowing for unrestricted movement while keeping you feeling confident and secure. The combination of the perfect fit, round neck, and high-rise armholes ensures that our black tanks provide the ideal balance of comfort, coverage, and support to enhance your workout experience.
FAQs
Can you wear a sports bra with a black tank top for the gym?
Yes, you can wear a sports bra with a black tank top for the gym. It provides added support and allows for a comfortable and stylish workout outfit. Tank tops are great as gym topwear if you're looking for a more covered fit.
How to style a women's black tank top?
To style a women's black tank top, pair it with high-waisted leggings or shorts for a sleek and athletic look. Layer it with a colorful sports bra or add a lightweight jacket for added style and versatility.
What are gym tank tops for women?
Gym tank tops for women are sleeveless tops specifically designed for workouts and athletic activities. They provide freedom of movement, breathability, and often feature moisture-wicking properties to keep you comfortable during intense workouts.
Which fabric is best for black tank tops?
Moisture-wicking and quick-drying fabrics like polyester or nylon blends are ideal for women black tank tops. These fabrics help to wick away sweat and keep you dry and comfortable during workouts, ensuring optimal performance.
Can we use women's black tank tops as gym wear?
Yes, women's black tank tops are suitable for gym wear. They are designed with functionality in mind, offering comfort, breathability, and a wide range of motion. Whether it's for weightlifting, cardio exercises, or yoga, black tanks provide a versatile and stylish option for your gym sessions.
A 10% off coupon, front-row tickets to our latest launches, and no spam!
Subscribe to our Whatsapp updates now.
check your whatsapp now!