Women's Tank Tops
Sizes from XS to XXXL
Sizes from XS to XXXL
Sizes from XS to XXXL
Sizes from XS to XXXL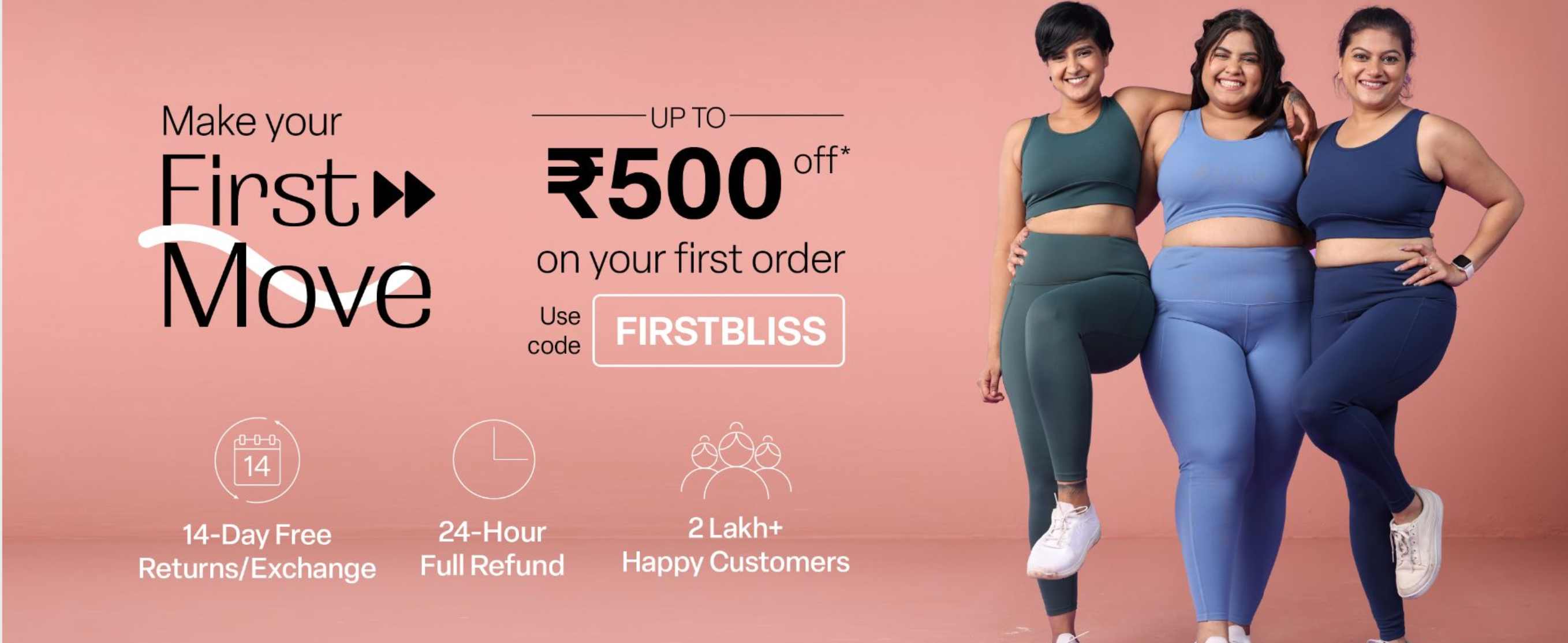 Shop Tank Tops for Women by Blissclub
Blissclub brings you tank tops for women in different styles that you can wear throughout this summer, and later, to flaunt your style and moves. Women tank tops by Blissclub excel in quality as well as utility. Premium women's tank tops by Blissclub let you move as freely as you like over the summer and in total comfort with an easy and timeless style that is also super easy to style. What makes em Blissclub womens tank tops perfect? So many wonderful things, what can I tell you… let's see: comfort? Yes! Stylish? Yes. Weather-friendly? Yes. What more? Read on to know!
Blissclub engineers womens tank tops using super comfortable fabrics that provide you with excellent features like moisture wicking properties, supreme softness, durability and so much more. Blissclub women's tank tops stand out from the rest in terms of so many factors, including the fact that they keep you feeling light and breezy throughout the day. Our womens tank tops comprise the right fabrics, functions and dedicated fits that look and feel wonderful.
Our collection of tank tops for women include those you can chill around in and also those that you can wear for a sweaty, active day ahead. We make premium tank tops for girls suitable for all day wear, available in solid colours so you can style them as you like, with skirts, skorts, shorts or trousers. What does Blissclub bring you? Women tank tops of superior quality and style, easy to wear, easy to keep on and easy to take off, if you ever want to. We engineer girls tank tops for all your moves. Buy tank tops online on Blissclub now to get moving in style.
What are women's tank tops?
Tank tops for ladies are casual garments that covers the upper body. Womens tank tops were originally made from cotton, but now tank tops for girls are made using various other materials including spandex or polyester. Girls tank tops are now way more functional than they used to be, at a time when ladies tank tops were just meant as summerwear. Female tank tops are often used as an undershirt for women, but women who move wear women's tank tops as outerwear. Tank tops for girls come in many different styles and colors, but girls tank tops are typically short-sleeved with a wide neckline and have straps that cross in the back or run down the front of your shoulders. You can buy tank tops online on BlissClub to accommodate for one and all your moves.
Different types of tank tops for ladies:
Ladies tank tops are available in different styles, for different functions and it is important to be aware of the different styles of ladies tank tops available before you decide to buy tank tops online:
Sports tank tops
When you shop tank tops, it is important to remember that not all tank tops for women are ideal for sporting events and high impact activities. However, the tank tops for ladies meant for sports lend many supporting features that render them ideal for such activities. They are generally polyester/spandex tank tops that come in backless, double layer, and halter styles to accommodate for a variety of body types. These workout tank tops for women accommodate your high impact exercises (high intensity exercises) pretty well. Check out our active tank top collection to get you started, shop tank tops for women who move seriously.
Stylish tank tops
Stylish tank tops include your trendy tank tops and these are the kind of tank tops for women you should be opting for if you want to shop tank tops online that are more about the style rather than workout tank tops for women. We have a collection of tank tops that include stylish tank tops like our split back tank top (shop tank tops online right now, here). When you buy women tank tops online, be aware of the style you are shopping for.
Comfortable tank tops
Arguably the best tank tops are comfortable tank tops and when you shop tank tops online, you will realize that unlike your spandex tank tops, a loose and comfortable polyester tank top could be a better choice for casual summer wear. While workout tank tops are great for all your moves, the best tank tops for summer are cotton tank tops which are plain and simple sleeveless tank tops. Your sports tank tops do not fit into this category but your plain and simple round neck tank tops are exactly comfy stretchable tops.
Styling women tank tops
What to wear under a tank top? The big question answered. Here are different ways you can style your sleeveless tank top for women and sports tank tops:
Leggings
Your gym tank tops and sports tank tops will pair well with leggings to make for great gym wear that you can wear in and out of the gym and also as casual wear when you go about your day.
Shorts
When you buy women tank tops online, it would be a good idea to get a pair of shorts to pair with them for your gymming, running, boxing and all that. Tank tops for ladies make great topwear for women that pair seamlessly with shorts and other shorter bottomwear options like capris.
If your crop tops require just a little more coverage around your belly are, wearing women tank tops with them might be a good idea. Layering might not be a great idea if you are wearing your tank tops as sportswear but it is a good style. You can also wear them under plain cotton tops for a day out.
With yoga pants
Your women tank tops and yoga pants add up to great activewear for women. You can take your everyday black tank tops and sleeveless tops for women and style them with yoga pants to ensure you obtain an effortlessly sporty look. You don't necessarily need other yoga tops if you have your tank tops on.
How to choose the right tank tops:
Comfort
Ensuring that your tank tops are super comfortable has to be the most important thing when it comes to selecting the right tank tops for you.
Style
Yes, they are all sleeveless but what about the back? Do you like a split back look or do you prefer something more plain and not racerback?
Functionality
If you will use your tank top for the gym and other heavy moves, you need to check whether it is functional enough. Does it have moisture wicking features? Is it breathable?
Price
You might have a price range in mind but it is not advisable to settle for the cheaper option always especially if you get better value by paying the right price.
FAQs related to Tank Tops
What is a tank top?
A tank top is a piece of clothing that covers the torso, but leaves part of the upper body exposed. The bottom edge of the tank top is straight, while the top edge has some kind of neckline and may or may not have straps.
What is the difference between a camisole and a tank top?
A camisole is a long, sleeveless shirt that's usually worn under another top. It has no straps and is usually made of a stretchy fabric so it fits snugly against your body. A tank top, on the other hand, is a sleeveless shirt that's designed to be worn as a top layer. It's usually shorter than a camisole and has straps.
Where all can we wear tank tops?
You can wear tank tops pretty much anywhere but make sure you buy tank tops which are suitable for the activities you have planned for your day. Tank tops are great for work, workouts, partying and so much more.
Can tank tops be used for workouts?
Yes, tank tops can be used for workouts. They're comfortable, they wick away sweat, and they're designed to fit rightly. Tank tops are a great option for cardio workouts, because they'll keep you cool and dry throughout your workout. If you want to wear a tank top during a weightlifting or strength training session, we recommend going for one that's made from a thicker fabric, like cotton or polyester.
What can we pair with tank tops?
Tank tops can be worn with pretty much any kind of bottomwear including leggings, shorts, straight pants, flare pants, etc.
Can tank tops be worn daily?
Of course. You can wear them everyday and keep them on all day long as long as you are comfortable, happy and feeling super light in them.
What is the best fabric for tank tops?
Depending on the type of activity you wish to wear the tanktop for, choose your fabric carefully. Durability is offered by polyester, cotton, etc and the stretch your spandex fabric gives you is indisputable.
How do we take care of BlissClub tank tops?
BlissClub tank tops can be taken care of by following the instructions on the website or inner card carefully so your product stays with you, well and long :).
A 10% off coupon, front-row tickets to our latest launches, and no spam!
Subscribe to our Whatsapp updates now.
check your whatsapp now!