Plus Size Tank Tops for Women
Sizes from XS to XXXL
Sizes from XS to XXXL
Sizes from XS to XXXL
Sizes from XS to XXXL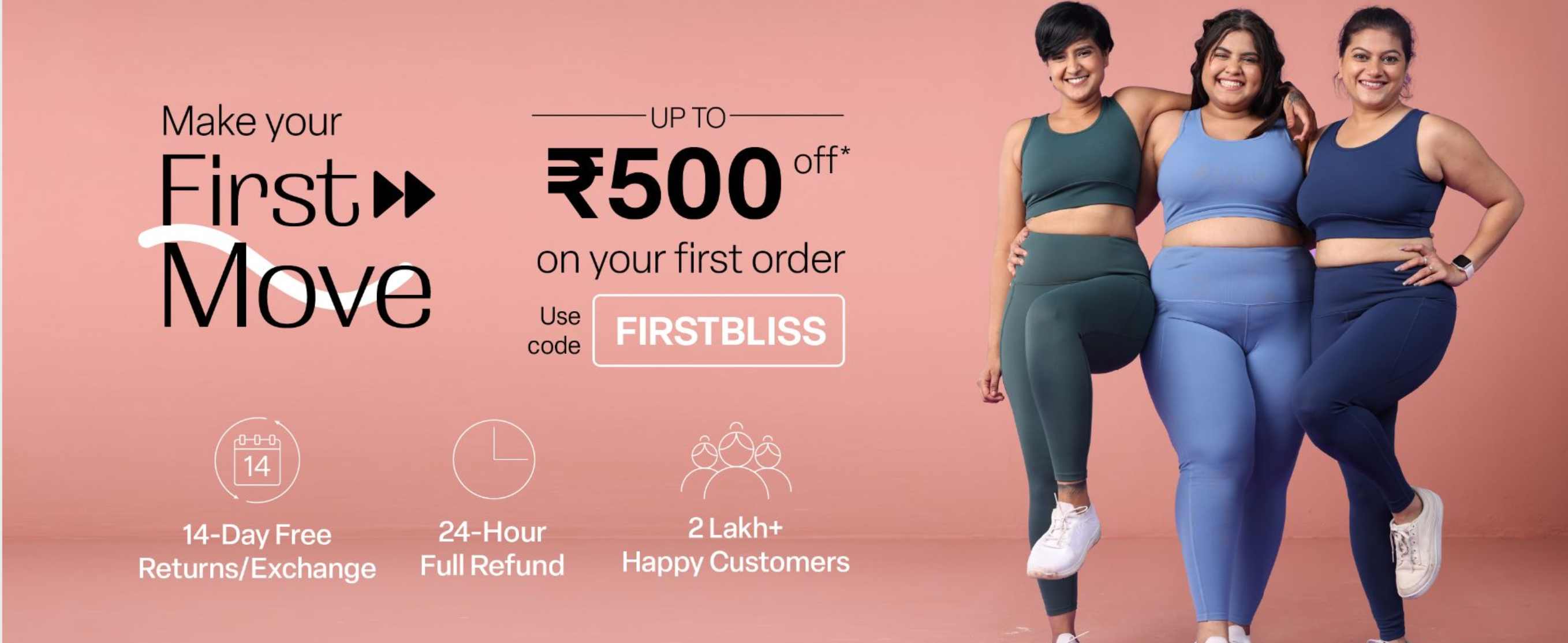 Shop Plus Size Tank Tops Online
Curves deserve to be celebrated, and our plus size tank tops are here to do just that. Our tank tops are made from premium materials that feel soft against the skin and have just the right amount of stretch, and they are made with your comfort in mind. Our tank tops come in various sizes, from XS to 3XL tank tops, to provide a flattering fit for all bodies because we recognise that each is unique.
Discover your perfect fit by exploring our selection of plus size tank tops for women. Blissclub offers a fantastic range of plus size tank tops for women that cater to diverse styles and preferences. Whether you're searching for women's plus tank tops for everyday wear or specific occasions, Blissclub has you covered. The convenience when you buy plus size tank tops online, you can explore our collection from the comfort of your home. For active individuals, our plus size activewear tank tops are designed to provide comfort and support during workouts or sports activities.
If you prefer a minimalist aesthetic, our plus-size plain tank tops offer versatile options that can be easily dressed up or down. At Blissclub, we believe every woman deserves to feel confident and comfortable, so we offer a wide range of styles in plus size tank tops for ladies. Whether you're looking for trendy designs or classic essentials, our collection of ladies plus tank tops has something for everyone. Explore Blissclub today and find the perfect plus size sports tank tops that combine style, comfort, and functionality.
How to style your Plus Size Tank Top
You can create stunning outfits that showcase your curves and give you more confidence with the appropriate styling techniques.
Layer it up
Layering can be the secret key to styling women plus size tank tops. Team your tank top with a chic jacket or cardigan to give your ensemble depth and perspective. Put on a cosy oversized cardigan or a denim jacket for a more laid-back appearance. Choose a structured blazer to instantly up your tank top game if you want to look more put together.
Pick Stylish Bottoms
Your best friend when it comes to bottoms is black tights. These multipurpose basics provide comfort and a beautiful figure, acting like a pair of leggings. Create a classic monochrome look by pairing them with your plus-size black tank top to achieve a streamlined appearance. Add ankle boots or trainers to the ensemble to give it a casual feel, or dress it up with heels for a night out.
Adopt High Waisted Bottoms
A game-changer for dressing women plus size tank tops is high-waisted pants. Choose high-waisted clothing to accentuate your waist and produce a balanced appearance. For a put-together appearance and to highlight your curves, tuck your tank top inside the waistband. Try exploring various colours and patterns to give your outfits more visual interest.
Accessorise
Accessories are the perfect finishing touch to enhance your plus size tank top ensemble. Statement necklaces, chunky bracelets, or vibrant scarves can instantly elevate your look and draw attention to your upper body. Remember belts! Cinch your waist with a stylish belt to create an hourglass shape and add a touch of personality to your outfit.
Carry your Confidence
Above all, remember that confidence is essential for pulling off any look, including plus-size tank shirts. Wear whatever makes you feel beautiful and comfortable. Accept your flaws and proudly show off your unique sense of style. When you are confident, people will notice your dress, and it will shine.
Why do you need a plus sized tank top?
Womens Plus size tank tops are highly versatile pieces that can be worn in various ways, making them more than just a basic wardrobe staple. These tank tops are a must-have for every curvy fashionista's wardrobe, regardless of whether you're looking for a casual appearance or dressing up for a big occasion.
Everyday Outfits
Plus size tank tops are a game-changer for everyday style. Wear them with your favourite jeans, shorts, or skirts for a laid-back and stylish style. Tank tops' all-day comfort is guaranteed by their plush fabric and flattering fit, drawing attention to your curves. Add a cardigan or denim jacket for more flair and warmth during the colder months.
Perfect Layering Top
For any season, plus size tank tops make the ideal layering piece. They act as the foundation for fashionable layered ensembles. Put them on under blouses, button-up shirts, or thick-knit sweaters. Try various shades and patterns to give your clothing more depth and personality.
Activewear
Who said tank tops could only be worn casually? Tank tops in plus sizes are great for wearing as sportswear and for working out, especially when paired with sports bras. The breathable and moisture-wicking fabrics keep you cool and comfortable during your workouts. Pair them with leggings, yoga pants or shorts for a fashionable and practical training outfit. These tank tops offer comfort and style, so wear them to the gym or run. You can specifically buy a plus size yoga tank or a plus size gym tank top.
Summer Wear
Plus size tank tops are your go-to summer basics when the weather is warm. Pair your plus size cotton tank tops with airy skirts, shorts or cropped pants to embrace the warm weather. To stay cool and comfortable all day, use lightweight and breezy fabrics. Sunglasses, a floppy hat, and sandals are the perfect finishing touches for the ultimate summer ensemble that seamlessly combines fashion and comfort.
Turn Up for Special Occasions
Don't discount the power of plus-size tank tops when dressed for important occasions. A maxi skirt or wide-leg trousers can be worn with them to create a dressy and classy ensemble. Pick tank tops featuring sequins, lace, or embellishments for glamour. You will shine at weddings, parties, or formal gatherings if you finish your outfit with statement jewellery and high heels.
Types of plus size tank top for women
Tank tops of Different Dimensions
The additional length and coverage of plus size long tank tops are beneficial to women of all sizes. These tank tops have a comfortable and flattering cut that lengthens the torso, making them ideal for layering or wearing alone. Choose plus size loose tank tops if you prefer a more relaxed and flowy fit. They accord ample room, allowing for ease of movement.
Plus Size Workout Tanks
These tank tops are designed with moisture-wicking fabrics that keep you dry and comfortable during intense workouts. They also feature in-built bras and wide adjustable straps for added support. Plus size polyester tank tops are ideal for plus size active tanks.
Casual Plus Size tanks
Plus size tanks can be used for casual and everyday wear. For lounging and leisure activities. Your plus size sleeveless tank tops come with racerback designs, high necklines, and high cut armholes. 
Why choose a plus size tank top from Blissclub?
When it comes to finding the perfect plus size tank top, Blissclub is your go-to brand. We believe that fashion and movement should be inclusive and celebrate all body types. With a commitment to size, inclusivity, and quality, Blissclub offers a range of tank tops designed for curvy individuals. With their inclusive sizing and carefully crafted designs, Blissclub ensures that everyone can find a tank top that suits their style and enhances their confidence.
Perfect Fit for Every Body
Blissclub understands that one size does not fit all. Our plus-size tank tops are carefully crafted to fit every body shape and size perfectly. From XS to 3XL, Blissclub provides a wide range of sizes to accommodate all individuals. Embrace your body confidently with Blissclub's inclusive sizing options.
Premium Quality and Durability
Blissclub prioritizes using high-quality fabrics that are soft, breathable, and built to last. The CloudSoft fabric-made Ultimate Active Tank provides all-round coverage and is ideal for medium to high-impact exercises. The Breeze Basic Tank, made of BreezeFlo fabric (90% polyester, 10% spandex), is suitable for medium to low-impact activities. It comes in six colours. In addition to being composed of BreezeFlo fabric, the Breezy Split-Back Tank has a trendy split-back and racerback tank top style, a comfortable fit, and adequate coverage.
Versatile Options
Plus size tank tops in various styles from Blissclub are available for every occasion. With support and coverage, the Ultimate Active Tank is perfect for intense exercises. The Breezy Basic Tank is a must-have for your regular casual looks, while the Breezy Split-Back Tank gives your ensemble a fashionable edge. Blissclub has a tank top for any occasion, including working out, doing errands, and hanging out with friends.
Fashionable Design
Fashion-forward designs are combined with comfort and utility at Blissclub. Our tank tops for plus size women are thoughtfully created with the newest trends in mind and careful attention to detail. The Breezy Basic Tank, the Breezy Split-Back Tank, and the Ultimate Active Tank blend fashion and function so you can look and feel fantastic while working out or going about your day.
Shop plus size tank tops from Blissclub
When it comes to shopping for plus size tank tops, Blissclub is your ultimate destination. With a wide selection of women's tank tops, including a variety of plus size options, Blissclub makes it easy to find the perfect fit and style for every occasion. Whether you're looking to buy women tank tops or specifically plus size tops, Blissclub offers a convenient online shopping experience with the option to visit our physical stores as well. You can explore our collection of plus size tank tops online or shop plus size tank tops in person at our stores. We understand the importance of finding the right fit and style, and that's why we provide a range of options to buy plus-size tank tops for women. Discover our trendy designs, high-quality fabrics, and inclusive sizing options at Blissclub, where shopping for plus size tank tops is made easy and enjoyable.
Frequently Asked Questions
How do I determine my size for tank tops for plus size women?
To find the right size, refer to our size chart. Measure your bust, waist, and hip circumference, along with the length and compare them to the measurements on the chart to select the appropriate size.
How do I wash and care for my plus size tank top?
Read the product page or the garment tag for proper washing and drying instructions to prolong the life and quality of your plus size tank top. Wash them in cold water with mild detergent and a gentle cycle.
Are Blissclub's tank tops suitable for workouts?
Yes, Blissclub's The Ultimate Active Tank is crafted to support high-impact activities like running and gymming. You'll find the Breezy Split-Back Tank to be ideal for low to mid-impact workouts.
Can Tank Tops for Plus Size Women be worn on different occasions?
Absolutely! Tank tops in plus sizes are appropriate for various settings, from casual outings to more formal events. Depending on the accessories and bottoms you choose to wear them with, your plus size sleeveless tops may be dressed up or down.
What is a plus tank top and how is it different from a regular one?
A plus tank top is created especially for people of plus size, providing a cosy and attractive fit for those with bigger proportions. It is a plus size tank top for women. Regular tank tops come in ordinary sizes, while plus tank tops are made specifically to fit the dimensions and needs of those in plus size.
A 10% off coupon, front-row tickets to our latest launches, and no spam!
Subscribe to our Whatsapp updates now.
check your whatsapp now!