Women High Waisted Shorts
Sizes from XS to XXXL
Sizes from XS to XXXL
Sizes from XS to XXXL
Sizes from XS to XXXL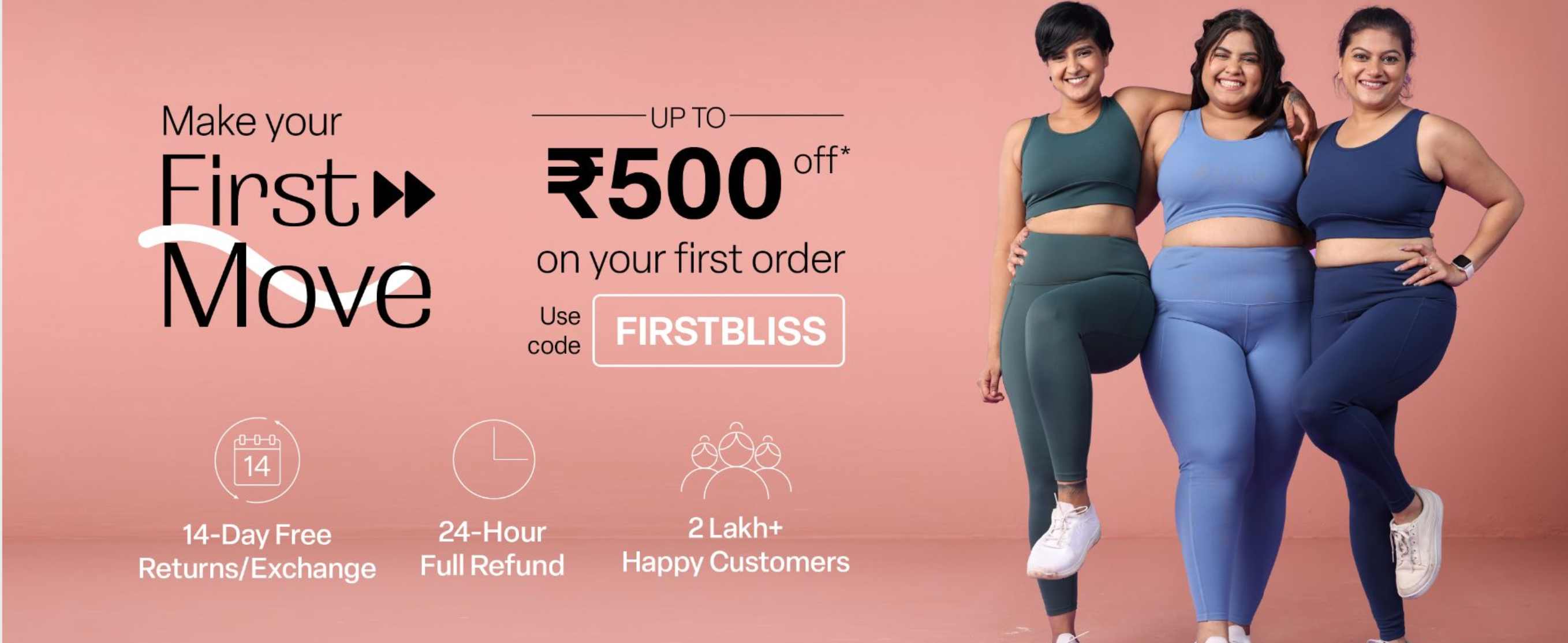 Buy Women's High Waisted Shorts Online
When it comes to high waisted shorts for women, Blissclub offers more than just a trendy fashion statement. Our high waisted shorts are designed to be a functional piece of movewear that seamlessly blends comfort and style. Crafted with our signature CloudSoft fabric, these shorts are made from a blend of 27% polyester, ensuring the ultimate stretch and ease of movement.
One of the standout features of Blissclub's high waisted shorts is the inclusion of pockets. We understand the importance of practicality, these added pockets allow you to conveniently carry your essentials while on the go. Whether it's your phone, keys, or small accessories, these pockets can hold them all.
Designed with a super high waist and a secure waistband, our high waisted shorts offer a comfortable and flattering fit. The high waist design not only provides additional coverage but also helps accentuate your natural curves, giving you that confidence boost. With the secure waistband, you can enjoy worry-free movement, knowing that your shorts will stay in place throughout any activity.
Our high waisted shorts also come in different length options to suit your style and comfort. Choose from mid-thigh length, above knee length, or capris, depending on your personal preference and activity level. Wear them when hitting the gym, going for a run, or simply running errands. Our high waisted shorts offer versatility and flexibility to match your lifestyle.
Experience the perfect combination of functionality and style with Blissclub's high waisted shorts for women. Elevate your activewear wardrobe and enjoy the freedom of movement, comfort, and trendy design that our women high waisted shorts provide. Try them on today and discover a new level of comfort and confidence in your everyday adventures.
Benefits of Women's High Waisted Shorts
When it comes to finding the perfect pair of shorts, high waisted options have become increasingly popular among women. Not only do they offer a fashionable look, but high waisted shorts also come with a range of benefits that make them a must-have addition to your wardrobe. Let's delve into the advantages of high waisted shorts for women and discover why they are a smart choice for any occasion.
Flattering Silhouette
women's high rise shorts are designed to sit above the hips, accentuating your waistline and creating a flattering silhouette. By elongating your legs and defining your curves, these shorts can boost your confidence and make you feel fabulous. Whether you're petite, curvy, or have an athletic build, high waisted shorts can flatter various body types, giving you that extra dose of body positivity.
Comfortable Fit
One of the key benefits of high rise shorts for women is their comfortable fit. With the waistband sitting higher on your torso, you won't have to worry about constantly adjusting your shorts or dealing with them slipping down during activities. high waisted gym shorts made from stretchy and breathable fabrics like cotton or polyester blends offer optimum comfort, allowing you to move freely and confidently.
Versatility for Various Occasions
high waisted shorts are incredibly versatile and can be dressed up or down for different occasions. They are perfect for casual outings or weekend adventures when paired with a cute crop top or a flowy blouse. On the other hand, sports shorts in moisture-wicking materials can take your workout attire to the next level. And then there are high waisted cycling shorts that are specifically designed for cyclists. From running errands to hitting the gym, these shorts have you covered.
Supportive Waistband
If you're looking for a little extra support around your midsection, women's high waisted shorts are the perfect bottomwear for you. The higher waistband acts as a gentle tummy control feature, providing a smoother and more streamlined appearance. This added benefit can give you the confidence to rock any outfit with ease.
Trendy Style
ed women's shorts are a fashion-forward choice that can elevate your style game. With their retro-inspired look, they add a touch of sophistication to any ensemble. Whether you prefer denim, tailored fabrics, or sporty designs, high rise shorts offer a wide range of options to suit your personal style. Shop high rise shorts for women in various colours and patterns to stay on-trend and express your individuality.
How to Style high waisted Shorts for Different Occasions
high waisted shorts are a versatile wardrobe essential that can be styled in various ways to suit different occasions. Whether you're aiming for a casual, sporty, or dressy look, high rise shorts offer endless possibilities. Let's explore some styling options based on different activities and occasions, incorporating the provided keywords.
Casual and Comfortable
For a relaxed and comfortable everyday look, opt for high waist cotton shorts or high rise denim shorts and pair them with breezy tank tops or crop tops. This combination creates a laid-back and effortlessly chic ensemble perfect for running errands, meeting friends for coffee, or strolling through a park. Complete the outfit with comfortable flats or sneakers for a casual yet stylish vibe.
Athleisure and Gym Wear
When it comes to athleisure or gym wear, you can't go wrong with high waisted gym shorts or high waisted yoga shorts. Pair polyester shorts with a fitted crop top or a tank top for a sporty and functional look. Look for shorts made from polyester or moisture-wicking fabrics that offer breathability and flexibility during your workouts. Complete the outfit with your favorite athletic shoes and accessories like a gym bag or a sweat-wicking headband.
Trendy and Statement-Making
Make a fashion statement with printed high-rise shorts or high rise biker shorts. These bold and eye-catching options can be paired with a solid colored top to let the shorts take the spotlight. Choose a fitted or cropped top to balance the silhouette, and finish the look with sneakers or ankle boots for a trendy street-style vibe.
Dressy and Chic
For dressier occasions, opt for knee length shorts in a tailored fabric or a classy print. Pair black high waist shorts with a blouse or a tucked-in shirt for a polished and sophisticated look. Add heels or wedges to elevate the ensemble, and accessorize with statement jewellery and a clutch for a touch of elegance. This outfit is perfect for dinner parties, date nights, or even outdoor weddings.
Plus Size Styling
Plus-size women can embrace high waisted shorts with confidence. Look for plus size high waisted shorts designed to flatter and enhance curves. Pair them with a flowy, longline top or a peplum blouse to create a balanced silhouette. Complete the look with wedge sandals or block heels to elongate the legs and add a stylish touch.
Finding the Right high waisted Shorts for You
Whether you prefer the convenience of online shopping or the experience of browsing through retail stores, here are some steps and essential tips to help you find the perfect pair of ladies' high waisted shorts:
Know your measurements
Before you begin your shopping journey, it's crucial to know your measurements, especially your waist and hips. This knowledge will serve as your guide to selecting the right size and ensuring a comfortable fit.
Read product descriptions
When you buy shorts online, carefully read the detailed product descriptions. Look for specific information about the fabric composition, rise height, and any additional features that might be mentioned. Understanding these details will help you make an informed decision.
Check size charts
To ensure a proper fit, refer to the size charts provided by the retailer. Compare your measurements with the size chart to select the appropriate size. Remember that sizing can vary between brands, so always double-check.
Read customer reviews
When you shop ed shorts for women, take the time to read customer reviews. These valuable insights can provide feedback on the fit, comfort, and overall quality of the high waisted shorts you're considering. Look for varied reviews to get a sense of the product before you buy high rise shorts.
Consider fabric and stretch
Pay attention to the fabric composition mentioned in the product description. Look for materials such as cotton, denim, or stretchy blends, as they offer both comfort and flexibility, allowing for easy movement throughout the day.
Look for adjustable features
Some high rise shorts for ladies come with adjustable waistbands or drawstrings, providing you with the option to customize the fit to your liking. This feature can be particularly helpful in achieving the desired comfort and fit.
Try them on
If you have the opportunity to visit a retail store to buy ladies' high rise shorts, take advantage of it. Try on different styles and sizes to find the perfect fit for your body shape. Experiment with various rises, lengths, and fabrics to discover what works best for you.
Take advantage of return policies
When shopping online, it's essential to review the return policy of the retailer. Ensure that you have the option to return or exchange the high waisted shorts if they don't meet your expectations. This allows you to shop with confidence, knowing that you can make adjustments if needed.
By following these steps and tips, you can embark on your high waisted shorts shopping journey with confidence. Whether you choose to shop high waisted shorts online or explore retail stores, keeping these considerations in mind will help you find the perfect pair of girls' shorts. Happy shopping!
FAQs
Where can I buy high waist shorts for women?
You can buy high waisted shorts from various clothing retailers, both online and in physical stores. Popular options include department stores, boutique shops, and online platforms like Blissclub's website, where you can find a wide range of high waist shorts for women.
How do high waist shorts differ from regular shorts?
High waist shorts have a higher waistline that sits above the hips, creating a flattering silhouette and accentuating the waist. In contrast, regular shorts typically have a lower waistline that sits on or below the hips. The higher waist of high waisted shorts offers a unique style and can provide additional coverage and support.
What are the common fabrics used for high waist shorts?
The common fabrics used for women high waisted shorts include cotton, denim, polyester blends, and linen. Cotton is favoured for its breathability and comfort, while denim offers durability and a timeless look. Polyester blends provide stretch and flexibility, ensuring a comfortable fit, and linen is a lightweight and breathable option, perfect for warmer weather. These fabrics cater to different preferences and can be chosen based on the desired style and comfort level.
What are the different fabric options available for women's high waisted shorts?
Women's high waisted shorts are available in a variety of fabric options. Common choices include cotton, denim, polyester blends, linen, and spandex blends. Each fabric offers different qualities such as breathability, stretch, and durability, allowing you to choose based on your preferences and intended use.
Are high waisted shorts comfortable to wear?
Yes, high waisted shorts can be comfortable to wear. They are designed to provide a secure and flattering fit, and many options feature stretchy materials that offer ease of movement. Choosing the right size and fabric that suits your comfort preferences can further enhance the comfort of high rise shorts.
How do I care for Blissclub's high waisted shorts?
For care instructions specific to Blissclub's high waisted shorts, it is recommended to follow the guidelines provided on the garment's care label. Generally, it is advisable to machine wash the shorts in cold water with similar colours, use a mild detergent, and either tumble dry on low heat or air dry to maintain their quality and longevity.
A 10% off coupon, front-row tickets to our latest launches, and no spam!
Subscribe to our Whatsapp updates now.
check your whatsapp now!