Gym Shorts for Women
Sizes from XS to XXXL
Sizes from XS to XXXL
Sizes from XS to XXXL
Sizes from XS to XXXL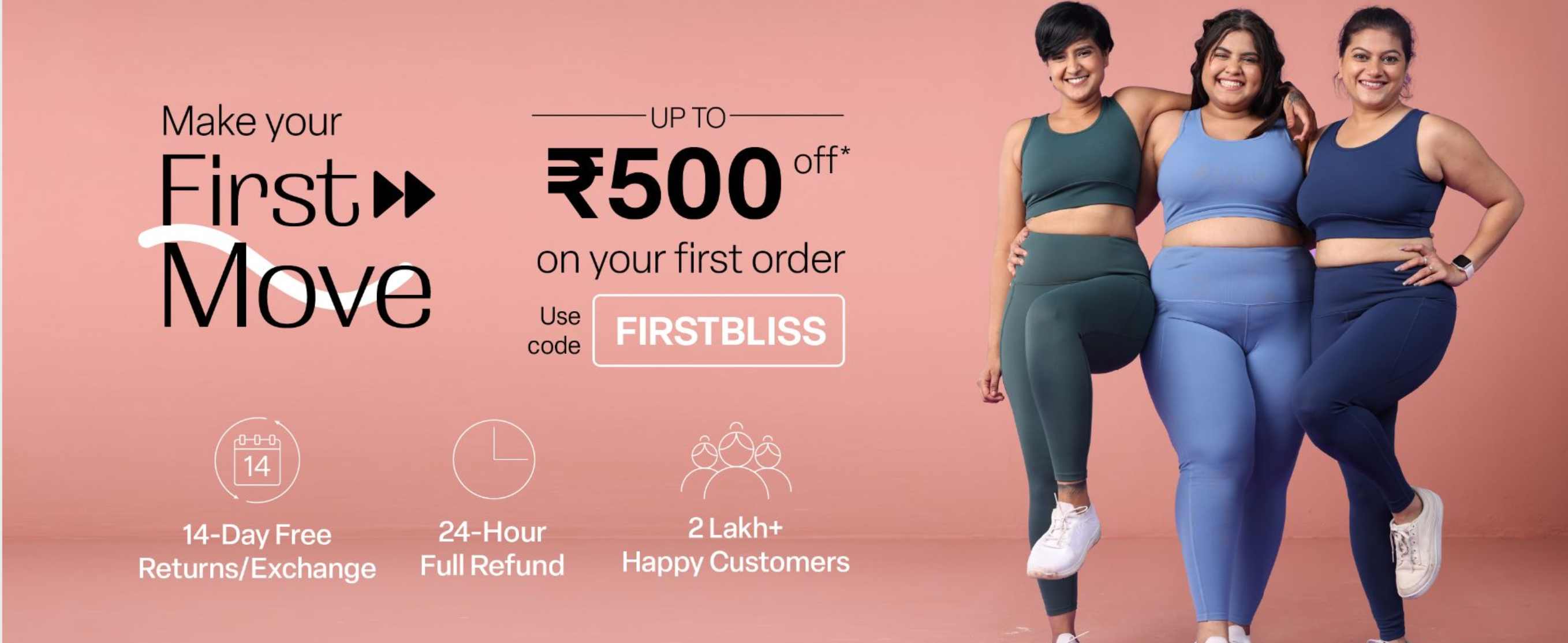 Shop Women Gym Shorts Online
Women's gym shorts are essential workout apparel designed to provide comfort, flexibility, and style during physical activities. Whether you're hitting the gym, running, attending a yoga class, or engaging in any other form of exercise, the right pair of gym shorts can significantly impact your performance and overall workout experience.
Women's gym shorts are made with moisture-wicking materials and adjustable waistbands to keep you relaxed and focused on reaching your fitness objectives. Women's gym shorts offer an opportunity to exhibit individual flair in addition to utility, thanks to the range of available shades. There are options to fit every taste and fashion preference, whether you want high-waisted, mid-rise, or low-rise shorts. Invest in a good pair of womens gym shorts to give yourself the confidence and comfort to take on your workouts.
Running Shorts
Running shorts are designed to enhance your stride and offer comfort throughout demanding cardio sessions. You can hit the track with free movement thanks to the built-in liners and moisture-wicking technology frequently found in these lightweight shorts. Womens gym shorts such as these are designed for totally unrestricted movement.
Yoga Shorts
Yoga shorts are essential for those dedicated to yoga or other low-impact activities. Offering a snug fit and moisture-wicking properties, they enable maximum flexibility and a wide range of motion.
Compression Shorts
Compression shorts are great for more support and muscle stability when working out. Specific muscle groups receive light pressure from these form-fitting shorts, which lessens tiredness and improves blood flow. Perfect for sports and high-intensity exercise.
High Waisted Shorts for Ladies
Due to their appealing fit and functional design, high waisted gym shorts are becoming more and more popular. They offer exceptional coverage and support, allowing you to move freely and pleasantly while working out.
Cycling Shorts
Cycling shorts, which are made to improve comfort and performance while riding, are a cyclist's best friend. These shorts frequently have chamois, which are cushioned inserts, to lessen friction. Cycling shorts are the kind of women gym shorts that are made with a sleek, aerodynamic style for the best performance on the road.
Styling your Gym Shorts
Don't underestimate the styling potential of gym shorts for women! Make them into stylish gym shorts to create fashionable and functional workout outfits.
Pair with Crop Top
Team your gym shorts with a chic crop top for a fashionable and breezy exercise outfit. Pick a crop top that goes well with your shorts' colour or design and is comfortable moving in. Adopt the athleisure trend while being cosy.
Layer with a Lightweight Jacket
Layer a lightweight jacket over your gym shorts for women for those cooler workout sessions. To keep comfortable, choose a fabric that is breathable and moisture-wicking. A sporty windbreaker or a zip-up hoodie can enhance the look and functionality of your workout shorts.
Pair with a Tank Top
Wear your workout shorts for women with a gym tank top for a sporty, easy look. When working out hard, look for tank tops with moisture-wicking material to keep you cool and dry. Pick a colour or design that expresses your taste - getting black gym shorts is a sure-shot classic style. You can even opt for a gym t-shirt.
Colour and Accessorise
Add a pop of colour to your gym shorts ensemble with accessories. Think of including eye-catching athletic socks, colourful sneakers, or a headband. These minor adjustments can add character and improve the aesthetics of your training gear.
Embrace Layering with Tights
Style your gym shorts with tights for more coverage or a fashionable layered look. Pick a pair of tights with a complementary colour or pattern to add visual appeal. This combination provides adaptability and keeps you comfortable in the colder times.
Pair with the Right Shoes
Your gym shorts outfits can succeed or fail, depending on your chosen shoes. Choose running shoes or sports shoes that offer the right stability and support for your ladies workout shorts. For a fashionable touch, think about matching the colour of your shoes to the colour of your girls gym shorts or adding a burst of contrasting colour.
Types of Fabrics for your Gym Shorts
When it comes to gym shorts, the choice of fabric plays a crucial role in your comfort and performance. Explore various materials commonly used in gym shorts for women, helping you make an informed decision.
Moisture-wicking Fabrics
For intense workouts, moisture-wicking clothing is essential. These high-performance fabrics draw sweat away from your skin, allowing it to dissipate quickly. To stay dry and comfortable throughout the most strenuous exercises, look for fabrics like polyester or nylon blends with moisture-wicking characteristics.
Breathable Mesh Fabrics
Mesh-covered female gym shorts are a great option for maximum breathability. These materials have minute, breathable holes that promote more ventilation, reducing the development of excess heat and moisture.
Lightweight Fabrics
Nylon fabrics are known for their lightweight and durable qualities, making them ideal for gym shorts. These fabrics offer excellent flexibility and freedom of movement, allowing you to perform various exercises efficiently.
Supportive and Stretchy Fabrics
Spandex gym shorts are preferred for workout shorts that provide support and flexibility. Because of their natural stretchiness, spandex blends offer a close-fitting but comfortable fit. These fabrics allow for a full range of motion and provide the support needed during intense workouts, such as weightlifting or high-intensity training.
Cotton Blends for Everyday Comfort
Due to their inherent softness and breathability, cotton blends are a popular option for workout shorts. Cotton by itself might not be able to wick away moisture, however, blends containing synthetic fibres like polyester or spandex function better. Gym shorts made of a cotton blend are cosy for everyday use and low-impact exercises.
Quick Drying Fabrics
Quick-drying textiles are a practical solution for people who lead active lifestyles or want to wash their gym shorts frequently. Due to the characteristics of these textiles, they can quickly dry out after being exposed to moisture. Look for quick-drying gym shorts to ensure that your shorts are quickly dry and ready for your next workout.
Why Choose BlissClub for your Gym shorts?
We combine style, comfort, and performance in our high-quality gym shorts for women. Our exercise shorts are crafted with the utmost care to provide a comfortable fit and freedom of movement during workouts or any physical activity.
Quality and Durability
At BlissClub, we understand the importance of quality and durability. That's why our ladies gym shorts are made to last. Delivering workout shorts of unrivalled quality and durability is something BlissClub takes great pleasure in. Our shorts are expertly made from premium fabrics to withstand even the most demanding exercises - making them the best gym shorts for women.
Innovative Features
For this reason, BlissClub incorporates cutting-edge features into our workout shorts. Our shorts are made to improve your performance and comfort, from moisture-wicking technology that keeps you dry to strategically placed ventilation panels for maximum breathability. Ours are also gym shorts with pockets.
Style and Functionality
BlissClub believes that gym shorts should perform well and look great. Our shorts feature a thoughtful design that combines style and functionality. BlissClub's range of active wear shorts allow you to express your unique style while staying comfortable during your workouts, whether it's a trendy colour or flattering silhouette. They're squat proof gym shorts.
Superior Comfort for Unrestricted Movement
Comfort is crucial when it comes to gym shorts. BlissClub is aware of this, which is why we prioritise comfort throughout each of our designs. High-impact sports like running and working out in the gym are perfect for the Ultimate Shorties, made with our proprietary CloudSoft fabric (a polyester and spandex blend). These shorts with a high waist offer a comfortable fit and unrestricted mobility.
Specialised Cycling Shorts
Specialised shorts made for certain activities are available from BlissClub. The Ultimate Cycling Shorts, also made with our CloudSoft fabric, are excellent for riding and suitable for low- to medium-impact exercises like yoga. They're just over knee length gym shorts, which helps keep the material stable. For your active lifestyle, these high-waisted cycling shorts offer the ideal balance of comfort and performance.
Whether running, yoga, or any other activity, our gym shorts for girls are up to the challenge.
Move All Day Shorts
BlissClub also offers the Move All Day Shorts, made from breathable and comfortable cotton fabric. These mid-rise shorts are designed for all-day comfort, allowing you to move freely during workouts and daily activities.
Frequently Asked Questions
How to wash and care for my gym shorts?
Read the product page or the garment tag for proper washing and drying instructions to prolong the life and quality of your pair of gym shorts for women or any other gym wear. Wash them in cold water with mild detergent and a gentle cycle.
How do I choose the right fit and size for my Gym Shorts for women?
To find the right size, refer to our size chart. Measure your waist, hip circumference, and length and compare them to the measurements on the chart to select the appropriate size. Our tight gym shorts are a favorite among girls who want a snug and supportive fit, and we have plus size gym shorts to size zero.
Which material is best for gym shorts?
Choosing the best fabric for your choice of gym shorts ultimately depends on your preference and the type of workout you'll do. Synthetic fabrics such as polyester and nylon blends stretch and rid your skin of moisture. They're compressive, too.
How to buy women's gym shorts from BlissClub?
Buy gym shorts online. With an extensive collection of women's gym shorts, BlissClub offers a seamless online shopping experience. Whether you're looking to buy gym shorts for high-impact activities or low-impact exercises, BlissClub has you covered. Shop gym shorts online from BlissClub and discover a wide range of styles, colours, and sizes to suit your needs. With our commitment to superior quality and innovative features, BlissClub ensures that you can buy gym shorts that provide optimal comfort, performance, and style. Elevate your workout wardrobe and enjoy the convenience to buy shorts for women with just a few clicks.
Can I buy gym shorts for my daughter?
While we don't sell apparel for children, matching our size charts will be easily possible for a young girl or woman. Pick the right gym shorts for girls. Check out our collection of girls gym shorts today and give your young athlete the perfect blend of performance and fashion.
A 10% off coupon, front-row tickets to our latest launches, and no spam!
Subscribe to our Whatsapp updates now.
check your whatsapp now!