Grey Leggings for Women
Sizes from XS to XXXL
Sizes from XS to XXXL
Sizes from XS to XXXL
Sizes from XS to XXXL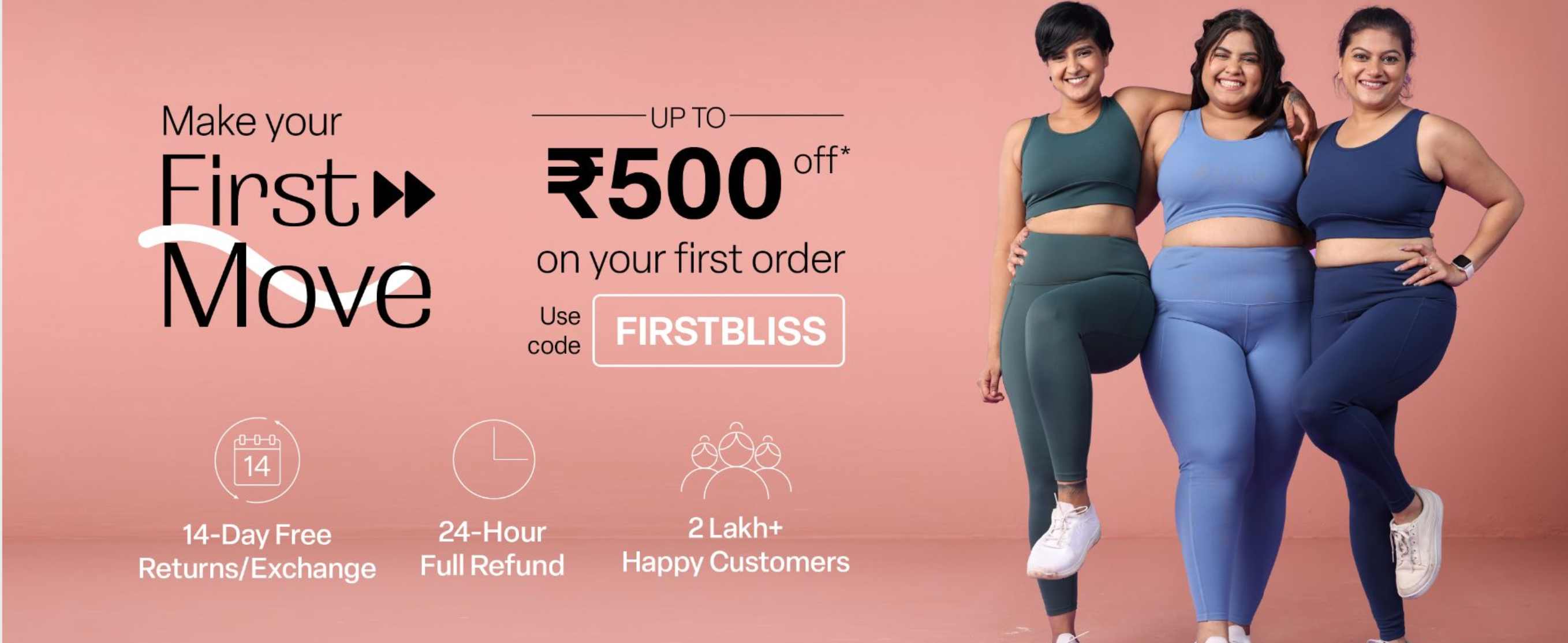 Shop Grey leggings Online
Hunting for a perfect pair of grey leggings? Look no further than BlissClub's collection of grey capri and gym leggings. When it comes to grey gym tights, BlissClub sets the bar high with their exceptional collection. Designed with a perfect blend of style, comfort, and quality, BlissClub's grey leggings are a wardrobe staple that you won't want to be without. Delve into why BlissClub should be your go-to choice for grey leggings. Let's get started!
With their exceptional blend of style, comfort, and quality, BlissClub has become a go-to brand for leggings enthusiasts. They come in sizes ranging from XS to 4XL. Whether you're lounging at home, hitting the gym, or running errands, BlissClub's grey leggings for girls offer the perfect combination of versatility and functionality. In this guide, we'll explore the key features and benefits that make BlissClub's grey leggings a must-have addition to your wardrobe. Get ready to elevate your style and embrace the bliss of ultimate comfort with BlissClub's womens grey leggings.
How to style and where to wear Grey leggings
Casual and Cool:
For a laid-back yet stylish look, pair your grey seamless leggings with an oversized graphic t-shirt. Complete your grey leggings outfit with a pair of white sneakers or trendy slip-on shoes. Put on a denim jacket along with your grey leggings for women to add extra layers of coolness. This look is perfect for going about your day, chilling with friends for coffee, or simply relaxing.
Chic and Effortless:
Match your grey high-waisted leggings with a tunic or a longline button-down shirt to jazz them up. Use a trendy belt to define your waist and create a pleasing silhouette with your grey color leggings. Finish your outfit with ankle boots or ballerina flats for a refined touch. This attire is suitable for a lunch date or a casual workplace atmosphere. Your grey leggings for women will look chic when you style it up with the right accessories.
Sporty and Active:
Grey tights are a favourite choice among athleisure wearers. For a sporty and energetic style, pair your grey leggings for women with a striking sports bra or a fitting exercise top. Pair your grey leggings with a lightweight hoodie or zip-up jacket. Pair your women grey leggings with your favourite sports shoes and you're set for a workout at the gym, a yoga class, or a stroll in the park.
Edgy and Bold:
Pair your best grey leggings with a leather or imitation leather jacket to make a stylish statement. To add a hint of edginess, wear a crop top with your grey leggings or a rocker-inspired band t-shirt. For a rebellious attitude, finish the look with ankle boots or combat boots. This outlook is perfect for a night out, a concert, or any other occasion when you want to flaunt your bold personality.
Cosy and Comfortable:
When it's cold outdoors or you just want to curl up in warmth, pair your grey color leggings with a cosy outfit. For optimum cosiness, pair your grey leggings with an oversized jumper or a thick knit cardigan. To complete the casual look with your grey leggings for women, add a pair of fuzzy socks and slip-on loafers. This outfit will keep you warm and fashionable whether you're staying home or doing errands.
Various fabrics for grey leggings.
There are different fabric options out there that work best for grey leggings for women. Women's grey leggings made from different fabrics can be used for multiple occasions. When you look for grey tights, check out the following fabric options that work best for most of your moves:
Cotton Leggings: Softness and Breathability
BlissClub Grey cotton leggings for women are an everlasting choice due to their softness and breathability. Air can circulate through the natural fibres, keeping you cool and comfortable. Our grey yoga tights provide a soft sensation against the skin and are ideal for everyday use. The grey cotton leggings, on the other hand, may not give as much flexibility and form retention as other textiles.
Nylon Leggings: Durability and Flexibility
The plain grey leggings made out of nylon are popular because of their strength and elasticity. They are resistant to wear and tear due to the synthetic fibres and can withstand regular use and cleaning. Nylon grey running leggings are very elastic, allowing for a comfortable fit and mobility.
Polyester Leggings: Moisture-Wicking and Quick-Drying
Polyester leggings are well-known for their ability to drain moisture away from the body, making them a popular choice for sweaty activities and sports. The synthetic fibres wick moisture away from your skin, keeping you cool and comfortable. The grey workout leggings dry quickly, making them a great choice for people on the go.
Spandex Leggings: Stretch and Shape Retention
Spandex is a stretchy fabric that is frequently combined with other materials to improve flexibility and form retention. The grey yoga leggings made of spandex have good flexibility and recovery, allowing them to adjust to your body shape and stay in place over time. The use of spandex guarantees a comfortable and flattering fit for your grey leggings.
Blended Fabrics: Combining the Best of Both Worlds
Many grey gym pants mix various textiles to produce a combination that provides the benefits of many materials. A cotton-spandex combination, combines softness and flexibility, whereas a nylon-polyester blend combines durability and moisture-wicking characteristics.
Features of grey leggings by BlissClub
Looking for grey tights online? There are certain features that we include in our grey leggings for women that make them perfect for most of your moves. Fall in love with our grey leggings and make you want to buy grey leggings from us right away:
Vibrant Shades: Gloria Grey and Gowri Grey:
BlissClub's leggings line offers two attractive grey shades: Gloria Grey and Gowri Grey. Whether you prefer dark grey leggings or light grey leggings, you'll find the perfect shade to fit your taste. These adaptable colours give a neutral foundation for a wide range of shirts and accessories, allowing you to create an infinite number of outfit combinations.
Premium Fabric Blend: 73% Polyester and 27% Spandex:
For their grey leggings for women, BlissClub takes pleasure in selecting high-quality materials. The 73% polyester/27% spandex mix provides an excellent blend of durability, flexibility, and comfort. The polyester provides great moisture-wicking characteristics, while the spandex gives the necessary flexibility for a tight yet flexible fit. BlissClub's fabric combination provides the ideal balance of comfort and performance.
Super High Waist for Flattering Fit:
BlissClub knows the value of a pleasing shape, which is why they have their grey high-waisted leggings. This waistband hangs comfortably over your natural waistline, offering support and a sleek, streamlined appearance. Enjoy the assurance that your leggings will stay in place regardless of your movement or activities.
Convenient and Functional: Four Pockets:
With the best grey leggings with pockets, BlissClub takes utility to the next level by including four pockets. These smart additions give plenty of storage space for your necessities, such as keys, a phone, or a small wallet. Buy grey leggings from BlissClub for complete hands-free movement.
Versatile Ankle Length:
BlissClub's ankle-length grey leggings are extremely adaptable for a variety of style possibilities. Dress them down with trainers and a casual shirt for an athleisure appearance, or up with shoes and a blouse for a sleek and sophisticated look. The ankle-length silhouette provides a contemporary twist while still ensuring a clean, professional look.
Shop grey leggings from BlissClub online today!
Why choose BlissClub
Unparalleled Comfort:
BlissClub prioritizes your comfort with their plain grey legging. The careful design and construction provide maximum stretch and flexibility, enabling you to move freely throughout the day. Say goodbye to uncomfortable leggings and hello to ultimate comfort. Buy grey leggings from BlissClub today.
Superior Quality:
Quality is never sacrificed at BlissClub. The grey leggings are built to last, with high-quality fabrics and professional craftsmanship. You can be certain that your ladies grey leggings will retain their shape, colour, and performance even after several wears and washes.
Trend-Setting Style:
This grey leggings assortment includes on-trend styles and diverse selections to fit every fashion preference. BlissClub's stylish grey leggings will dress up your regular clothes and create a fashion statement. Shop grey leggings from us now and experience it for yourself.
Size-Inclusive Range:
BlissClub provides a size-inclusive selection that caters to a wide range of body types and sizes. We have something for everyone (check out our plus-size grey leggings) whether small, curvaceous, or anywhere in between. Embrace your physique and enjoy the latest grey leggings designed to boost your confidence and elegance.
Exceptional Customer Service:
The courteous and experienced staff is there to answer any questions or issues. They go above and beyond to simplify and delight your shopping experience, from measurement advice to style recommendations.
Frequently asked questions (FAQs)
Are BlissClub grey leggings squat-proof?
Yes, the woman's grey leggings by BlissClub are squat-proof.
Are BlissClub grey leggings suitable for intense workouts?
Yes, they are in fact the best ladies' grey leggings suitable for all sorts of workouts.
How do I care for and wash BlissClub grey leggings?
Please follow the wash-care instructions mentioned on the product page or in the insert cards (packaging).
Are BlissClub grey leggings suitable for maternity wear?
The ultimate Mamamove leggings are best suited for maternity wear and are available in the shades Naina navy and Bliss black.
Are BlissClub grey leggings suitable for all body types?
Yes. The sizes range from XS-elene to XXXXL-una.
A 10% off coupon, front-row tickets to our latest launches, and no spam!
Subscribe to our Whatsapp updates now.
check your whatsapp now!