Women Brown Tops
Sizes from XS to XXXL
Sizes from XS to XXXL
Sizes from XS to XXXL
Sizes from XS to XXXL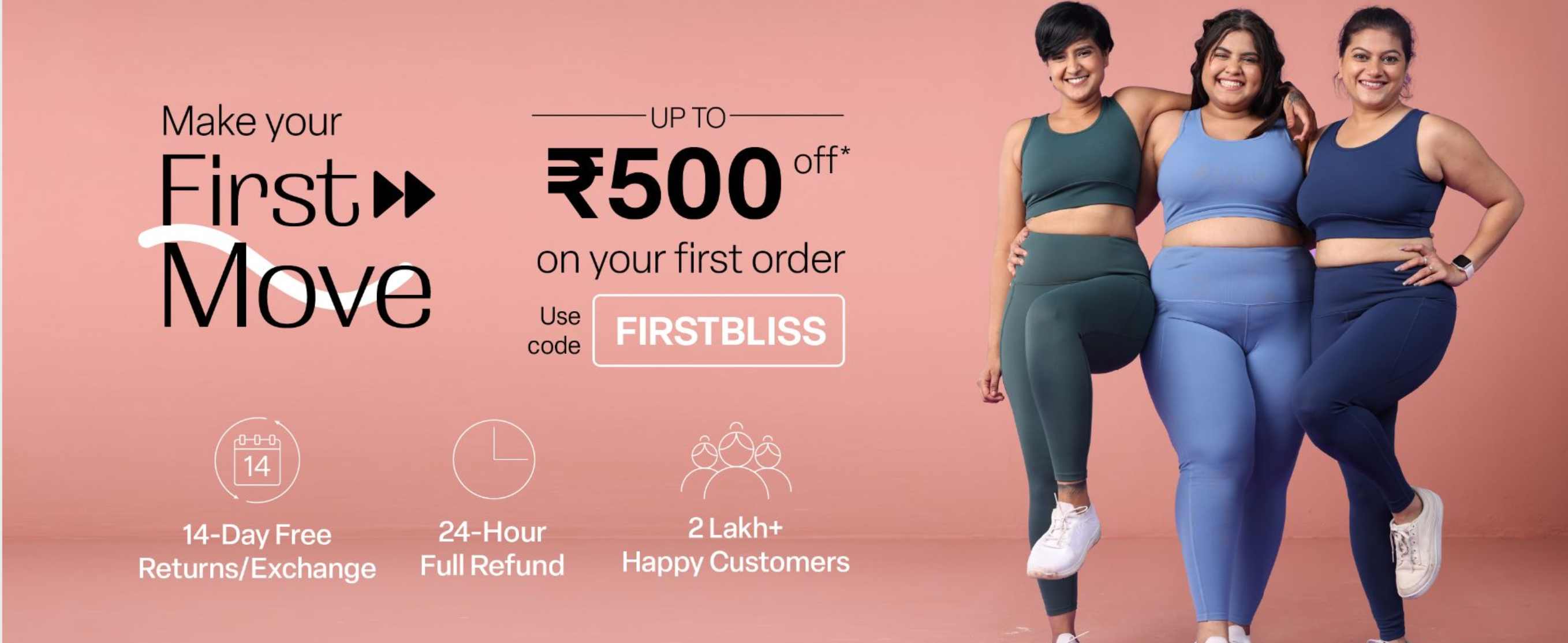 Shop Women Brown Tops Online
Welcome to the world of brown tops for women, where fashion meets functionality in the realm of activewear. Whether you're hitting the gym, going for a run, or practising yoga, these women's brown tops are designed to elevate your workout experience.
We have it all: women's brown tops, including plus size brown tops, to suit every body shape and size. Get ready to shop the latest trends, as we bring you a curated selection of brown tops online that combine comfort, style, and versatility. So, why wait? Step into the world of brown tops and buy women's brown top online today, right here at our store.
Perfect Fabrics for Brown Tops For Women
When it comes to activewear, choosing the right fabric is key to unlocking comfort, performance, and style. Girls' brown tops combine fashion and functionality, making them a must-have in any active wardrobe. Let's dive into the world of fabrics that make these brown colour top stand out from the crowd:
Polyester: The Power Player
Polyester is a go-to fabric for activewear. Its lightweight and moisture-wicking properties keep you cool and dry during intense workouts. Say goodbye to sweat-soaked topwear and hello to optimal comfort. With polyester brown tops for ladies, you can conquer any fitness challenge while staying effortlessly stylish.
Spandex: Embrace Your Flexibility
Say hello to spandex, the ultimate stretch champion. With its incredible elasticity, spandex provides the perfect fit, allowing you to move freely and comfortably. Spandex Womens brown tops contour to your body, providing a flattering silhouette while ensuring unrestricted motion. Embrace your flexibility and conquer every exercise with confidence.
Cotton: The Breathable Essential
When it comes to natural fabrics, cotton takes the crown. Cotton brown colour top for women offers exceptional breathability, allowing air to circulate and keeping you cool even during the toughest workouts. The softness of cotton provides a gentle touch against your skin, ensuring all-day comfort and a luxurious feel.
Modal: Unleash the Silky Smoothness
Modal, known for its silky softness, elevates brown tops to a whole new level of luxury. Derived from beech trees, modal fabric offers exceptional breathability and moisture-wicking properties. Experience a touch of elegance with brown modal tops, feeling as smooth as silk while conquering your fitness goals.
Bamboo: Nature's Performance Fabric
Nature meets activewear with bamboo fabric. Bamboo brown colour tops are not only eco-friendly but also offer incredible moisture-wicking abilities, keeping you dry and fresh throughout your workouts. The fabric's natural antimicrobial properties prevent odours, ensuring you stay confident and comfortable. Embrace sustainability while elevating your active style.
Functionality our Women's Brown Tops
When it comes to your active lifestyle, women's brown top is the ultimate game-changer. Combining style and functionality, these tops are designed to elevate your workouts to a whole new level. Let's explore the incredible functionality that makes brown tops for girls a must-have in your activewear collection:
Unparalleled Support and Flexibility
Brown top for gym is engineered to provide unmatched support during your most intense workouts. With built-in features like racerback designs and strategic cutouts, these chocolate colour brown top offer the perfect balance between support and freedom of movement. Feel confident as you conquer your fitness goals, knowing that your brown top has your back, quite literally!
Breathability for Ultimate Comfort
Say goodbye to uncomfortable and stuffy workouts. Brown yoga top prioritises breathability, allowing air to circulate and keep you cool even during the toughest sessions. Our brown tops feature fabrics like moisture-wicking polyester and breathable cotton, ensuring you stay fresh and comfortable during your workout. Embrace the freedom to breathe and let your body thrive.
Versatility for Every Activity
Whether you're hitting the yoga mat, going for a run, or crushing it at the gym, brown racerback top is your versatile companions. Their functional design and moisture-wicking properties make them suitable for a wide range of activities. No matter the workout, you can trust your brown top or tank top to provide the flexibility, support, and durability you need to excel.
Stylish Details that Stand Out
Who says functionality can't be fashionable? Women brown top combine style and performance effortlessly. From trendy mesh panels and flattering silhouettes to unique design elements, these brown tank top are designed to make you feel confident and stylish during your workout. Elevate your active wardrobe with a touch of fashion-forward flair.
Comfortable All-Day Wear
The V neck brown top isn't just for the gym; they're perfect for all-day wear. Whether you're running errands or meeting up with friends, these brown t-shirt for women offer comfort and style without compromising on functionality. Pair them with your favourite leggings or jeans, and you're ready to conquer the day with confidence.
Dashing Ways to Style Brown Top for Women
Brown crop top for women are not only versatile in terms of functionality but also provide endless opportunities to showcase your unique style. Whether you're heading to the gym or meeting up with friends, these brown colour top can be styled in a multitude of ways. Let's explore five creative pointers on how to rock your coffee brown top and make a fashion statement:
Effortlessly Chic with High-Waisted Leggings
Pair your brown full sleeve top with high-waisted leggings for an effortlessly chic look. The combination of the dark brown top for ladies and leggings creates a sleek silhouette that flatters your figure. Opt for neutral-coloured leggings for a harmonious ensemble, or go bold with a patterned pair to add a touch of personality to your outfit. Complete the look with your favourite sneakers or ankle boots for a trendy vibe.
Layering Magic with Denim Jackets
Take your round neck brown colour top to the next level by layering it with a classic denim jacket. The contrast between the earthy brown and the cool denim creates a captivating visual effect. Whether you choose a cropped or oversized jacket, the combination exudes casual yet stylish vibes. Roll up the jacket sleeves and add some statement accessories to complete the look with a touch of personality.
Sporty and Stylish with High-Waisted Shorts
When the weather heats up, swap your leggings for high-waisted shorts and pair them with your light brown tops for a sporty and stylish ensemble. The combination of the fitted brown sleeveless top and the high-waisted shorts accentuates your curves and creates a balanced look. Choose shorts in complementary earth tones or go for a pop of colour to make a bold statement. Complete the outfit with your favourite sneakers or sandals for a casual and trendy look.
Classy Comfort with Wide-Leg Pants
Elevate your style with the perfect balance of comfort and sophistication by pairing your ladies brown tops with wide-leg pants. The loose and flowy silhouette of the pants complements the fitted brown top beautifully. Opt for neutral-toned pants like cream or beige to create an elegant and refined outfit. Finish off the look with a pair of heels and minimalistic accessories for a classy touch.
Boho Vibes with Maxi Skirts
Embrace your bohemian spirit by pairing your women brown top with a flowy maxi skirt. The combination creates a relaxed and effortlessly chic look that is perfect for a summer day or a casual outing. Choose a skirt in earthy tones or go for a vibrant pattern to express your personal style. Complete the boho vibes with layered necklaces, a floppy hat, and a pair of comfortable sandals.
Blissclub: Your Ultimate Brown Top for Women Destination
When it comes to finding the perfect brown top for women, Blissclub is your go-to destination. With a wide range of options designed to elevate your gymwear game, Blissclub stands out as the ultimate choice. Let's explore five compelling reasons why you should choose Blissclub for your women brown tops:
Unparalleled Quality and Craftsmanship
At Blissclub, quality is our top priority. Each brown top is meticulously crafted using premium fabrics and innovative techniques, ensuring durability and long-lasting performance. Our attention to detail guarantees that every stitch and seam is flawlessly executed, providing you with activewear that not only looks amazing but also stands the test of time.
Stylish Designs for Every Taste
We understand that style is an important factor in choosing activewear. That's why Blissclub offers a diverse collection of women's brown tops that cater to every taste and preference. From sleek and minimalist designs to bold patterns and unique detailing, our brown tops allow you to express your individual style while staying on-trend. Discover the perfect brown top that reflects your personality and makes a fashion statement.
Functionality Tailored to Your Active Lifestyle
Blissclub designs ladies' brown tops with your active lifestyle in mind. Our tops are engineered to provide optimal functionality, offering features such as moisture-wicking fabrics, breathability, and flexibility. Whether you're hitting the gym, practising yoga, or going for a run, our brown tops for women deliver the support and comfort you need to unleash your full potential. Experience the perfect blend of fashion and functionality with Blissclub.
Perfect Fit for Every Body Type
We believe that activewear should celebrate and embrace all body types. That's why Blissclub offers a range of sizes and inclusive sizing options for our women brown tops. Our goal is to provide a perfect fit that boosts your confidence and ensures your comfort. With our size guide and inclusive approach, finding the right fit has never been easier. Say goodbye to ill-fitting brown tops for women and hello to activewear that celebrates your unique beauty.
Exceptional Customer Experience
At Blissclub, we pride ourselves on delivering an exceptional customer experience. From browsing our user-friendly website to receiving your carefully packaged brown top, we strive to exceed your expectations at every step. Our dedicated customer support team is always ready to assist you with any queries or concerns, ensuring that your Blissclub experience is nothing short of amazing.
Frequently Asked Questions (FAQs)
How can I ensure the right fit when I buy brown tops online?
To ensure the right fit, refer to our website's size chart and accurately measure your bust, waist, and hips. Compare your measurements with the size guide for the perfect fit.
Can I purchase women's brown tops online?
Yes, you can conveniently shop for brown top for women online. Our online store provides a wide range of brown tops for women, allowing you to conveniently browse, select, and purchase your preferred styles from the comfort of your home.
What activities are brown tops for women suitable for?
Brown tops are versatile activewear options that can be worn for various activities. They are suitable for various activities, including gym workouts, yoga classes, running, hiking, or even just lounging around. Their breathable fabrics and flexible designs make them ideal for any type of physical activity.
A 10% off coupon, front-row tickets to our latest launches, and no spam!
Subscribe to our Whatsapp updates now.
check your whatsapp now!