Pink Sports Bras for Women
Sizes from XS to XXXL
Sizes from XS to XXXL
Sizes from XS to XXXL
Sizes from XS to XXXL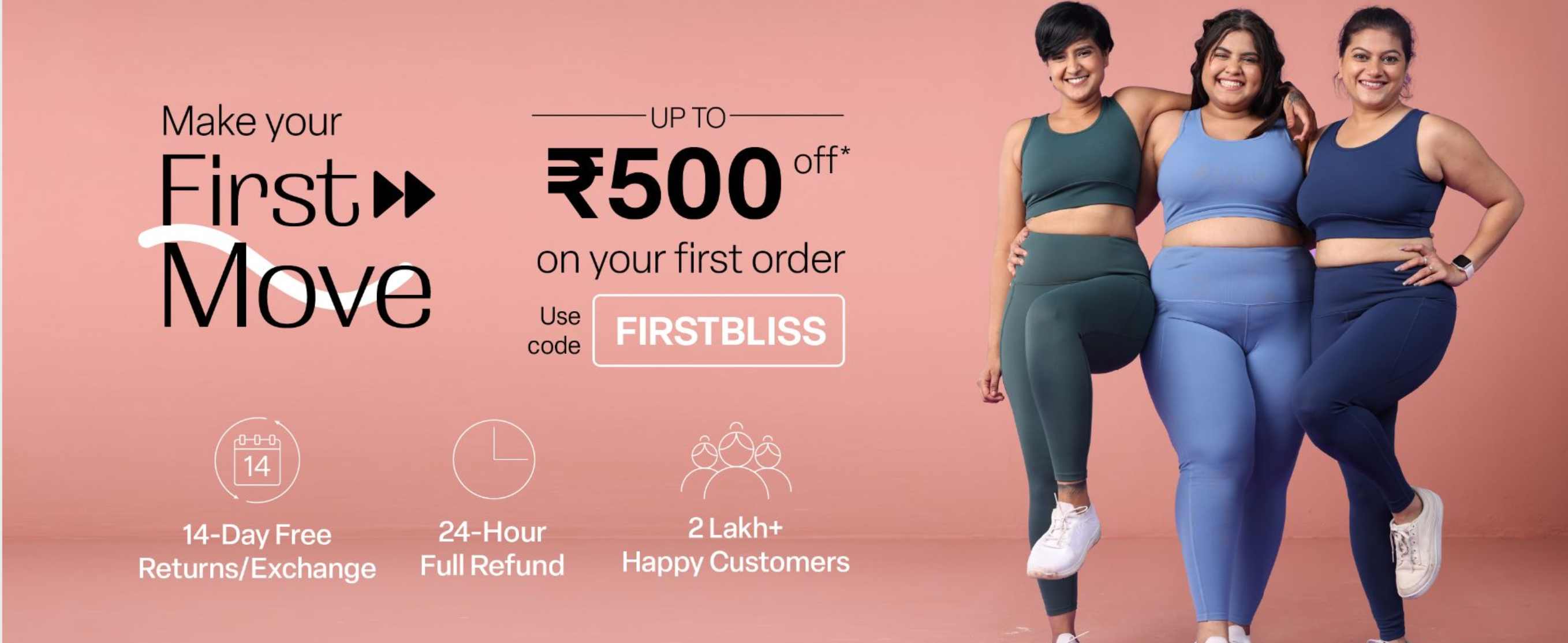 Shop Pink Sports Bra Online on Blissclub
Pink Sports Bras Unleashed: The Ultimate Style Guide
Are you looking to elevate your sportswear with a touch of pink? Explore the fashionable and functional world of women's pink sports bras. These pink beauties will keep you feeling comfortable and looking fantastic whether you're hitting the gym, going for a run, or simply sitting around. We'll look into the design and features of pink sports bra for women, as well as how to wear them confidently. Let's get started!
Sleek and Versatile Designs:
Pink sports bras for women are available in a number of styles to suit your own style and comfort choices. There's a design for everyone, from fashionable racerback types that show off your shoulder muscles to chic strappy alternatives that give a touch of sophistication. Some pink sports bras are cropped in length, allowing for easy pairing with high-waisted leggings or joggers, creating a fashion-forward athleisure combination that turns attention wherever you go.
Eye-Catching Details:
Pink strappy sports bras with unique design features will help you channel your inner fashionista. Mesh panels not only promote ventilation but also add an edgy twist to your outfit. Cutouts carefully positioned in the back or front of the sports bra for women provide an enticing and lively atmosphere. If you're feeling daring, use hot pink sports bras with patterns like stripes or geometric shapes for an eye-catching and trendy look.
Breathable and Comfortable Fabrics:
The right fabric can make or break your ability to keep cool and comfortable during workouts or casual activities. Pink active sports bras frequently use breathable and moisture-wicking materials to keep you dry and comfortable. These fabrics allow air to circulate, preventing that unpleasant sticky sensation. Say goodbye to post-workout wetness and hello to all-day comfort with quick-drying qualities.
Support That Goes the Extra Mile:
Pink high impact sports bras are not only fashionable, but they also give the necessary support. These padded sports bras were created with physically active people in mind, and they provide varying amounts of support to accommodate diverse activities. Whether you favor low-impact exercises such as yoga or high-intensity workouts such as jogging, a pink sports bra will keep you feeling secure and supported. Adjustable straps in activewear provide a personalized fit, allowing you to achieve the ideal blend of comfort and support.
Mix and Match for Endless Possibilities:
These dusty pink sports bra, with their brilliant pink hues, provide limitless opportunities for mixing and matching with your athleisure style. Combine a dark pink sports bra with classic black leggings for a striking contrast. Are you feeling daring? Color-block your light pink sports bra with leggings in complementing colors like gray, navy, or even a daring neon. Allow your imagination to run wild and create one-of-a-kind, Instagram-worthy outfits that express your personal style.
Confidence Boosting and Empowering:
Pink sports bras for women have the capacity to increase your confidence and make you feel empowered aside from their practical benefits. Pink is frequently connected with femininity, self-expression, and strength. You're embracing your distinct style and celebrating your originality by wearing a bright pink sports bra. Allow the brilliant color to motivate you to push limits, challenge preconceptions, and embrace your inner confidence both inside and outside of the gym.
Unlock Your Perfect Fit: Discover Pink Sports Bra
Find Your Perfect Fit:
Finding the perfect fit for girls'pink sports bras is critical for comfort and support throughout your athleisure excursions. Consider band size, cup size, and adjustable straps to create a tailored fit that hugs your curves perfectly. Accept nothing less than the perfect fit that makes you feel confident and ready to take on the day.
Support Levels to Suit Your Needs:
Whatever your preferred level of activity, there is a pink color sports bra intended to provide the support you require. To match your workout level, select low, medium, or high support. A suitably supportive pink sports bra will keep you feeling safe and free to move with ease whether you're practicing gentle yoga flows or high-impact aerobics.
Embrace Adjustable Straps:
The inclusion of adjustable straps in pink racerback sports bras is one of the secrets to achieving optimal support. These straps allow you to adjust the fit and achieve the best level of support for your specific body type. Tighten them for added support during high-intensity exercises, or slightly loosen them for a more comfortable feel during casual outings. It all comes down to striking the right balance for you.
Say Goodbye to Discomfort:
Women's pink bras are made with your comfort in mind, keeping you irritation-free throughout the day. Soft, seamless textiles that limit friction against your skin, eliminating chafing and irritation, are desirable. Consider sports bras with moisture-wicking characteristics to keep sweat at bay so you can focus on your athleisure activities without distractions.
Optimal Breathability:
When it comes to pink sports bras for ladies, breathability is essential for staying cool and fresh. Look for breathable bras with mesh panels or moisture-wicking fabrics that allow for air circulation. These sports bras improve your comfort and prevent that sticky sensation by keeping you dry and cool, even during the most intensive exercises or in hot conditions.
Fabric Exploration: Elevate Your Athleisure with Pink Sports Bras
Embrace the Power of Nylon:
When it comes to pink color sports bras, nylon is a go-to fabric. Nylon, which is known for its toughness and flexibility, offers a comfortable and supportive fit that flows with your body. Its silky texture is comfortable against the skin and reduces friction and irritation during athleisure activities. Nylon's outstanding moisture-wicking capabilities keep you dry and fresh so you can attack your day in style.
Embody Flexibility with Spandex:
When it comes to pink yoga sports bras, spandex is your go-to fabric for a flawless fit. Spandex, which is well-known for its outstanding stretch and recovery capabilities, ensures that your sports bra hugs your contours in all the right places. It provides outstanding mobility, letting you stretch, bend, and twist comfortably during exercises or leisure outings. Say goodbye to constraining textiles and hello to spandex's elasticity.
Embrace the Sweat-Wicking Power of Polyester:
Polyester is a game changer in ladies pink sports bra for those rigorous workout sessions. Its moisture-wicking properties effectively draw sweat away from your skin, facilitating rapid evaporation and keeping you cool and dry. Polyester is also recognised for its light weight, so say goodbye to heavy, unpleasant clothing. Maintain your attention and comfort by knowing that polyester has your back (or should we say, your front!).
The Winning Combination: Nylon-Spandex Blend:
When it comes to the best pink yoga sports bra blend, a combination of nylon and spandex comes out on top. This dynamic pair combines the best of both worlds: nylon's toughness and moisture-wicking characteristics with spandex's elasticity and flexibility. The end result? A pink sports bra with unrivaled comfort, support, and style. Prepare to dominate your athleisure pursuits with the ultimate fabric combination.
Breathable All-Day Comfort:
Pink sports bra made of nylon, spandex, and polyester fibers keep you cool and comfortable all day. These textiles allow for air circulation, which prevents overheating and that unpleasant sticky feeling. You'll feel cool, fresh, and ready to take on the world whether you're smashing a workout or running errands in your casual leggings. Pink sports bras are made to keep you comfortable and confident, so say yes to breathable happiness.
Why Blissclub is Your Ultimate Destination for Pink Sports Bras
Unparalleled Quality and Style:
Blissclub takes pleasure in providing pink sports bras of the highest quality and style. Our collection includes carefully picked designs that combine fashionable aspects with useful elements. From stylish strappy designs to supportive racerbacks, each pink sports bra is meticulously constructed and designed to boost your athleisure outfit. Try and buy pink sports bra online from us!
Perfect Fit for Every Body:
We think that every body is unique and deserving of the best possible fit. As a result, Blissclub offers a wide range of sizes to accommodate various body shapes and sizes. Our diverse size selection ensures that everyone may find their perfect fit, letting you to feel confident and supported during your workouts or casual trips. Embrace the comfort of Blissclub's pink sports bra online instead of the strain of finding the proper fit.
Unmatched Comfort and Support:
Blissclub has you covered in terms of comfort and support. Our pink sports bra are made of premium fabrics that prioritize breathability, moisture wicking, and flexibility. Our sports bras are designed to keep you comfortable and supported no matter how intense your activities are, with features like adjustable straps and different levels of support. Buy pink sports bra from us today! With Blissclub's pink sports bras, you may enjoy the delight of comfort and support.
Stylish Versatility for Any Occasion:
Blissclub recognises that athleisure is more than just going to the gym. Shop pink sports bras from us that are created for elegant adaptability, allowing you to switch from workouts to casual outings with ease. For an effortlessly stylish look, pair our pink sports bra with your favorite athleisure leggings or layer them beneath sheer tops. You'll always be ready to rock the athleisure trend with confidence and flair when you shop at Blissclub.
Exceptional Value and Customer Service:
When you choose Blissclub, you're receiving not only high-quality pink sports bra, but also excellent value and customer service. We work hard to give economical solutions without sacrificing quality, so you get the most bang for your dollars. Shop pink sports bras from Blissclub now. Our professional customer care team is always available to answer any questions or address any concerns you may have, providing a pleasant and memorable purchasing experience.
Frequently Asked Questions (FAQs)
Are Blissclub pink sports bras designed for all body types?
Yes, Blissclub pink sports bras are designed for all body types.
What sizes are available for pink sports bras by Blissclub?
Sizes are available from XS-elene to 4XL-una. Plus size sports bra are available too.
How should I care for and wash my Blissclub pink sports bras?
Please follow the wash-care instructions mentioned on the product page or in the insert cards (packaging).
Do Blissclub pink sports bras have moisture-wicking properties?
Yes, they do have moisture-wicking properties.
A 10% off coupon, front-row tickets to our latest launches, and no spam!
Subscribe to our Whatsapp updates now.
check your whatsapp now!