Running Tops for Women
From Sizes XS to 4XL
From Sizes XS to 4XL
From Sizes XS to 4XL
From Sizes XS to 4XL
22 items
Layla Lime
Regular price
Rs. 1,499
Sale price
Rs. 999
Becky Blue
Regular price
Rs. 1,499
Sale price
Rs. 999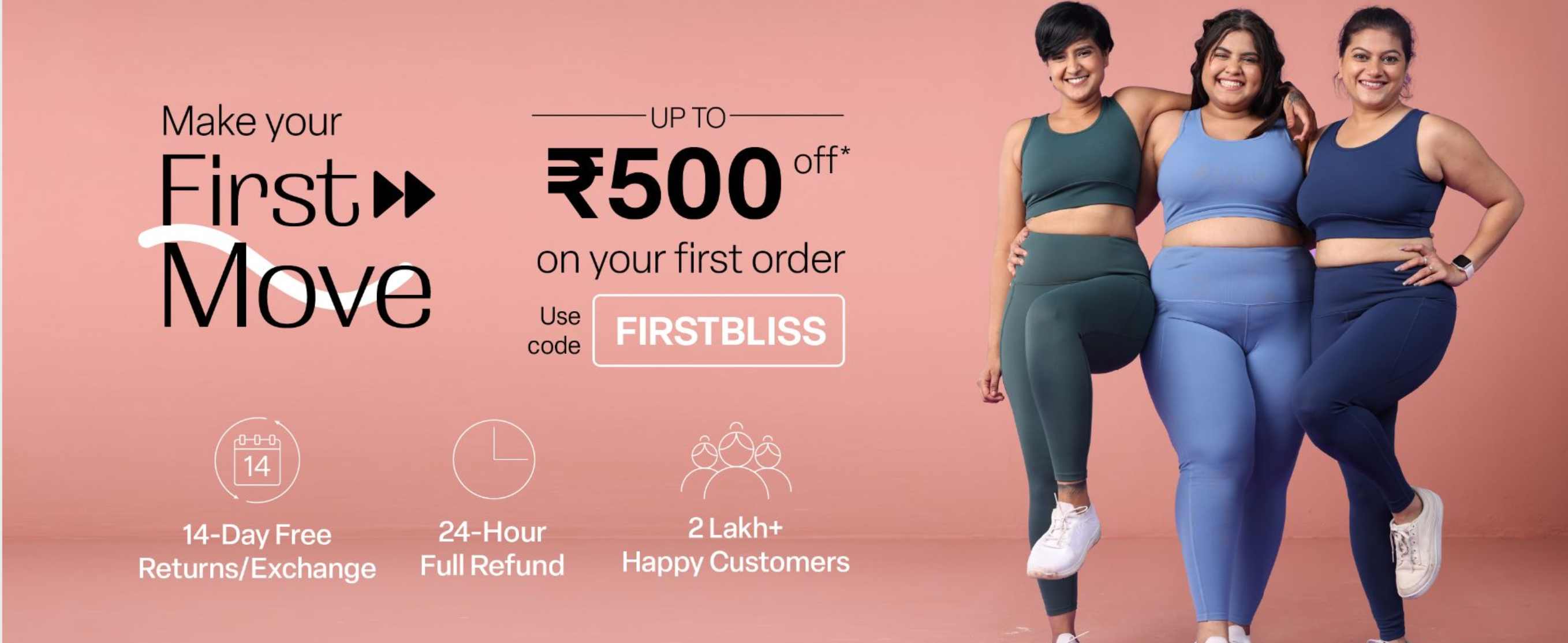 Shop Women Running Tops Online by BlissClub
Blissclub brings you running tops for all your mid to high-impact moves. We present to you the perfect running t-shirts for women to enhance your performance and boost your confidence on the track. Our plethora of options are designed with you in mind so you find your perfect running top, suiting every personal preference.
Our women's running tops are meticulously crafted using premium materials like polyester and nylon blends to provide optimal breathability, moisture-wicking capabilities, and a lightweight running top feel. They come in multiple colours and sizes - suiting your personal preferences and providing you with plus size running tops to size zero.
BlissClub's collection of womens running tops online includes different running tops for ladies for varying activity and intensity levels. We have the Ultimate Active Tank, a running tank top for women to offer for something soft and lightweight. To add a bit of flair and breeziness - we have the Breezy Split-Back tank to offer. We have great new choices coming in for sheer performance and bettering your athletic self.
Different types of running tops for women
Tank Tops
Running tank tops for women are super popular because they're sleeveless running tops and are made from lightweight fabric. These girls running tops let you move freely and stay breezy, making them perfect for hot weather or intense workouts. Plus, you'll find many styles and cuts to match your style and how much skin you want to show.
Short-Sleeve Tops
If you want more shoulder coverage, go for short-sleeve running tops. They balance breathability and protection, working well in different weather conditions. Look for ones made from moisture-wicking materials that keep you dry and comfy during your runs.
Long-Sleeve Tops
When the temperature drops, long-sleeve running tops are a lifesaver. They keep you warm and shielded, perfect for chilly mornings or colder climates. Some even come with thumbholes or cuffs you can pull over your hands to keep them cosy.
Reflective Tops
Safety should never be compromised, especially when running in low-light conditions. Reflective running tops for girls have got you covered. They're designed with reflective elements like strips or logos to make you more visible to others, like drivers or cyclists. Feel safe and shine bright during your early morning or evening runs.
Racerback Tops
Racerback tops are a hit among women runners because they're stylish and functional. The excellent racerback design allows your shoulders to move freely and prevents pesky straps from slipping. They offer a flattering fit and come in various fabrics, including moisture-wicking and quick-drying options.
How to style a ladies running top?
Styling your best running tops is a fantastic way to add flair to your workout look. The key to styling ladies' running tops is to have fun and express yourself with sportswear for women. With a few simple tricks, you can turn your jogging tops for ladies into stylish ensembles that keep you motivated and fabulous.
Run in Style
Pair your running top with high-waisted leggings for a sleek and comfy look. It's a winning combination that flatters your figure and keeps you confident. Mix and match colours and patterns to show off your style.
Mix and Match with Running Shorts
Mix and match your running crop top with a pair of running shorts to create a relaxed and breezy look - and again, have fun with the colours and combinations to create eye-catching looks. Buy running tops that pair well with your shorts collection!
Zip-Up Hoodie
Layer your running top with a zip-up hoodie when the weather gets cooler, or you're going for a relaxed vibe. Style it according to your taste - match it with the top or create a contrasting look with bolder colours. You can even tie it around your waist when you warm up during your workout.
A Simple Knot
Add a touch of personality to your running top by knotting it at the waist. It's a simple yet effective styling trick that instantly elevates your outfit. Play around with different knot styles and find your look.
Accessorise!
Complete your running outfit with accessories like a headband or hat. They keep your hair in place and protect you from the sun. Choose accessories that complement the overall running outfit.
Layer up
Layer your running top with a lightweight jacket when the weather is unpredictable. Look for breathable and moisture-wicking options to keep you comfortable during your runs. Find a jacket style that flatters your shape and adds to your workout ensemble.
How to choose the right women's running top?
Breathable and moisture-wicking running tops
Look for and buy running top with moisture-wicking and breathable polyester, nylon, and cotton fabrics. These materials draw sweat away from your body, making you comfortable and dry throughout your run. Keep these in mind when buying running tops online.
Fit and Size
Opt for a running top that gives a comfortable and supportive fit. Our range of sizes is large - being size neutral and providing plus size tops along with smaller sizes. Depending on your preference, you may choose between baggier tops and snugger ones. It should give you unrestricted freedom of movement.
Sleeve Length
Choose the sleeve length based on the weather conditions. Short sleeves and tank tops are great for warmer and brighter days. Long sleeves provide better coverage and warmth in colder times.
Reflective Detailing
If you run in low light conditions, look for tops with reflective details. These reflective details make you more visible to others, such as drivers or cyclists, reducing the risk of accidents during those early morning or evening runs.
Personal Style
Now, functionality is essential, but why not feel good, stylish and confident while running? Consider wearing colours, patterns and designs that make you excited. Feeling good about what you're wearing adds to the motivation and enjoyment of your runs.
If you keep these suggestions in mind, you'll be well on your way to discovering the ideal women's running top that checks all the right boxes for you—comfort, usability, and style. With the right running top, you'll feel and perform your best.
Best fabrics for women's running tops
Polyester
Polyester is a top pick for running tops. Its lightweight nature makes it ideal for running clothes for women who want to move freely. Polyester is known for its excellent moisture-wicking properties, quickly pulling sweat from the skin to the fabric's outer surface. This lets sweat evaporate faster, keeping you dry and comfortable throughout your workout.
Nylon
Nylon is a fantastic fabric choice for a running top due to its impressive durability, stretchiness, and breathability. The fabric's durability ensures that your running top can withstand the rigours of intense workouts and frequent washings. The nylon's stretchiness allows unrestricted movement, allowing you to run, jump, and stretch comfortably. Additionally, nylon is highly breathable, promoting proper airflow and sweat evaporation, which helps to regulate body temperature during exercise.
Cotton
While cotton is known for its comfort and softness, there may be better options for running tops. Cotton absorbs moisture, such as sweat, rather than wicking it away. As a result, a cotton running top can become heavy and clingy when wet, which can cause discomfort and increase the risk of chafing. However, cotton can still suit low-intensity activities or casual wear outside vigorous running sessions.
Bamboo
Bamboo fabric has gained popularity as a sustainable choice for running tops. It offers several advantages, including natural moisture-wicking properties. Bamboo fibres are highly absorbent, pulling moisture away from the body and allowing it to evaporate quickly. This feature keeps you cool and dry during your runs. Additionally, bamboo fabric is hypoallergenic, making it gentle on sensitive skin. It is also breathable, allowing for proper airflow and ventilation, which helps regulate body temperature.
Modal
Modal fabric is known for its exceptional softness and lightweight feel, making it a comfortable option for running tops. It effectively wicks away moisture, ensuring that sweat is pulled away from the skin, evaporates quickly, and leaves you feeling dry and fresh during your workout. Modal fabric drapes nicely on the body, providing a flattering fit without restricting movement. Its breathability further enhances comfort by allowing air circulation and heat dissipation.
Frequently Asked Questions
What are some benefits of wearing running tops?
The best running tops for women comprise moisture-wicking fabric and are comfortable and stretchable running tops. They keep you dry and fresh during your workouts.
Why choose BlissClub for women running tops?
BlissClub has a wide selection of activewear for women, with tops ranging from a polyester blend, nylon blend, and cotton blend. Active tops generally offer good coverage and breathability. Our women running tops collection includes tank tops, short-sleeved tees, full-sleeved tees, etc. We bring a remarkable range of women running t-shirts. You can shop running tops for women online via our website and by visiting our outlets.
How to care BlissClub's running tops?
Read the label for proper washing and drying instructions to prolong the life and quality of your running top.
Should we choose tight or loose running tops?
Running tops should be of the ideal size to fit your shape and size. They should give a snug fit to your body without compromising on freedom and movement and be stretchable.
Why should we use a Spandex running top?
Spandex is a fibre known for its exceptional stretching capabilities. It is ideal to use a running top that has a spandex-blended fabric as it provides a comfortable and flexible fit.
A 10% off coupon, front-row tickets to our latest launches, and no spam!
Subscribe to our Whatsapp updates now.
check your whatsapp now!