Women's Gym Pants
Sizes from XS to 4XXXL
Sizes from XS to 4XXXL
Sizes from XS to 4XXXL
Sizes from XS to 4XXXL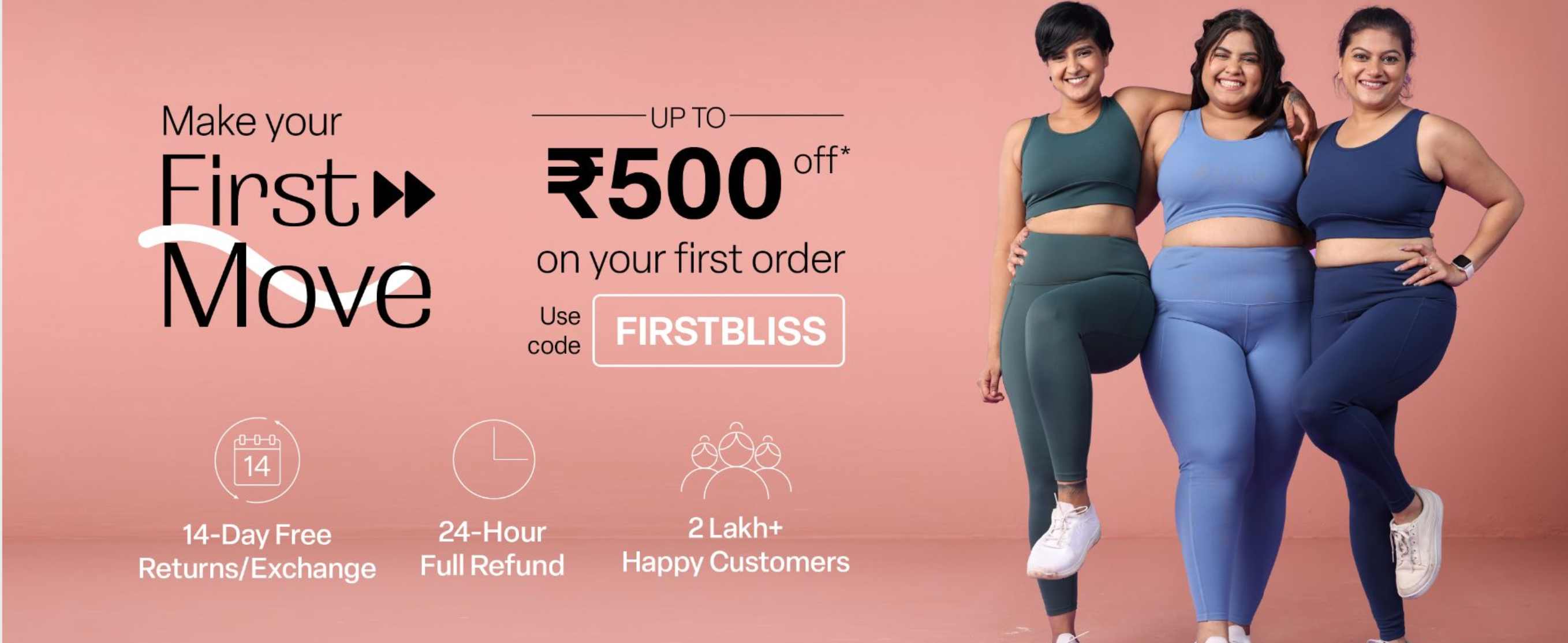 Buy Women Gym Pants Online
Looking for the perfect gym pants for women that effortlessly blend comfort, style, and performance? Don't worry! We got you covered with our collection of women's gym pants designed to elevate your workouts and keep you looking fabulous throughout your fitness journey.
Our workout pants are the ultimate activewear companions, supporting you every step of the way, whether at the gym, during yoga, or on a run. From plus size gym pants to trendy jogger pants for women, we have a wide range of options to suit your unique needs. Discover the convenience of shopping gym pants online and browse our selection today to find your perfect fit.
Features of Women's Gym Pants
When it comes to activewear, girls' gym pants are a game-changer. Designed with functionality in mind, these workout essentials offer more than just style. From intense cardio sessions to serene yoga flows, women workout tights are packed with functional features that elevate your performance and keep you comfortable throughout your fitness journey. Discover the must-have features that elevate your workouts to the next level!
Stretchy Fabrics for Unrestricted Movement:
Say goodbye to limitations and hello to freedom! Exercise pants for women are crafted from stretchy fabrics like polyester, spandex, and nylon. These materials provide an exceptional range of motion, allowing you to conquer any exercise without feeling restricted. Whether you're lunging, squatting, or mastering a yoga pose, these sports bottomwear move with you, effortlessly adapting to your every move.
Moisture-Wicking Magic for Sweat-Free Sessions:
Let's face it: workouts can get sweaty! That's where the moisture-wicking superpowers of ladies' gym pants come into play. With advanced moisture-wicking technology, these leggings for women draw sweat away from your skin, keeping you dry and comfortable. No more sticky and uncomfortable workouts—just pure focus and unstoppable energy.
Supportive Waistbands that Stay in Place:
The last thing you need during an intense workout is a waistband that constantly needs adjusting. High waisted gym pants for women feature supportive waistbands that stay put, allowing you to focus entirely on your workout. Whether it's a high-rise design that offers a secure and flattering fit or a mid-rise option for added comfort, these waistbands provide the support you need to tackle any exercise with confidence.
Functional Pockets to Keep Essentials Close:
Carrying your keys, phone, or cards while working out can be a hassle. Luckily, gym pants with pockets for women come equipped with functional pockets. These pockets are intelligently designed to securely store your essentials, so you can keep your hands free and your focus sharp. Say goodbye to misplaced items and hello to convenience!
Versatile Styles for Every Activity:
Your workout routine is as unique as you are, and female gym pants understand that. Choose from a variety of styles including leggings, capris, and shorts, finding the perfect pair for any activity. Whether you're hitting the pavement for a run, striking a pose in yoga class, or pumping iron at the gym, there are gym bottoms styles that's tailored to your needs and preferences.
Fabrics for Gym Pants for Women
Fabrics are key to your comfort, flexibility, and performance in activewear. Ladies' gym pants are no exception! Get ready to shop gym pants that inspire confidence and make you feel unstoppable during your workouts!
These workout essentials are crafted with a variety of fabrics, each offering unique benefits to support your fitness journey. From the stretchy wonders of spandex to the moisture-wicking magic of polyester, let's explore the fabulous world of best gym pants fabrics and discover the perfect fit for your active lifestyle!
Stretchy Spandex: Embrace the Freedom of Movement
Say hello to spandex, the secret behind unmatched flexibility! Lycra gym pants featuring spandex offer an incredible range of motion, allowing you to move freely during your workouts. This super stretchy fabric hugs your curves and adapts to your body, providing a second-skin feel. With spandex-infused exercise pants, you can bend, stretch, and conquer any exercise without feeling restricted. Embrace the freedom to unleash your full potential!
Performance-Driven Polyester: Stay Cool and Dry
When it comes to moisture management, polyester is the superstar of polyester gym pants for women. Known for its exceptional wicking properties, polyester actively pulls sweat away from your skin and disperses it on the fabric's surface, allowing it to evaporate quickly. The result? Stay cool, dry, and comfortable throughout your most intense workouts. Say goodbye to sticky discomfort and hello to a fresh and confident you!
Comfortable Cotton: A Breath of Fresh Air
If you're seeking a natural and breathable fabric, cotton is your go-to choice. Cotton gym pants made with cotton offer exceptional comfort and softness against your skin. This breathable fabric allows air to circulate, keeping you cool during low-impact activities or lighter workouts. Embrace the cosy comfort of cotton and experience workouts that feel like a breath of fresh air!
The Perfect Blend: Best of Both Worlds
Why settle for just one fabric when you can have the best of both worlds? Workout pants for women that combine spandex, polyester, and cotton create a winning blend that maximises comfort, flexibility, and moisture-wicking capabilities. The blend offers a perfect balance of stretch, breathability, and durability, ideal for various activities. Experience the ultimate fusion of performance and comfort with activewear pants that bring together the finest fabrics.
Enhanced Durability: Built to Last
No matter the fabric, gym leggings are designed to withstand the demands of your active lifestyle. Spandex, polyester, cotton, and blends are known for their durability and resilience to regular wear and tear. You can trust that your women's gym pants will be by your side for countless workouts, providing the comfort and support you need to push through your limits.
Benefits of Women's Gym Pants
Ladies' gym pants are not limited to a single workout routine—they are the ultimate activewear companions that adapt to your diverse fitness adventures. Whether you're breaking a sweat in the gym or finding your inner zen in a yoga class, these stylish gym pants are designed to support you every step of the way. Get ready to explore the exciting world of activities where womens gym pants shine, providing both style and functionality. Buy gym pants from Blissclub!
Conquer Cardio: Run, Jump, and Dance
Gym pants for ladies are your go-to choice for high-energy cardio workouts. Whether you're pounding the pavement, jumping rope, or shaking it off in a dance class, these exercise pants offer unbeatable comfort and flexibility. With their stretchy fabrics and supportive waistbands, gym pants for girls allow you to move with ease, keeping up with your dynamic movements and helping you crush those calorie-burning sessions.
Power Through Strength Training: Lift with Confidence
When it's time to hit the weights, women gym pants for women are your perfect training partners. With their blend of flexibility and durability, these workout pants let you squat, lunge, and deadlift with confidence. The stretchy fabrics provide unrestricted movement, while the supportive waistbands keep you comfortable during heavy lifting sessions. Embrace the power of gym pants for women as you build strength and sculpt your body.
Find Balance in Yoga and Pilates: Flow with Grace
For those seeking inner peace and improved flexibility, loose gym pants for ladies are a must-have for yoga and Pilates. With their soft and stretchy fabrics, these pants allow you to flow through your poses with grace and ease. The moisture-wicking properties keep you dry during heated yoga sessions, while the waistbands stay put, giving you the freedom to focus on your breath and find your centre.
Spin with Style: Pedal to Perfection
Cycling enthusiasts, rejoice! Gym pants for girls are the perfect choice for your spin classes or outdoor bike adventures. Designed to provide comfort and performance, these women's gym wear allow you to pedal with ease. The breathable fabrics keep you cool during intense rides, while the stretchy construction ensures a full range of motion. Hop on your bike and spin your way to fitness while looking stylish in your yoga pants for women.
Active Lifestyle: Beyond the Gym
Women gym pants are not limited to the gym alone—they are versatile companions for your active lifestyle. Whether you're going for a hike, taking a power walk in the park, or running errands, these flared gym pants offer both functionality and style. Embrace the comfort and flexibility of workout pants as you move through your daily activities, making a statement wherever you go.
Why Choose Blissclub for Women's Gym Pants
Finding the perfect balance of style, comfort, and functionality is crucial when it comes to women's gym pants. Enter Blissclub—the ultimate destination for activewear enthusiasts. Shop gym pants from Blissclub for fashion forward outfits! With a commitment to quality and a passion for empowering women, Blissclub stands out as the go-to brand for your gym pants needs.
Uncompromising Quality: Embrace Durability and Style
Blissclub takes pride in delivering gym pants for ladies of exceptional quality. Crafted with premium materials and meticulous attention to detail, their pants are built to withstand your most intense workouts. From stretchy fabrics that move with you to reinforced stitching that ensures longevity, Blissclub gym pants are the epitome of durability and style, giving you the confidence to take on any fitness challenge.
Flattering and Functional Designs: Embrace Your Body, Your Way
Blissclub understands that women come in all shapes and sizes. That's why their women's gym pants are designed to embrace your unique curves and enhance your natural beauty. With thoughtfully engineered waistbands and strategic seam placements, Blissclub pants offer a flattering fit that hugs your body in all the right places. Experience the perfect blend of fashion and function, allowing you to look and feel your best during every workout.
Innovative Moisture-Wicking Technology: Stay Fresh and Dry
Say goodbye to discomfort caused by sweat-soaked clothes. Blissclub integrates advanced moisture-wicking technology into their women's gym pants, ensuring you stay fresh and dry throughout your workouts. The moisture-wicking properties actively draw sweat away from your skin, promoting breathability and preventing that sticky feeling. Stay cool, confident, and ready to conquer any fitness challenge with Blissclub's moisture-wicking black gym pants.
Versatile Styles for Every Fitness Journey: Find Your Perfect Match
No matter your workout preference, Blissclub has a gym pant style that suits your needs. From high-waisted leggings for extra support to trendy capris and shorts for a lighter feel, their versatile collection offers options for various activities. Whether you're hitting the gym, attending a yoga class, or going for a run, Blissclub has the perfect gym pants for women to accompany you on your fitness journey.
Customer-Centric Approach: Your Satisfaction Matters
At Blissclub, they prioritise your satisfaction above all else. With a customer-centric approach, we strive to provide exceptional service, ensuring a seamless shopping experience for you. From easy online browsing to responsive customer support, Blissclub is committed to making your activewear journey as smooth as possible. Feel valued and supported as you embark on your fitness goals with Blissclub gym pants.
Frequently Asked Questions (FAQs)
Can I pair gym pants with other activewear pieces?
Absolutely! Gym track pants are incredibly versatile and can be easily paired with other activewear pieces to create stylish and functional outfits. Whether you want to complete your look with a gym top for a coordinated ensemble or opt for a casual vibe with a hoodie or tank top, the possibilities are endless. Buy women's gym pants from us for all the versatile looks!
Do gym pants come in different lengths?
Yes, gym pants come in various lengths to cater to individual preferences. You can find full-length gym pants that provide maximum coverage and warmth, capri-length pants that offer a balance between coverage and breathability, and shorts for those who prefer a shorter inseam.
Can I find plus-size gym pants that offer a flattering fit?
Absolutely! We believe that every body deserves activewear that makes them feel comfortable and confident. Our collection includes a range of plus-size gym pants specifically designed to provide a flattering fit for all body shapes. With stretchy fabrics, supportive waistbands, and thoughtful designs, our plus-size gym pants will have you looking and feeling amazing during your workouts.
A 10% off coupon, front-row tickets to our latest launches, and no spam!
Subscribe to our Whatsapp updates now.
check your whatsapp now!