Grey Pants for Women
Sizes from XS to XXXL
Sizes from XS to XXXL
Sizes from XS to XXXL
Sizes from XS to XXXL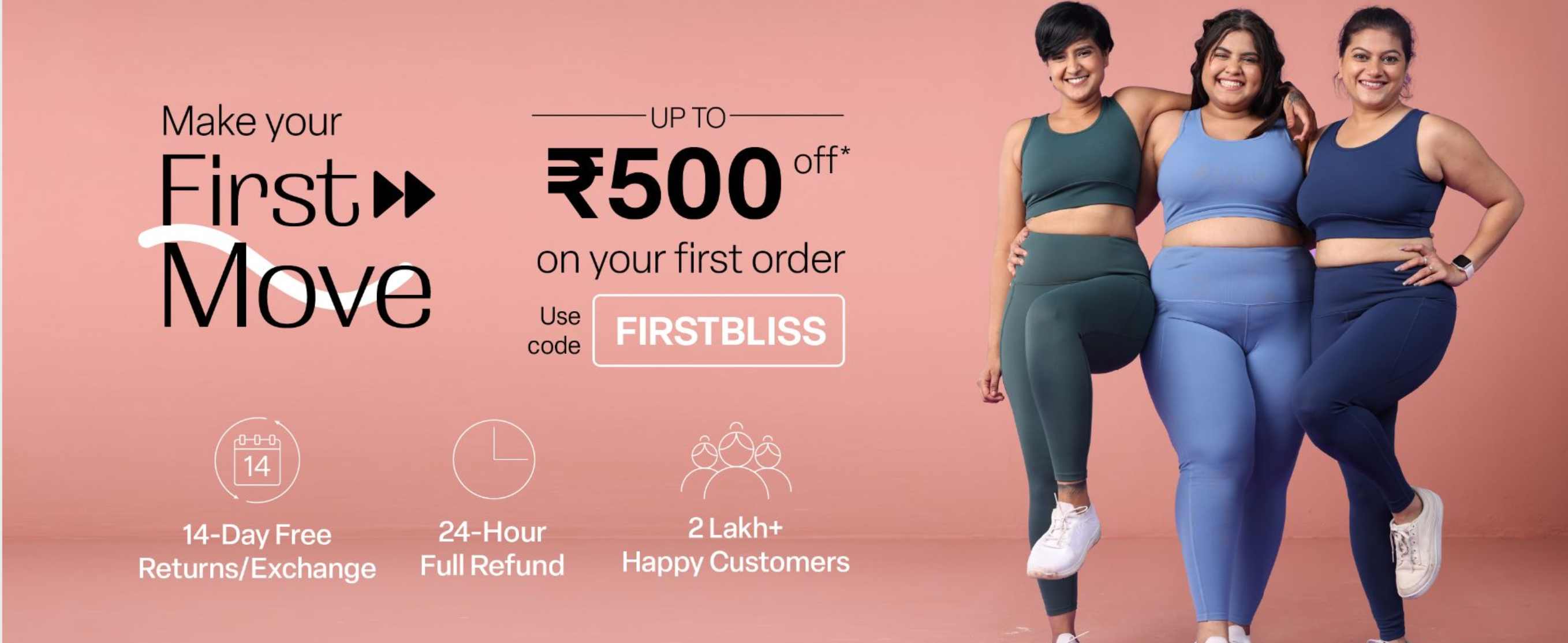 Shop Women Grey Pants Online
Elevate your wardrobe with Blissclub's stylish grey pants for women. Designed specifically for Indian women's bodies, these pants are a perfect blend of fashion and functionality. Whether you're heading to the office, enjoying a casual day out, hitting the gym, or embarking on outdoor adventures, Blissclub has grey pants for every occasion.
One of the standout features of our grey pants is their thoughtful design, which prioritizes comfort without compromising on style. Each pair is crafted with the modern woman in mind, incorporating functional pockets that allow you to conveniently carry your essentials. No more fumbling for your phone or keys – everything you need is within arm's reach.
For a relaxed and casual look, our Grey Move All Day Pants are perfect for loungewear or running errands. Made from high-quality materials, these pants offer a comfortable fit that will keep you feeling at ease throughout the day. If you lead an active lifestyle and love outdoor pursuits, our Grey All Terrain Track Pants are designed to withstand high-impact activities. These pants provide durability and flexibility, allowing you to conquer any terrain with ease.
For the office, our Werk It Flare Pants in grey exude professionalism and sophistication. These pants offer a flattering fit and are tailored to perfection, ensuring you look polished and stylish at all times. Last but not least, if you're looking for the perfect workout companion, our Ultimate Flare Pants in grey are designed to meet your fitness needs. With their breathable fabric and comfortable waistband, these pants allow for unrestricted movement, making them ideal for yoga, pilates, or any other exercise routine.
Blissclub understands that the right pair of pants can make a world of difference in your daily life. That's why we offer a wide range of women's grey pants, providing options that suit various body types and style preferences. Experience the blend of style, comfort, and versatility with Blissclub's collection of grey pants for women – the perfect addition to any modern woman's wardrobe.
Grey Pants for Women: A Wardrobe Staple
Women's Grey pants are a versatile and essential addition to any wardrobe, offering both style and sophistication. Whether it's for workwear or formal occasions, the enduring appeal of girls' grey pants makes them a must-have item. The neutral and understated nature of grey allows these pants to seamlessly complement a variety of tops, blouses, and accessories, making them a go-to choice for fashion-conscious women.
What sets womens grey pants apart is their exceptional functionality. They effortlessly create a polished and professional look, making them perfect for corporate environments and formal events. The subtle elegance of women's grey pants makes them an ideal option when you want to exude confidence and grace. Their versatility allows for seamless transitions from the boardroom to social gatherings or formal affairs, making them a reliable and stylish choice for any occasion.
When it comes to workwear, grey pants for ladies are a practical and reliable option. The neutral color provides a solid foundation for building a cohesive and versatile work wardrobe, as they can be effortlessly paired with various tops, blouses, and blazers. Whether you prefer a tailored fit or a more relaxed style, grey formal pants for ladies offer a timeless yet contemporary look that leaves a lasting impression.
Blissclub proudly offers a stunning collection of dark grey pants for women, meticulously designed to cater to different body types and style preferences. Each pair is crafted with attention to detail and crafted from premium fabrics, ensuring both comfort and style. Embrace the sophistication and functionality of women grey pants and elevate your workwear and formal attire effortlessly.
Styling grey pants for different occasions
Grey pants for girls offer endless styling possibilities, allowing you to create various looks for different occasions. Whether you're aiming for a casual, professional, or chic ensemble, these pants are a versatile choice. Explore the following styling options to make the most of your women grey pants wardrobe:
Casual Chic with Grey Wide Leg Pants
Embrace a trendy and relaxed look by pairing grey wide leg pants with a tucked-in graphic tee and a denim jacket. Complete the outfit with sneakers or ankle boots for an effortlessly cool vibe.
Sophisticated Office Attire with High Waisted Grey Pants
Opt for high waisted grey pants for women to achieve a polished and professional look. Pair them with a crisp button-down blouse or a tailored blazer for a refined and elegant office ensemble. Add heels and accessorize with statement jewellery to elevate your style.
Comfortable and Casual with Women's Grey Cotton Pants
For a laid-back yet stylish outfit, choose women's grey cotton pants. Pair them with a relaxed-fit sweater and sneakers for a cosy and effortless look perfect for weekend outings or running errands.
Elegant and Versatile with Light Grey Trousers
Light grey trousers for women offer a sophisticated and versatile option. Pair them with a feminine blouse and heels for a classy evening look, or dress them down with a tucked-in t-shirt and flats for a chic daytime outfit.
On-Trend Flair with Gray Flare Pants
Make a fashion statement with grey flare pants. Pair them with a fitted top and heels for a stylish and retro-inspired look that's perfect for a night out or a special occasion.
Classic and Timeless with Grey Straight Leg Pants
Create a timeless and elegant ensemble with grey straight leg pants. Pair them with a tailored blouse and pumps for a refined and sophisticated look suitable for any formal or professional setting.
Comfort and Style with Grey Lycra Pants
Ideal for workouts or casual days, grey lycra pants offer comfort and flexibility. Pair them with a breathable tank top or a sports bra for a gym-ready look, or add a flowy top and sneakers for a sporty yet fashionable everyday outfit.
Versatile All-Rounder with Trousers
Trousers in various shades of grey are a wardrobe staple. They can be dressed up with a blouse and heels for a formal occasion or paired with a casual t-shirt and sneakers for a relaxed yet put-together look.
Yoga-inspired Comfort with Grey Yoga Pants
Embrace comfort and style with grey yoga pants. Perfect for workouts or casual outings, pair them with a fitted tank top or a hoodie for an effortlessly chic athleisure look.
Sleek and Professional with Grey Straight Pants
For a polished and office-ready ensemble, opt for grey straight pants. Pair them with a tailored blazer and a tucked-in blouse for a sophisticated and commanding look suitable for any professional setting.
Flattering and Stylish Plus Size Pants
Find the perfect fit and style with plus size grey pants. Embrace your curves and choose from various silhouettes like wide leg, straight leg, or tailored options. Pair them with a fitted top and accessories that accentuate your personal style.
Shopping for grey pants
While shopping is generally fun there can be a few challenges to navigate when you shop grey pants. One of the main issues is finding the right fit and size. Sizing can vary across brands when you buy grey trousers. Carefully check the size charts and read customer reviews to get a better understanding of how the pants might fit. Additionally, the lack of physical try-ons can make it challenging to assess the fabric quality and the overall look and feel of the pants before purchasing.
To make your experience more successful when you shop grey pants online, here are a few tips to keep in mind. Firstly, measure yourself accurately and refer to the provided size charts to select the appropriate size. It's advisable to compare your measurements with the specific brand's sizing recommendations rather than relying solely on your usual size.
Secondly, carefully read the product descriptions and fabric details to understand the material composition- before you buy grey pants online. This information can help you determine if the fabric will provide the desired comfort and durability. Look for keywords like ladies' grey pants made from high-quality fabrics like cotton or blended materials known for their durability and stretch.
Lastly, take advantage of customer reviews and ratings of grey pants online. These can provide valuable insights into the fit, quality, and overall satisfaction of previous buyers. Pay attention to reviews from customers with similar body types or style preferences to get a better idea of how the pants might suit you.
By keeping these tips in mind while you buy grey pants, you can increase your chances of finding the perfect pair that fits well, suits your style, and meets your expectations. Happy shopping!
Why Choose Blissclub's Grey Pants for Women
When it comes to choosing grey color pants, Blissclub stands out for several reasons. Here are the top reasons why you should choose our Grey Pants:
High-Quality Fabric
Blissclub prides itself on using high-quality fabrics for its grey pants. Our pants are crafted from cloud-soft fabric that not only offers a luxurious and soft feel against your skin but is also wear-resistant and durable. This ensures that your grey pants maintain their shape and quality even after multiple wears and washes, giving you long-lasting comfort and satisfaction.
Functional and Comfortable Design
Blissclub understands the importance of designing pants that cater to the needs of Indian women's bodies. Our grey pants for ladies are thoughtfully crafted to provide a comfortable fit without compromising on style. With a focus on functionality, our grey pants with pockets feature well-placed pockets that are designed to be both practical and stylish. You can conveniently carry your essentials while maintaining a sleek and polished look.
Grey Pants for All Occasions
Blissclub offers a wide range of grey color pants, ensuring that you find the perfect pair for every occasion. Whether you're looking for loungewear or casual pants, our Grey Move All Day Pants provide comfort and style. For high-impact outdoor activities, our Grey All Terrain Track Pants offer durability and flexibility. If you need office pants that exude professionalism, our Werk It Flare Pants are tailored to perfection. And for your workout sessions, our Ultimate Flare Pants in grey provide the right blend of comfort and functionality. No matter the occasion or need, Blissclub has grey pants to suit your style and lifestyle.
FAQs
Where can I buy Grey Pants?
You can buy women's pants, grey pants specifically from various retailers such as clothing stores, or online marketplaces. Check out local stores or browse through online platforms to find a wide range of options in different styles and fits.
Are Blissclub's Grey Pants comfortable for everyday wear?
Yes, Blissclub's Grey Pants are designed for everyday comfort. They are made with high-quality materials and crafted with a focus on both style and comfort. With their thoughtful design and superior fabric, Blissclub's Grey Pants ensure a comfortable fit for all-day wear.
Which fabric is the best for formal Grey Pants?
For formal grey pants, fabrics like wool, wool blends, or polyester blends are commonly preferred. These materials offer a polished and refined look suitable for professional or formal occasions. They provide a structured drape and maintain their shape, adding a touch of sophistication to your outfit.
How to style grey pants for different occasions?
Grey color pants are versatile and can be styled for various occasions. For a formal event, pair them with a crisp white shirt, a blazer, and dress shoes. For a casual look, combine them with a T-shirt or blouse and sneakers or sandals. Experiment with different tops, accessories, and footwear to create your desired style.
How to wash and care for Blissclub's grey pants?
To wash and care for Blissclub's grey pants, follow the instructions on the care label provided. Generally, it is recommended to machine wash them in cold water with similar colours. Use a mild detergent and avoid bleach or harsh chemicals. After washing, air dry or use a low-heat setting in the dryer. Iron or steam as needed to maintain their crisp appearance.
A 10% off coupon, front-row tickets to our latest launches, and no spam!
Subscribe to our Whatsapp updates now.
check your whatsapp now!