Brown Pants for Women
Sizes from XS to 4XL
Sizes from XS to 4XL
Sizes from XS to 4XL
Sizes from XS to 4XL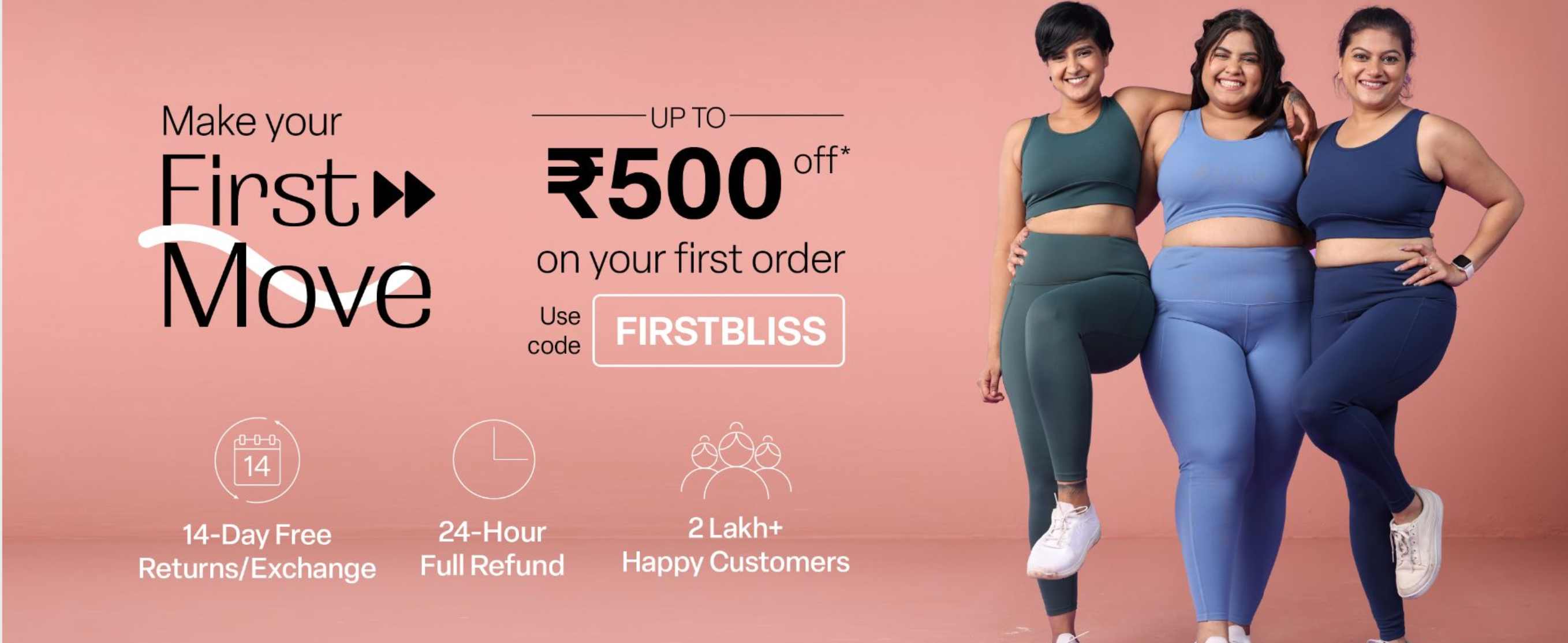 Shop Women's Brown Pants Online
Discover the perfect fusion of style and functionality with our collection of women's brown pants. Designed specifically for activewear, these versatile bottoms will have you looking fabulous and feeling comfortable during any workout or casual outing.
With their sleek designs, high-performance fabrics, and meticulous attention to detail, our women's brown pants are the ultimate go-to option for those who prioritise fashion and functionality. Get ready to embrace a whole new level of comfort, performance, and style with our exclusive brown pants tailored for active women like you.
Trendy Brown Pants: Styles & Designs
Looking for activewear that is both fashionable and functional? Women brown trousers are the answer! These adaptable bottoms come in a variety of fashionable styles that will keep you comfortable and on-trend during your athletic pastimes. Shop brown pants on the Blissclub app now! Let's take a look at the exciting world of brown trousers for ladies and see which fantastic styles will make you stand out.
Leggings: Embrace the Sleek Silhouette
In women's brown pants, you'll be able to confidently flaunt your curves. This pair of form-fitting trousers has a sleek and attractive design that hugs your body in all the right areas. Leggings are ideal for yoga, running, or hitting the gym since they provide excellent comfort and range of movement while still exhibiting your style.
Joggers: The Perfect Blend of Comfort and Style
Brown pants for women are the way to go for a more relaxed yet elegant style. Joggers have a laid-back style that transfers smoothly from your workout to running errands or meeting up with friends, thanks to its tapered legs and elasticized cuffs. Pair them with a comfortable shirt or a fashionable cropped top and you're set to take on the day in style.
High-Waisted Styles: A Flattering Fit for All
Brown high waisted pants in stylish high-waisted styles will highlight your waistline and lengthen your legs. These trousers provide support and a pleasing silhouette by sitting comfortably above your hips. High-waisted trousers offer both comfort and a modern look that complements your body shape perfectly, whether you're working out or running errands.
Capris: Stay Cool and Stylish
Female brown pants come in handy when the temperature rises. During your workouts, these shorter-length bottoms enable airflow and keep you cool. Display your fave trainers or ankle weights while giving a fashionable accent to your activewear wardrobe. Remain effortlessly stylish, comfortable, and prepared for any fitness challenge that arises.
Colourful Accents: Add a Splash of Personality
Don't be scared to add bold and colourful embellishments to your women's brown pants. Explore brown pants online with contrasting panels, bright patterns, or attention-grabbing accents. These colourful accents not only boost your look, but also show your own personality. Make a statement with your activewear and let it reflect your vivid personality.
Brown Pants for Women: Styling Tips Unleashed!
Are you looking to up your fashion game with girls' brown pants? Use these styling tips to create fabulous and functional outfits that highlight your individual style, whether you're going to the gym, running errands, or meeting up with friends. Buy brown pants from Blissclub for sheer comfort and ultimate functionality! Prepare to let your imagination run wild while wearing your womens brown pants with confidence!
Pair with a Flowy Tank Top:
Style your ladies' brown pants with a flowy tank top for a carefree and breezy look. Choose a bright or patterned tank to offer a splash of colour and a trendy contrast to the earthy tones of the jeans. Finish with your fave trainers or sandals for an uncomplicated, casual combo that's ideal for a yoga session or a day out.
Layer with a Stylish Jacket:
Layer your brown formal pants for women with a trendy jacket to add a touch of class to your workout ensemble. To add a touch of sophistication, choose a lightweight bomber jacket, denim jacket, or sleek leather jacket to enhance your ensemble. This combination results in a trendy and edgy look that transitions smoothly from training mode to street style.
Embrace Athleisure with a Crop Top:
By wearing your brown pants for ladies with a crop top, you can combine comfort and style in an athleisure-inspired look. For a modern and sporty look, choose a cropped hoodie or a fitting crop tee. The pants' high-waisted style will produce an attractive and balanced silhouette. Finish the look with your favourite trainers and accessories such as a baseball cap or striking sunglasses for a chic look.
Add a Layered Sports Bra:
Layer your women's brown trousers with a vivid and fashionable sports bra for a striking look. Look for a sports bra with distinct strap elements or a bright pattern that contrasts with the brown tones of the trousers. The layered appearance provides visual appeal and a trendy edge to your workout attire. For a fashionable touch, finish the ensemble with a lightweight cardigan or an open-back tank.
Elevate with a Lightweight Blouse:
Pair your brown straight pants with a lightweight blouse to transform them from workout to casual cool. For a polished and put-together look, tuck the top into the high-waisted trousers. Complete the look with ankle boots or ballet flats for a versatile look that can be worn from day to night.
Luxurious Fabrics for Women's Brown Pants: Blissclub's Finest Selection
Choosing the proper fabric for brown flare pants is critical to guaranteeing both comfort and performance during your busy pursuits. There are plenty of fabric choices available, such as polyester, spandex, cotton, nylon, and even fabric blends combining these materials. Don't forget to buy women's brown pants on the Blissclub online store! Now let's look into the world of fabrics.
Polyester: The Ultimate Moisture-Wicker
Because of its great moisture-wicking characteristics, polyester is a popular choice for activewear. This synthetic fabric draws moisture away from your skin rapidly, keeping you dry and comfortable during strenuous activities. Brown pants for girls are ideal for sweaty sports, keeping you cool and focused on achieving your fitness goals.
Spandex: Stretch, Flex, and Move Freely
Spandex revolutionises the activewear industry. This stretchy and elastic fabric allows you to move freely, allowing you to bend, stretch, and flex without restriction. Womens brown pants provide a snug and comfortable fit that conforms to your body shape. Say goodbye to restrictions and hello to total mobility as you effortlessly complete your routines.
Cotton: Breathable Comfort for Everyday Wear
Cotton is a common fabric choice for brown colour pants due to its breathability and suppleness. This natural fibre lets air to circulate, keeping you cool and comfortable while working out. With the breathability charm of cotton trousers, you may stay comfortable and elegant all day.
Nylon: Lightweight and Durable
Nylon is a synthetic fabric that is lightweight and long-lasting. Women brown pants have outstanding strength and resistance, making them ideal for high-intensity exercises and outdoor activities. Nylon is also quick-drying, making it ideal for sports involving water. With nylon trousers' robust and dependable performance, you'll be confident and ready to face any challenge.
Blends: The Best of Both Worlds
Some brown wide leg pants are made of a fabric blend that combines the greatest qualities of each material. A typical blend is polyester and spandex, which provides a good balance of moisture-wicking and stretch. These mixed fabrics for plus size brown pants offer maximum comfort, breathability, and flexibility, allowing you to move freely while being dry. Fabric blends provide a perfect balance of versatility and performance, offering you the best of both worlds.
Brown Pants for Women: Experience Bliss with Blissclub
Blissclub has you covered when it comes to selecting the perfect sportswear that mixes style, comfort, and utility. Look no further for womens brown pants that will boost your training experience and make you feel confident and empowered. Here are a few reasons why Blissclub should be your go-to activewear brand:
Unmatched Quality and Durability:
Blissclub takes pleasure in creating brown bell bottom pants from the best quality fabrics and with meticulous attention to detail. Our sportswear is designed to withstand the most rigorous workouts and busy lifestyles, assuring long-lasting durability that will not fail you. Embrace the confidence and tranquility that comes with investing in premium sportswear that surpasses expectations.
Fashion-forward Designs:
Say goodbye to dull, generic sportswear. In our brown colour pants, Blissclub combines design and usefulness. Our expert design team stays on top of the current trends to develop fashionable sportswear that represents your particular style. Our trousers are meant to make you look and feel amazing while you sweat it out, with sleek and slimming styles to eye-catching patterns.
Unparalleled Comfort and Fit:
When it comes to sportswear, we understand the significance of comfort. As a result, Blissclub's brown pants are made with your comfort in mind. We use excellent fabrics that are silky and smooth against your skin while also being breathable and stretchy. Our straight pants for women are carefully designed to give a pleasing and supportive fit that flows with your body, allowing you to concentrate on your workout without distractions.
Versatility for Every Activity:
Blissclub's brown pants for women are adaptable enough to accompany you on any activity, whether you're hitting the gym, doing yoga, going for a run or simply running errands. Our trousers' flexible and useful designs are geared to fit the needs of varied workouts while retaining a stylish and polished appearance. Transition from the studio to the street with sportswear that matches your active lifestyle.
Frequently Asked Questions (FAQs)
What sizes are available for brown pants for women at Blissclub?
Blissclub offers a wide range of sizes to accommodate different body types including plus size pants for women. Shop brown pants online from the Blissclub website today! Our brown trousers for ladies are available in sizes ranging from XS-elene to 4XL-una, ensuring a perfect fit for every customer.
Do the brown pants have pockets?
Yes, many of our brown colour pants for women feature convenient pockets. These pockets provide storage space for essentials like keys, cards, or small personal items, allowing you to carry them hands-free during your activities.
Are the brown pants designed to be flattering?
Yes, our brown pants for women are designed with both style and comfort in mind. We carefully consider the cut, silhouette, and fabric to create flattering designs that enhance your natural curves and provide a sleek and confident look.
Are the brown pants machine washable?
Please follow the wash-care instructions mentioned on the product page or in the insert cards (packaging).
A 10% off coupon, front-row tickets to our latest launches, and no spam!
Subscribe to our Whatsapp updates now.
check your whatsapp now!