Black Pants for Women
Sizes from XS to XXXL
Sizes from XS to XXXL
Sizes from XS to XXXL
Sizes from XS to XXXL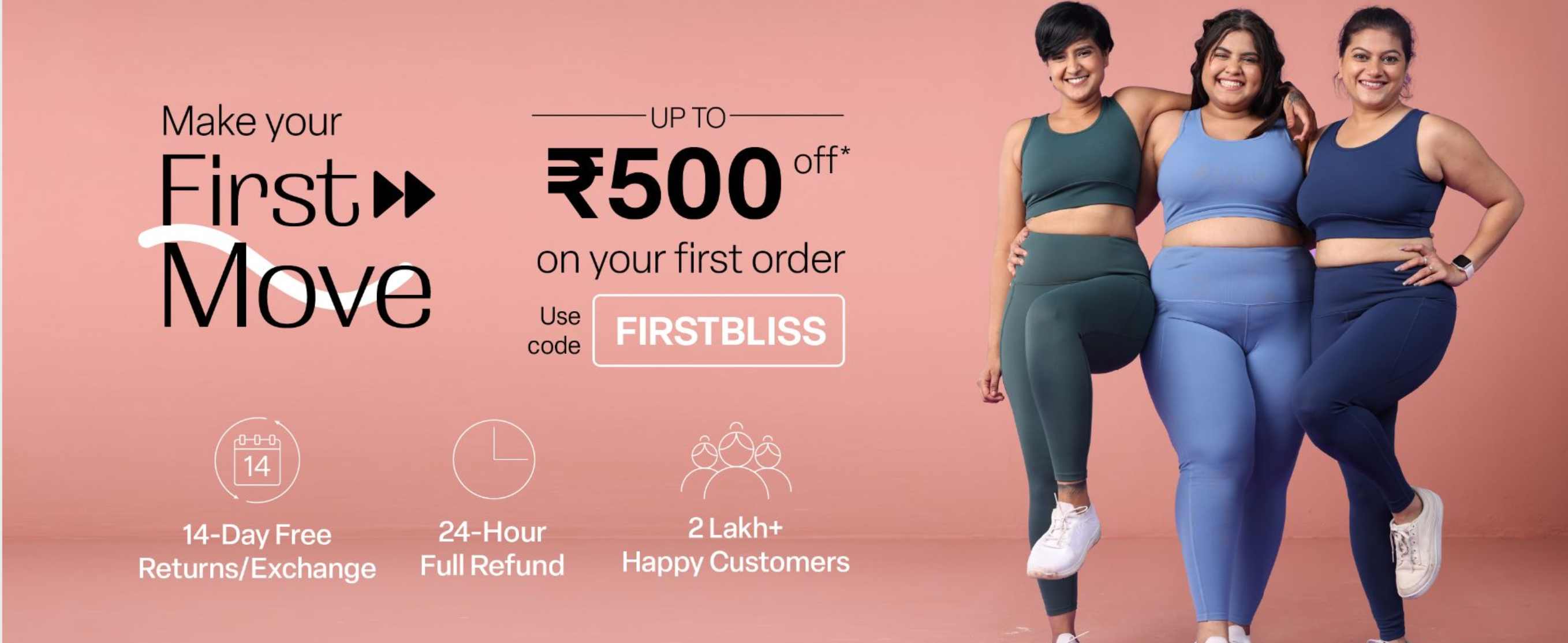 Shop Women's Black Pants Online
Blissclub brings you our collection of black pants online, designed exclusively for women who value comfort, functionality, and fashion. We at Blissclub craft our black pants with attention to detail, using premium quality materials that provide a flattering fit and exceptional comfort all day.
Versatility is key, and our black pants seamlessly transition from day to night, making them a must-have addition to any woman's wardrobe. From casual outings to professional settings, these pants are bound to perform because of the colour and design.
At Blissclub, we prioritise function and comfort in all our clothing, whether activewear or not. To keep up with your active lifestyle, our black pants for women are designed to provide maximum comfort and flexibility without compromising style. These pants will be your go-to choice for running errands to attending meetings. Bliscclub is your ultimate destination to buy black pants that combine style, comfort, and quality.
Different Types of Black Pants for Women
Black pants for women are a versatile wardrobe staple that every woman should own. They can effortlessly take you from casual to formal occasions with a simple change of top or accessories. But did you know that various types of black pants for women are available, each with its unique style and purpose?
Classic Straight-Leg Pants
The black straight leg pants are a timeless choice that never goes out of style. They offer a sleek, polished look with a straight cut from the hip to the ankle. These trousers are perfect for professionals and make good black formal pants for women. Pair them with a blouse for a sophisticated office ensemble or a tee for something more casual.
Pencil Pants
Pencil pants are a sleek and fitted option that flatters your figure with their slim silhouette. These, too, can be good black formal pants for women. These pants taper down from the hips to the ankles, creating a streamlined appearance. Pair them with a tailored blazer and heels for a stylish office outfit, or dress them up with a flowy blouse and accessories for a night out.
Wide-Leg Pants
Black wide leg pants are a fantastic choice for style and comfort. These pants feature a relaxed fit that flows from the waist to the ankle. They are perfect for those who prefer a more relaxed and breezy style. Similarly, black flare pants or black bell bottom pants start flaring from the knee down. Pair them with a fitted top or a tucked-in blouse for a chic and effortless look.
Capri Pants
Capri pants are a versatile and stylish option for warmer weather. These cropped pants typically end around mid-calf or just below the knee, offering a playful and casual look. They are great for showing off your favourite footwear, whether sandals, sneakers, or heels. Pair them with a colourful top and wedges for a fun summer outfit, or dress them up with a blouse and flats for a more polished ensemble.
Jogger Pants
If you're looking for comfort without compromising style, black jogger pants for women are a fantastic option. These pants provide a sporty and casual look, perfect for running errands or lounging in style. Pair them with a graphic tee and sneakers for a trendy athleisure look, or dress them up with a fitted blouse and heels for a more elevated ensemble.
Leggings
Black leggings are a wardrobe essential for ultimate comfort and versatility. These stretchy and form-fitting pants are perfect for lounging, working out, or creating a casual, effortless look. Pair them with an oversized sweater and ankle boots for a cosy winter outfit, or wear them with a tunic top and sneakers for a comfortable yet stylish athleisure ensemble. These come in variations as well, like gym or black yoga pants.
High Waisted Pants
High waisted pants sit above the natural waistline, creating a flattering and elongating effect. These pants add a touch of sophistication and elegance to your outfit. Whether you opt for capris, straight-leg, wide-leg, or flare styles, high rise black pants accentuate your curves and create a vintage-inspired look.
Different Fabrics for Black Pants for Women
When it comes to black pants for women, the fabric you choose can make all the difference in comfort, style, and durability. With a wide range of materials available, it's important to understand the characteristics of each. Consider the occasion, climate, and your personal preferences when selecting the fabric that suits you best.
Cotton
Cotton is a beloved fabric known for its breathability and softness. It's perfect for those seeking lightweight and comfortable female black pants. Black cotton pants for ladies offer excellent moisture absorption, making them suitable for warmer weather. They provide a casual, relaxed look, ideal for everyday wear or casual outings.
Polyester
Polyester is a great option if you're looking for ladies' black pants that are easy to care for and resist wrinkles. This synthetic fabric is known for its durability and resilience. Black polyester pants are less likely to shrink or fade, making them ideal for frequent use or travel. They are often sleek and polished, making them suitable for professional and dressier occasions.
Nylon
Nylon is a versatile fabric that offers a combination of durability and comfort. It is known for its strength and resistance to abrasion, making it a popular choice for black pants for ladies that withstand everyday wear and tear. Nylon pants are lightweight and often have a smooth and glossy finish, giving them a sleek and modern look. They are great for active wear or any activity that requires flexibility and movement.
Spandex
Look for spandex or elastane fabrics for black pants for ladies that offer flexibility and a figure-hugging fit. These synthetic fibres provide stretch and elasticity, allowing for ease of movement and a comfortable fit. Pants with spandex turn into black stretchable pants. They're ideal for activewear, yoga sessions, or any activity that requires freedom of movement.
How to Style Black Pants for Women
Whether going for a casual look or dressing up for a special occasion, black pants are your go-to for a good outfit. Remember, styling girls' black pants is about personal expression and experimenting with combinations. Feel free to mix, match, embrace trends, and add your unique touches.
Classic White Shirt
A classic white shirt paired with girls' black pants is timeless. Opt for a crisp, button-down white shirt and tuck it into your black pants for girls for a polished and sophisticated look. Finish off with a statement belt and accessories to elevate the ensemble.
T-shirt
Team your women black pants with a tee for a more relaxed and casual vibe. This effortlessly cool pairing allows you to express your style and adds personality to your outfit. Complete the look with a denim jacket and sneakers for a laid-back yet stylish ensemble.
Blazer Up
Combine your women black pants with a tailored blazer for formal or professional settings. Opt for a matching black blazer for a sleek monochromatic ensemble, or play with contrasting colours for a bold and eye-catching statement. Pair it with a blouse or a silk camisole to add a touch of elegance.
Black is a Canvas
Black pants provide the perfect canvas for showcasing a statement top. Whether it's a vibrant printed blouse, a lace-trimmed camisole, or a sequined tank, let your top steal the spotlight while your black pants anchor the look. Play with textures, patterns, and bold colours to create a fashion-forward, eye-catching ensemble.
Layer Up
Black pants are incredibly versatile when it comes to layering. Experiment with different lengths and styles of outerwear, such as oversized cardigans, tailored coats, or leather jackets, to add dimension and depth to your outfit. Layering keeps you warm and adds a stylish element to your womens black pants ensemble.
Why choose Blissclub for Black Pants for Women
Looking to buy women's pants, specifically black ones? Look no further. With our wide range of black pants for women, including plus size pants, shopping for the ideal pair has never been easier. Let's dive into why Bliscclub should be your go-to destination when you're ready to shop black pants online or buy black pants in our store.
Extensive Collection
At Blissclub, we offer an extensive collection of black pants for women. We have everything you're searching for, whether it's sleek, flared, comfortable, or effective. Our inventory caters to different body types and style preferences, ensuring every woman can find her perfect fit. From plus size black pants to extra-small options, we believe in being size-neutral.
Quality and Comfort
When you're ready to buy women's black pants, quality and comfort are essential factors to consider. Which is why we use premium fabrics like cotton, polyester blends. Our ladies' black pants are made with attention to detail, ensuring durability and a comfortable daily fit. With our pants, you won't have to sacrifice comfort for style or vice versa – you can have the best of both worlds.
Hassle-Free Online Shopping
We understand that convenience matters when you want to buy black pants online. That's why we've designed our website to provide a seamless and hassle-free shopping experience. With just a few clicks, you can browse our collection, select your preferred style and size, and make a purchase.
Versatility
Black pants are a wardrobe staple that can be effortlessly dressed up or down for any occasion. Whether you're heading to the office, on a casual outing, or to a special event, Bliscclub's black pants are versatile enough to meet your needs. From classic black trousers that exude professionalism to stylish black leggings that offer comfort and flexibility, our collection has options for various occasions and personal styles.
Great Deals
Bliscclub offers competitive prices on all our products, making buying women's pants easier without compromising on quality. Additionally, we frequently provide special discounts and promotions, ensuring you can buy women's black pants at even more affordable prices. Our regular discounts make it the perfect time to update your wardrobe and add a stylish touch to your collection of black pants.
Frequently Asked Questions
How many black trousers for women does Blissclub have?
You have the following options when you shop black pants - On-The-Go Straight Pants, AM:PM Cotton Wide Legged Pants, Move All Day Pants, The Ultimate Flare Pants, On-the-Go Slit Flare Pants, AM:PM Cotton Pencil Pants.
Can I find different styles of women's black pants at Blissclub?
Absolutely! We offer a variety of styles in our black pants collection. Whether you prefer straight-leg pants, wide-leg pants, leggings, or more, you'll find various fashionable options.
How do I determine the right size when purchasing women's black pants?
Refer to our detailed size guide on our website to help you find the perfect fit. It's recommended to refer to the size chart and take accurate measurements to ensure you select the right size for a comfortable fit. You can come and try on our women's black pants in our stores as well.
How do I wash and care for my women's black pants?
Read the product page or the garment tag for proper washing and drying instructions to prolong the life and quality of your ladies' black pants. Wash them in cold water with mild detergent and a gentle cycle.
A 10% off coupon, front-row tickets to our latest launches, and no spam!
Subscribe to our Whatsapp updates now.
check your whatsapp now!